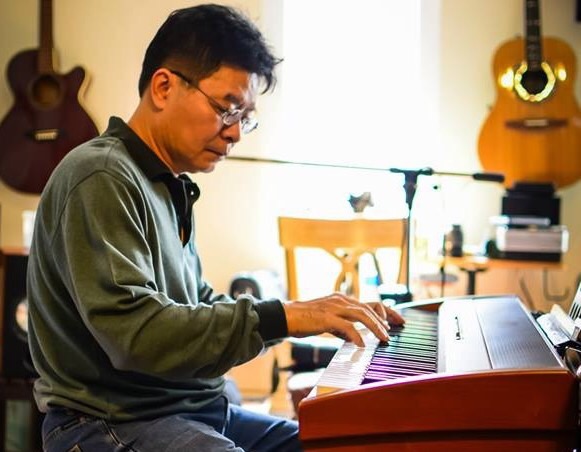 BANGKOK — One week ago on Thursday, songwriter Chamras Saewataporn received a message from someone at a state TV station asking for permission to use one of his songs for an important announcement.
"I sort of knew what was going to happen, like other Thai people on that day," Chamras, a 60-year-old composer with a career stretching back five decades, said Wednesday.
Hours later, just before 7pm, his 1996 instrumental piece "Whisper of the Wind" played on all state TV channels just before and after the historic announcement that King Bhumibol, who was beset by a number of illnesses at Siriraj Hospital for months, had died at 88.
It wasn't the first time his music accompanied a pivotal moment in the monarch's life. Another song was chosen to accompany live broadcasts of King Bhumibol's 60th anniversary on the throne and his 85th birthday.
"I consider it a high honor. I was glad that I took part in those times, whether in moments of happiness or moments of sadness," Chamras said. "I was glad to share them with other loyal subjects of the king."
In the 1970s, Chamras front pop phenom band Grand Ex before shifting his career to composing easy listening music. Skytrain commuters would likely have heard his work before coming from the Green Music stalls selling his CDs at many stations.
In a way, Chamras was the obvious choice for background music on important announcements like the King's death, as he had composed songs for numerous news reports and documentaries. So he wasn't surprised when a staff member at MCOT, aka Channel 9, sent a message over Line asking for permission to use his music Oct. 13.
Read: King Bhumibol, Monarch and Father to Millions, 88
Chamras said he had no idea which piece would be used; the producer asked for blanket permission for all of his music, and he readily gave it without signing anything.
He could only speculate why the "Whisper of the Wind" was chosen. He said the song represents the inevitable changes in human lives.
"It was like a metaphor to the winds that keep blowing toward us, and the winds keep changing along with the seasons," Chamras said. "Life is about change. Life is a journey."
Another entry from his discography was picked by state media to serenade the moment King Bhumibol made an appearance before tens of thousands of yellow-clad Thais on Ratchadamnoen Avenue on June 9, 2006, for the 60th anniversary of his ascension to the throne.
As the monarch flashed his rare smile and waved to the loyal crowd, the song "Nirvana" was played on all TV and radios channels. Chamras said it was one of the proudest memories of his life.
"When ITV contacted me, they didn't tell me what part they would use it for," Chamras said. "I thought they wanted to use it in news reports about the celebration. I didn't expect they would use it at such an important moment."
The same song would later be used for live broadcasts of the celebration of His Majesty the King's 85th birthday in 2012.
Apart from being a personal achievement for Chamras, the selection of "Nirvana" also changed his mother's opinion he had chosen the wrong career.
"She didn't like it. She wasn't happy at all. She wished I was a businessman selling things instead," Chamras said, laughing. "After that day, wherever she went, people told her they recognized the music of her son."
Related stories:
Volunteers Give Boost to Others in Time of Grief (Photos)
Sing, Volunteer For His Late Majesty Bhumibol
Mourners Continue to Flock to Grand Palace, Offer Condolences into the Night
Black Friday: Crowds Throng Palace For Final Glimpse of King (Photos)
Grief Pours Out Home and Abroad for Death of King Bhumibol