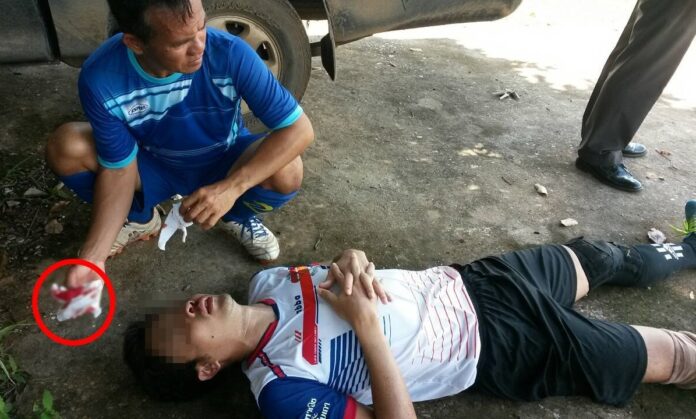 SAKON NAKHON — Police say photos spread online Wednesday night showed cops in Sakon Nakhon province giving their best at a friendly football match and were not evidence of a brawl, as the internet believes.
The set of photos was widely circulated via Line with a caption saying they were taken at a match between Song Dao and Panna Nikom Police Stations earlier in the day and questioning what happened.
"Is this a football match or a fistfight?" the caption said, adding that five officers were sent to hospital.
Many people on social media immediately jumped to the latter conclusion.
"Each of you guys have guns, you know. If we want to play this kind of friendly match, I suggest you divide into two sides and just shoot each other, so you won't be a burden on the public to pay your salary like this," wrote Somkit Chailert in a Facebook thread.
But Sakon Nakhon police commander Chaiyat Saithin disputed that narrative. Speaking by telephone Thursday, the chief said his officers were simply aggressive in struggling for the ball, and there was no melee.
"One person headed the ball and collided into another person. One person clashed into another. That kind of thing," Maj. Gen. Chaiyat said.
He added that he's already ordered his officers to counter such rumors on social media.