BANGKOK — "I'm a girl. I like hanging around with male friends. But I'm never sure whether it's boys or girls I'm attracted to," the 20-year-old student told the others in the room without a trace of embarrassment, shame or unease about her sexual agency.
A transgender man in his 30s talked about the difficulties with his parents since his masculinity took hold in high school.
"I've taken testosterone hormone for a month already, but I haven't told my family yet," he said, because they don't accept him as "him."
Another of the 15 or so people who gathered on a recent Sunday afternoon at a Bangkok cafe, Ruangtup Kaeokamechun, discussed coming out to her mother by giving her "Letters to Mothers," a collection of letters from LGBT sons and daughters to their parents.
The session was notable for marking a shift in how Thailand's LGBT community talks about itself: It was outspoken instead of reticent, candid instead of shy and forceful, not timid.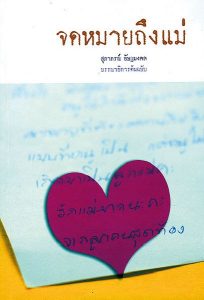 Just a month after the Orlando massacre shook LGBT communities everywhere, Thailand is speaking a little louder and prouder, with some saying they feel prompted to be more visible, more active and more open about who they are.
Read: Vigil Held For Orlando Shooting Victims, LGBT Victims of Violence (Photos)
Though the 49 people shot to death in the Pulse nightclub were 15,000 kilometers from Bangkok, their deaths had a strong impact on LGBT individuals and communities in Thailand, Thammasat University professor Pawin Malaiwong said.
"The incident was unnerving and many people were shaken and felt emotionally involved even though they're not there," said Pawin, who also teaches in the university's Queer Studies elective program.
Tragedy Drives Pursuit of Equality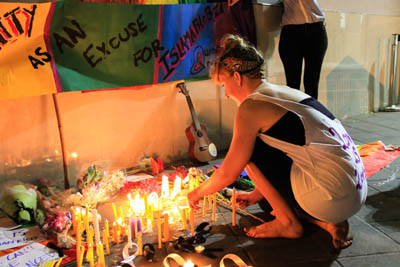 While Orlando may have been an emotional tipping point, Pawin said it was not the only catalyst to wake LGBT political awareness. Before people started advocating for themselves, they mobilized during the past year for the sake of a gay, foreign couple.
"Bring Carmen Home" became a cause celebre in Thailand's LGBT community, which widely supported the Spanish and American couple stuck in Bangkok for the duration of a 15-month custody battle for their daughter born to a Thai surrogate mother.
Three months after they prevailed in court and won permission to return to Spain with Carmen, the dads now publish updates on her new family life on a page overwhelmingly filled with gushing comments from Thai supporters.
The legal battle served to put Thailand's LGBT citizens on notice: Tolerance doesn't translate into equality.
"The prolonged case to 'Bring Carmen Home' was another example which helped raise local LGBT awareness and showed that being accepted is not enough, LGBT people also needs basic rights like other human beings," Pawin said.
And so they have been, with a surge of LGBT-related events actively attended, from frank discussions of sexual violence, a documentary on the early U.S. gay rights movement, a casual screening of a porn star-turned-transman, a gay open-mic night and more where people are openly sharing their experiences and disclosing their identities.
Just last week, an intern at a public radio station went to use the restroom, only to find a sign had been hung telling her transgender women were not welcome to use it.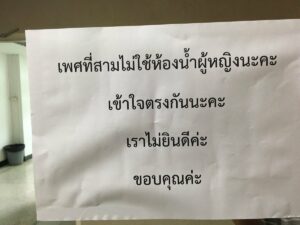 Instead of quietly shouldering the indignity, she called it out online, sparking a heated debate over something that – albeit not new – has been little discussed.
Read: Sign Barring Transgender Intern Kindles Debate Over Toilet Equality
Ruangtup, the 31-year-old who came out to her mother through the book of letters, said her mom finished reading it in a few weeks.
"I'm glad. At least she tried to understand who I am," Ruangtup said.
She's now an active member of a community that she avoided until recently. She would walk past LGBT seminars and snap a few photos from the entrance but otherwise preferred staying home to watch Orange is the New Black.
"I felt I wasn't brave enough. I felt I had no friends. I felt uncomfortable with the society I lived in," Ruangtup said.
She joined the first LGBT event of her life in October because she was curious about how her life might be different with like-minded friends to talk about her same struggles.
"I didn't feel I was alone anymore," she said. "I became more confident talking out loud about who I am. I also feel people around me are more open-minded about this."
Cascading Issues
More than 100 people showed up to share stories of sexual violence against lesbians, bisexual women and transmen recently at Thammasat University.
People discussed the verbal attacks passed off casually – things like "Cold fingers aren't as good as a warm penis," "Fix butch into belle" – at the event.
And worse.
While violence in the mainstream media is portrayed as something done by men to women, no one really has a measure of how much is committed against gay women or men born as women because it is nearly invisible.
"We found so many unreported cases of raped tomboys," said Sulaiporn Chonwilai, organizer of Fix Butch, Repair Femme: Rhetoric, Derogatory and Violence. "They're too embarrassed to file charges at a police station. Many of them prefer to not talk about this. They want to let it go – the faster the better."
Asked if these things signaled progress in the normalization of the LGBT movement, Sulaiporn said it's only the beginning.
An important distinction, Thammasat's Pawin said, is the conversation is coming out of the classroom and into the streets.
The issues are becoming more accessible to the public and not only already erudite academic seminars because there needs to be more "street talk," he said.
"Many people felt that talking about LGBT issues is something for the ivory tower. Now it's a good thing the topic's pulled onto local streets," Pawin said. "But we still have to see if it's going to stop there in the streets or wander into the sois to people on the margins."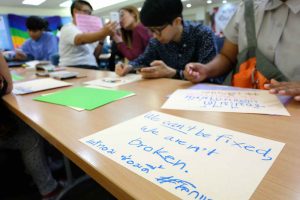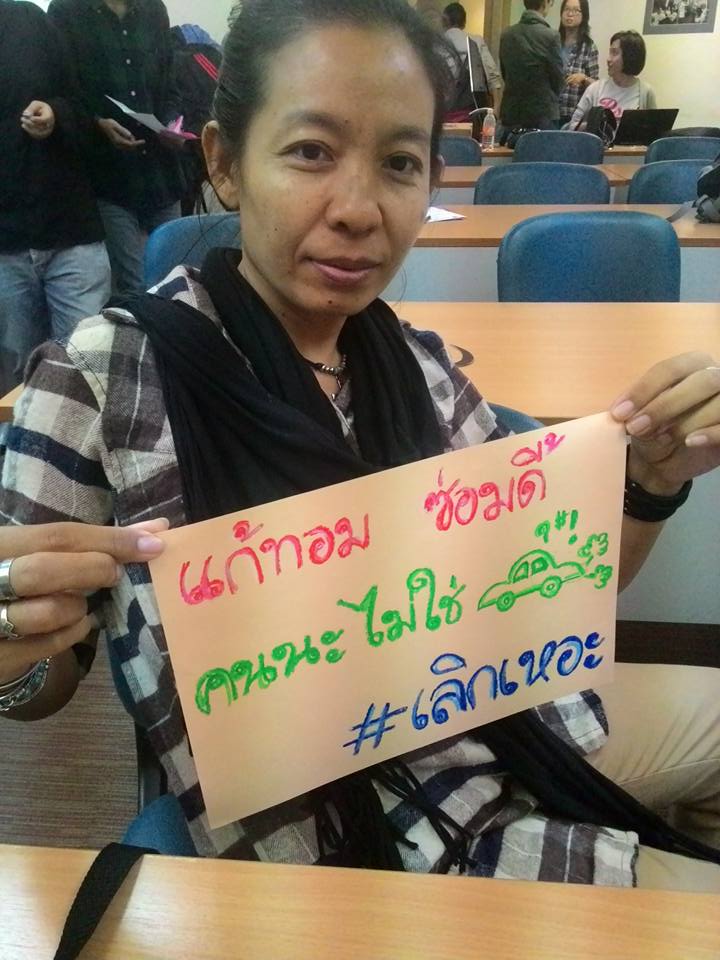 Top: Activists Paisarn Likhitpreechakul and Pimsiri Petchnamrob on stage after a Tuesday screening of 'The Times of Harvey Milk' at the Bangkok Art and Culture Centre.