OTOP. The word conjures countless tourist-trap shops and fairs selling authentic yet forgettable knickknacks. Stuff that's only interesting to first-time visitors or those who must have everything silk.
One Tambon One Product, or OTOP, is a national program in which an exemplary product from each subdistrict, or tambon, is produced and sold. It can be food, it can be crafts, but often it is textiles and apparel. But after launching in 2001, OTOP gained an unfortunate reputation for being unfashionable.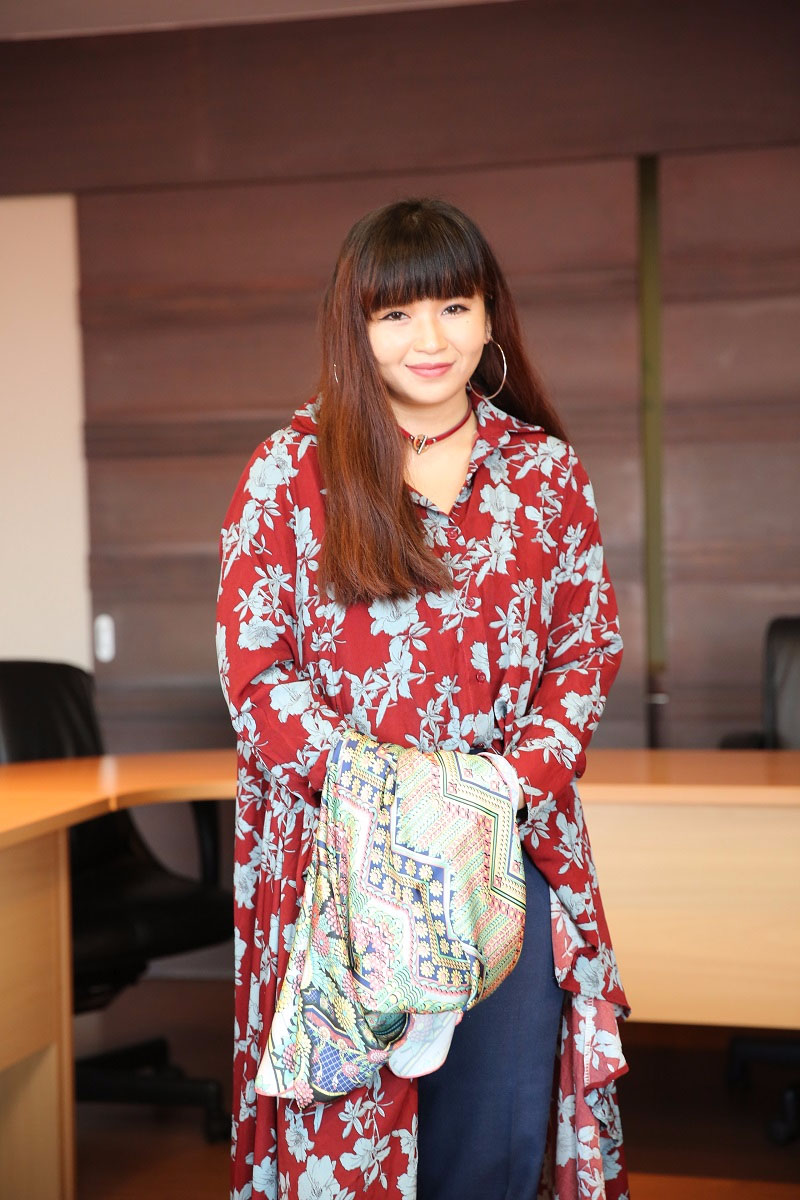 But lured by a new effort to update the crafts for today's consumer, Thai designers are turning dyed, unfashionable handicrafts into exportable merchandise.
What were coffee table doilies have become colorful circular bags. Rolls of expensive cloth have become beach bags.
OTOP was inspired by Japan's One Village One Product Program, and it's that country which designers are aspiring to impress. Under a new program called Go Inter, 25 selected OTOP products are put in the hands of savvy designers to be made over and shown at the annual Tokyo International Gift Show.
Below are some of the products designer Pavisa Meesrenon has helped update from the north and northeast for the program.
Read: Thai Folk Arts Get 21st Century Makeover
---
Knitting Mae On, Chiang Mai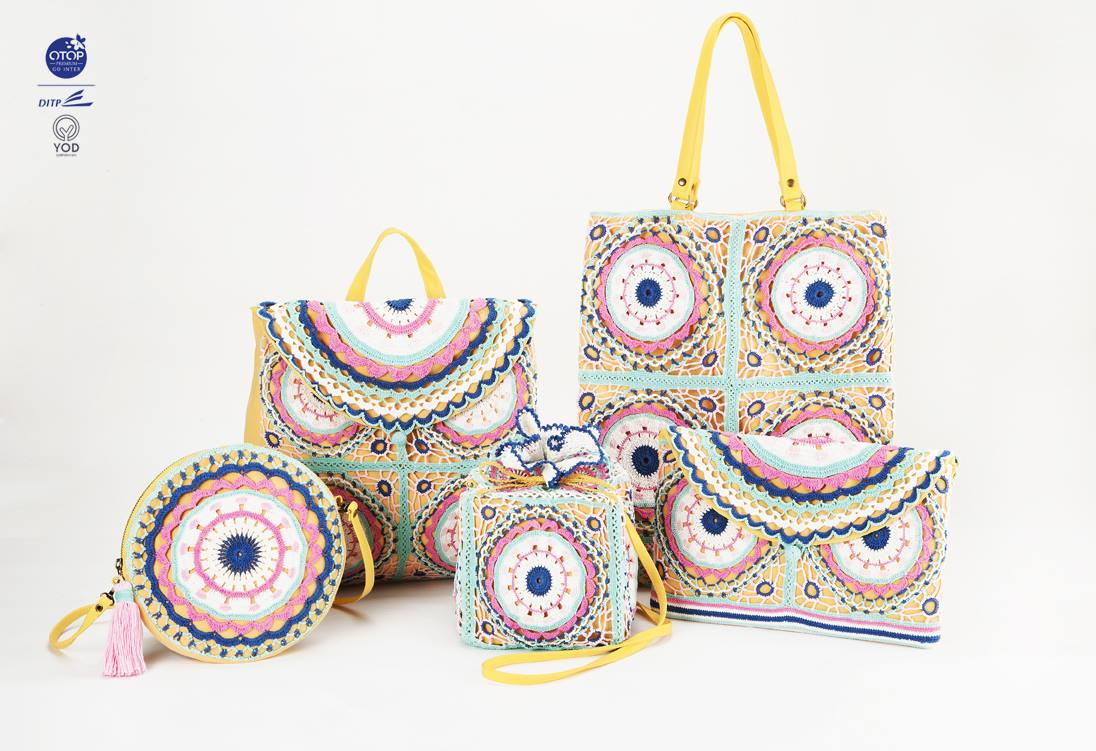 These colorful bags are made of crochet circles stitched together, dipped in a flour solution and then solar-baked.
Before 2015, weavers in the far northern province of Chiang Mai made meticulously crocheted tablecloths and doilies.
The 100-strong group of weavers from Ban Sahakon tambon in Chiang Mai's Mae On district suffered a glut of similar products from competitors and low profits. An entire tablecloth that took weeks to make would sell for a measly 800 baht.
"Not only was it unfashionable – the kind of tablecloth that you would find only in old houses – it was unprofitable," Pavisa said of the curtains, tablecloths and doilies by the group called Knitting Mae On. "They weren't selling well at all."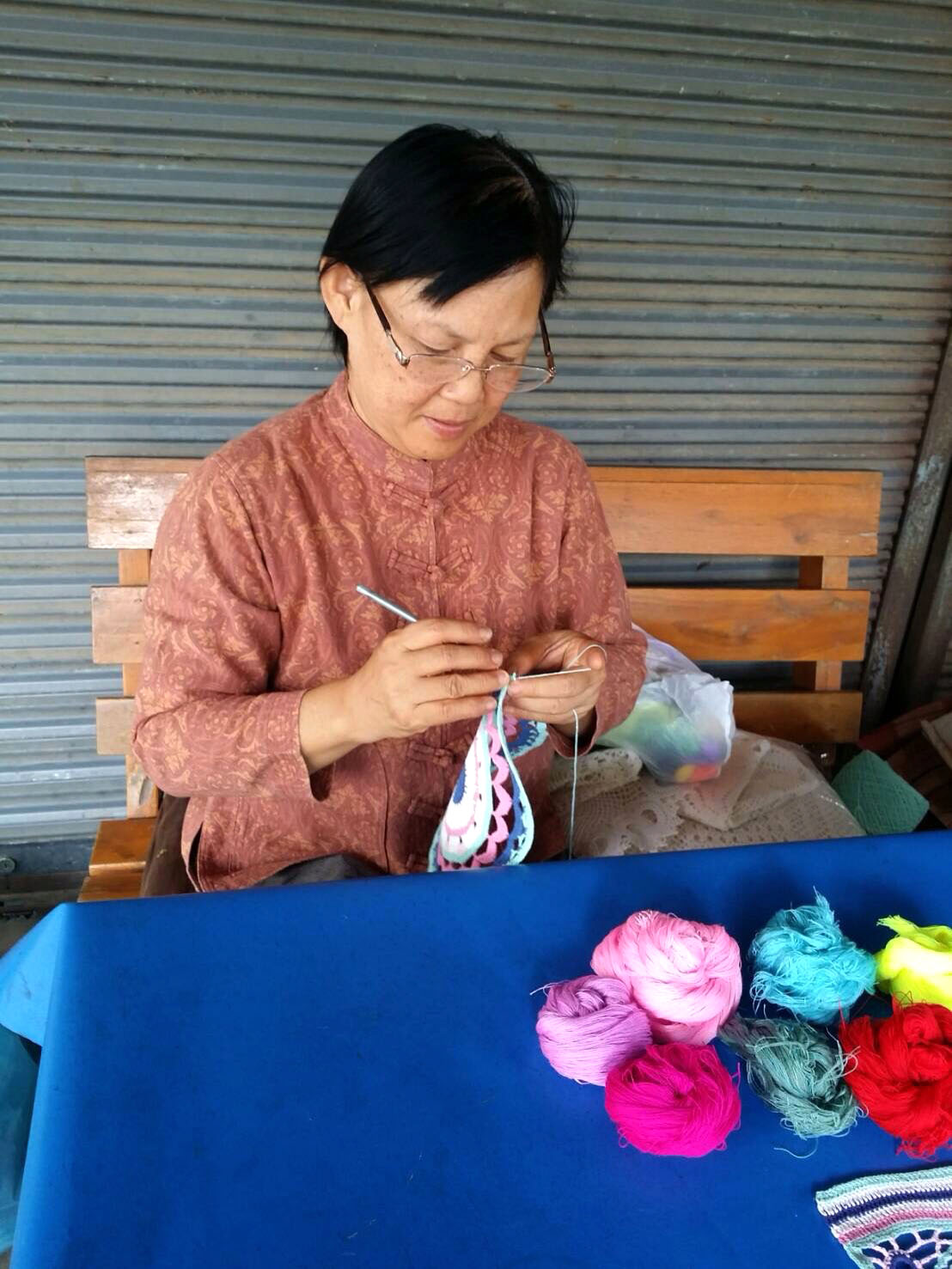 For their makeover for Go Inter 2015, the bags retained their makers' knack for circular patterns but come in more marketable forms. Pavisa said she traveled north to inject color into their work because they were advised to use light, bright colors because the Japanese yen was for products to make the aging population feel younger.
"These were designs we never did before," said Theppawan Rungkeaw, the 56-year-old head of Knitting Mae On. "Before, rival OTOP groups would copy our designs, so we have to keep making new ones such as these."
Now orders are coming in from overseas and Bangkok.
"Someone just ordered an iPad cover," Theppawan said. But she vowed to keep it on a personal scale and not begin mass production.
"Whenever someone has a fight at home, I tell them they don't have to come and knit," Theppawan said. "You cannot hurry handicrafts or be stressed when making them. Your heart must be chill and sabai. You have to put your spirit into it."
Knitting Maeorn products can be bought from OTOP fairs at BITEC in Bangkok's Bang Na district. For more information email [email protected]. Bags range from 400 baht to 1,600 baht.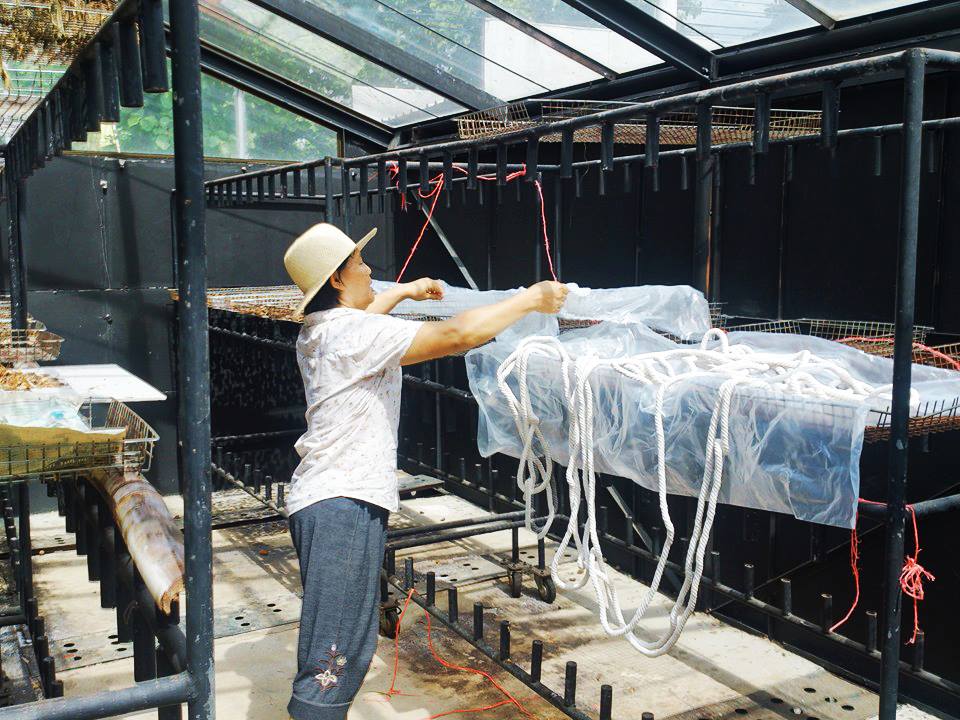 ---
Jutatip, Khon Kaen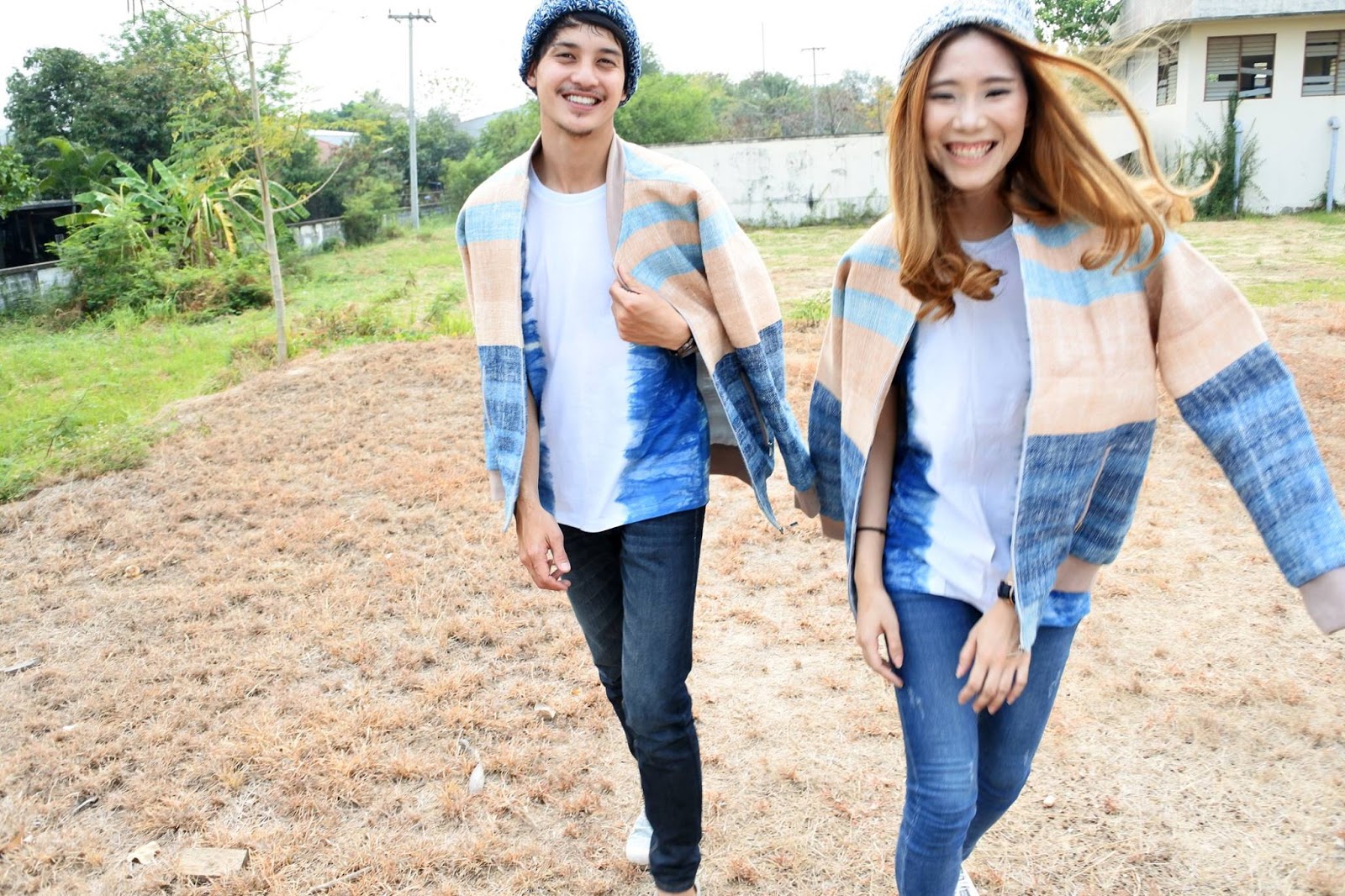 The local flora of Khon Kaen yield natural dyes for the cotton jackets, scarves, bags and hats for the Isaan OTOP brand Jutatip. From the fruit of the golden rain tree comes a copper-colored dye, and indigo leaves yield different depths of blue, while crushed lac resin makes pink and rust is used for purple.
Khon Kaen cotton dying got a makeover by Jutatip Chaisura, who combined her parents' craft – mom weaves and dad dyes – with Japanese-style designs.
"My parents are so skilled, I didn't see any reason why they should be discouraged about finding work," Jutatip said. "The problem was that our village doesn't have a good designer, so our weavers were choosing whatever colors or designs they wanted to weave with the cloth, so that led to messy looks."
So Jutatip went people-watching in Tokyo.
"I bought a ticket to Japan and stayed there for 15 days, studying what colors, patterns and styles Japanese people liked to wear."
With her field notes, Jutatip then worked with designers from Bangkok, including Pavisa, to develop bags and clothes that fused Thai cloth and Japanese fashion. Armed with denim and cream designs, she now sources her fabrics from more than 80 housewives across Khon Kaen.
"I tell all my weavers to stick to pre-approved color pairings, so the whole shop looks cool as a whole when someone walks past," Jutatip said. "It makes me happy that mostly people who come look at my products aren't old bitties wearing silk. They're the young, the fashionable and designers."
Jutatip, from tambon Nai Mueang in Khon Kaen city, sells via Facebook, and orders can be placed in English.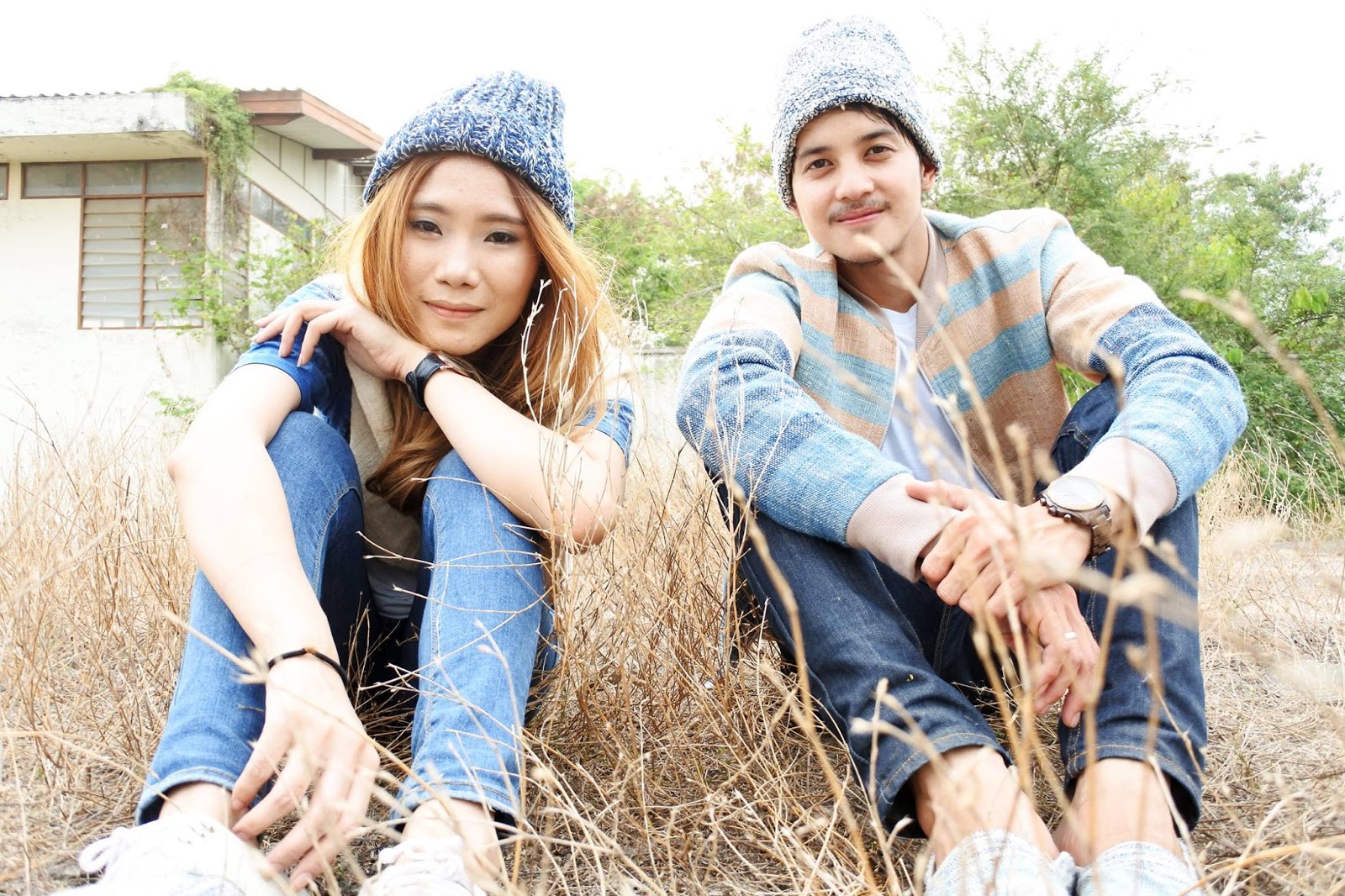 ---
Pua Nopphakhaw, Nan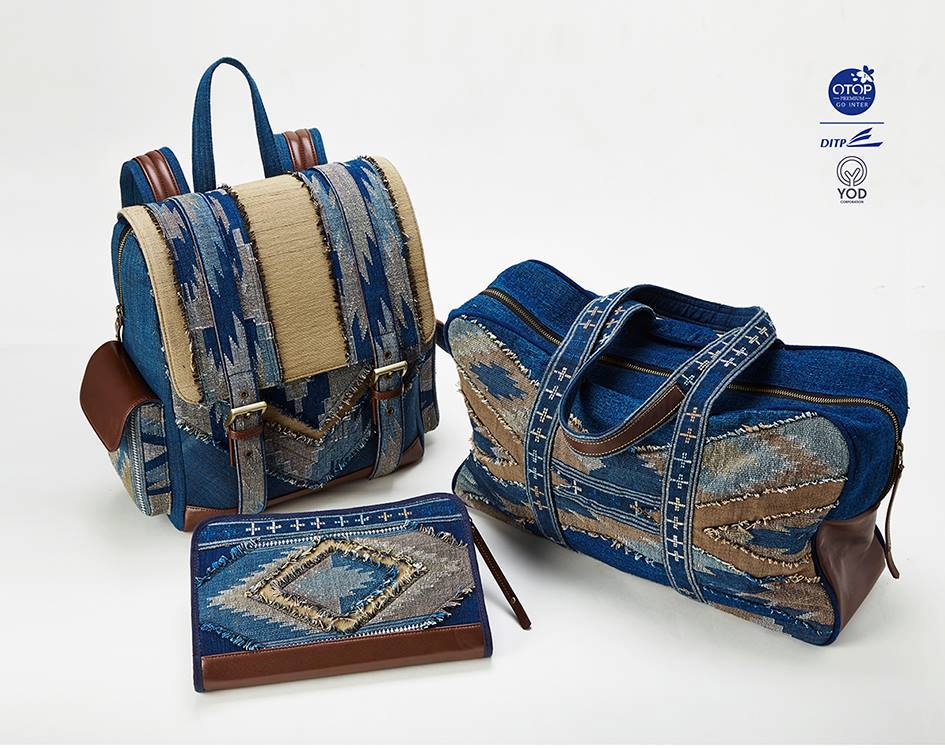 While unisex OTOP items are hard to find, these tough-looking bags managed to win over a biker gang.
"During one of these bags' exhibitions in Japan, a group of Harley-riding dudes came and bought some. I would've never imagined that Japanese Harley guys would buy handwoven Nan cotton," Pavisa said. "That made me so happy, I can remember it today."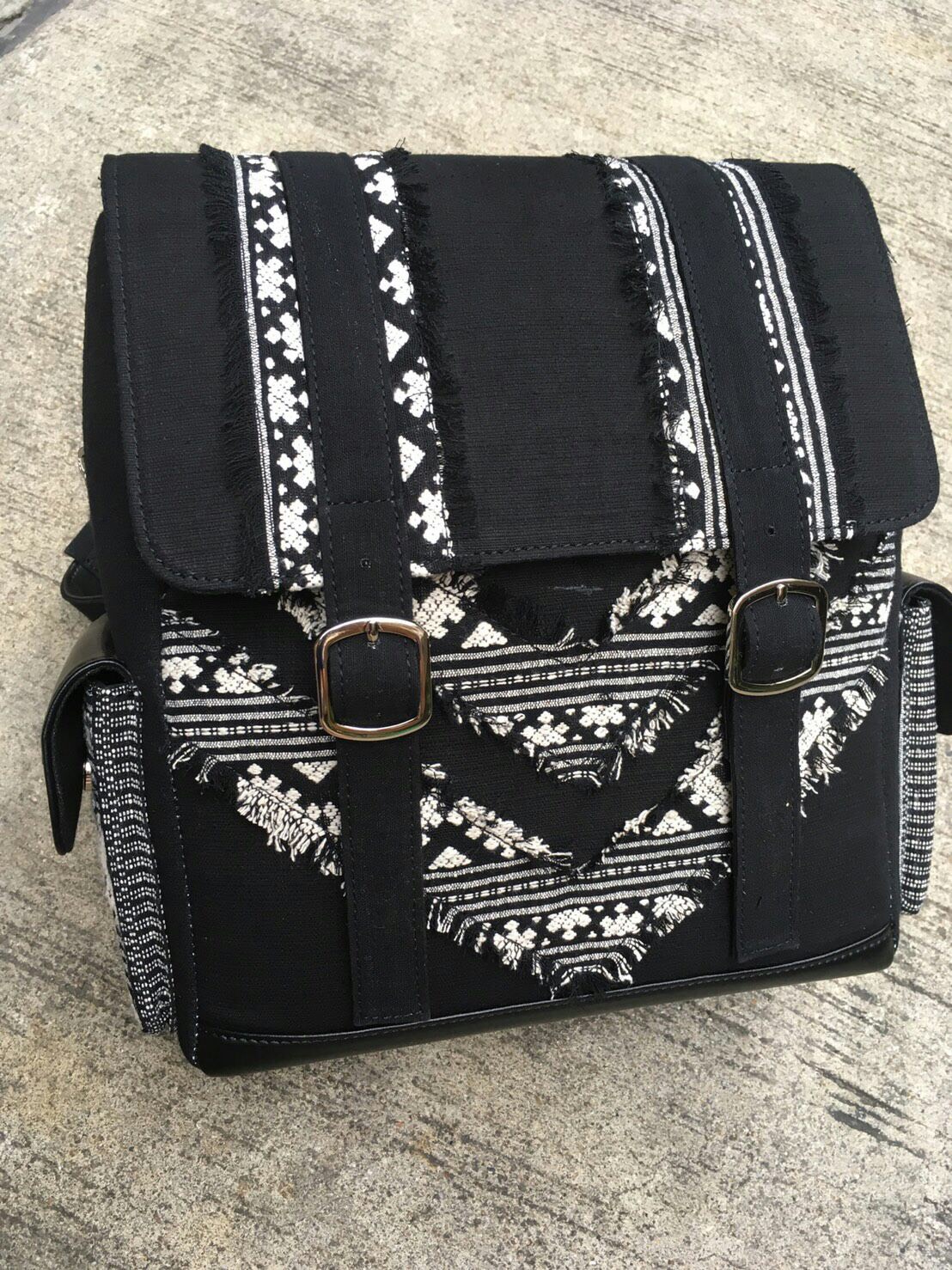 They are made by Pua Nopphakhaw, a group of 63-strong elderly weavers of the Tai Lue ethnic group in Nan province. Their designs incorporate geometric patterns that depict flowing water.
"The patterns reminded me of those of the Native Americans, so I decided to make bags that you'd wear out in the West somewhere in America, roughing it up with your unisex backpack," Pavisa said.
"Women in the Tai Lue group have to be good at weaving, and the skill is passed down through each generation," 52-year-old Sarinthornwongthai Bunsiriwathanasri says in a Tai Lue-accented dialect as she describes her group's heritage and how it got with the times.
Pua Nopphakhaw bags and cloth can be found in the Exotique Thai section on the fourth floor of Siam Paragon department store. Get them more affordably from the group directly or at major OTOP fairs.
---
Arkha Embroidery, Chiang Rai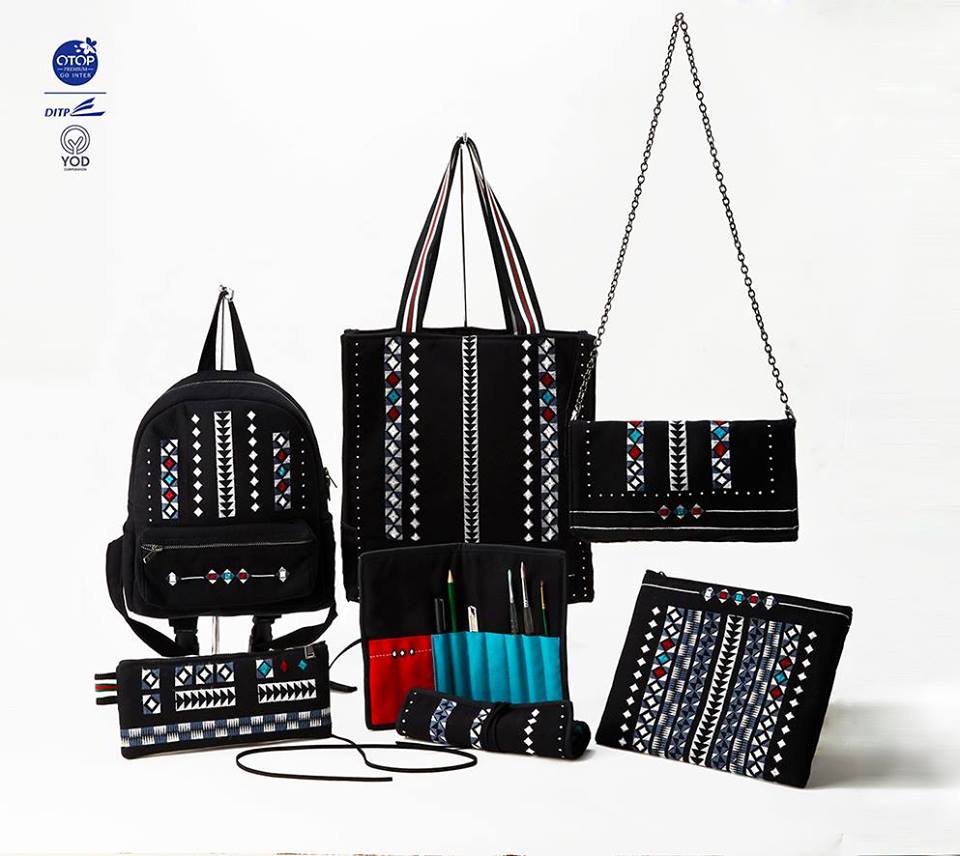 Traditional patterns created by the Akha people in the mountains of Chiang Rai have taken a geometric, modern twist in bags of various shapes.
Up in the Doi Tung mountains, find Arkha Embroidery in the Mae Rai tambon of the Mae Chan district. It's run by 58-year-old Nithee Suthammaruk, 58, and staffed by hundreds of mostly female weavers.
There, they churned out traditional bags and cloth for years.
"We grannies would just weave without much of an objective. We would only make pieces of cloth and maybe a small bag or two. It was all very baan nok," Nithee said, using a term for provincial.
According to Pavisa, they couldn't sell enough to sustain themselves.
"They've been making the same style and pattern for hundreds of years without change, and no one today would buy them to wear," she said. "Akha youths were also abandoning the traditional way of life to move to the city."
Arkha Embroidery joined Go Inter in both 2015 and 2016 and has injected new life into their patterns. Pavisa worked together with Nithee and her weavers to create more modern designs – coordinating colors, using smoother types of thread and sewing bags instead of just cloth.
"There are many types of Akha weaving, but the traditional one from our area incorporates straight lines. She retained that, so it looks modern but is still original Akha," Nithee said.
"We've got many more sales now," Nithee said. "With her designs it just looks better, and there are more types of products too."
And, more people are interested in taking up the weaving now that it has a future.
Arkha Embroidery's small bags cost 1,200 baht while larger bags run for 1,600 baht. They can be ordered from Nithee at 081-568-9385 or found at most major OTOP fairs.