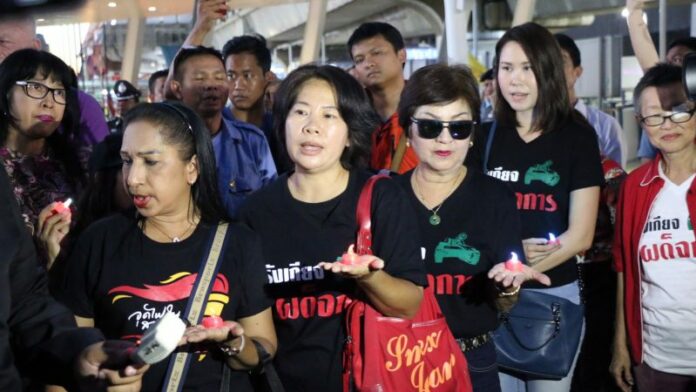 BANGKOK — Pro-democracy activists marked the 11th anniversary of the 2006 coup on Tuesday evening on a skywalk in front of the Bangkok Art and Culture Centre.
Despite orders from police and representatives of the BTS Skytrain that they clear out, the group staged a small protest for about an an hour at the location, which is frequented by commuters and tourists and has become a de facto location for protests since the 2014 coup.
"It's unbelievable how far back we've gone for the past 11 years," said Siriwit Seritiwat, an activist leader known as Ja New. "The country doesn't suck by itself, but it sucks because of a wicked cycle."
Among dozens who came to join the event was Danai, who said he joined anti-Thaksin protests before the 2006 coup. He refused to give his last name out of fear of prosecution.
"I was just confused," he said, recalling his feelings at the time. "But I thought it was probably a good thing when I saw that a lot of political celebrities join the junta's side."
Danai said he only realized the consequences of the coup in 2012 when he signed up for Facebook and accessed more information.
"I was dumb," he said. "I only got news from forwarded mails among my peers until I had Facebook."
A 20-year-old woman named Watsamon Tubtim who joined the protest said she only remembered feeling happy about not having to go to school the next morning when the coup happened over a decade ago.
Watsamon said she started to learn more about the incident later when she was in high school.
"I have been taught that our country is governed by democracy," she said. "So a coup can never be good."
"Thai people don't remember history and keep repeating it," she said. "Every time there is a coup, people always said it ends conflict, but they never remember the long-term consequences."
The event ended at 7pm.