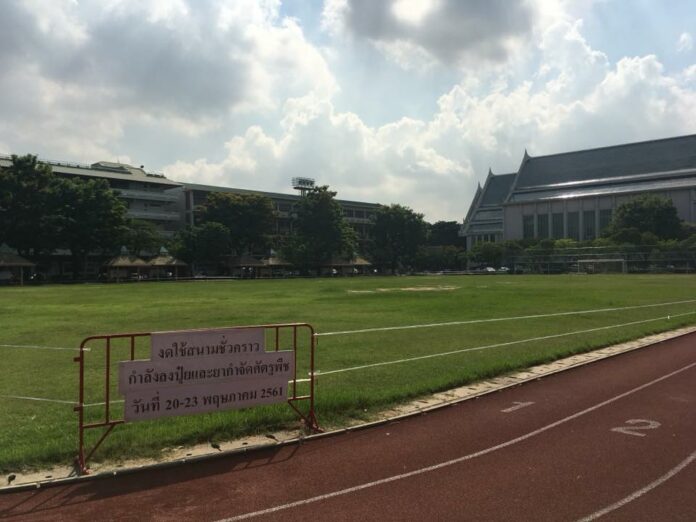 BANGKOK — The football field at Thammasat University where anti-junta protesters planned to camp overnight Monday before marching on the Government House in the morning was closed today by university staff.
The university admitted to closing the sports field at the Tha Prachan campus – to remove pests, according to a sign – on the day people planned to camp there before setting out on a mass protest called for Tuesday, the ruling junta's fourth anniversary in power.
"We are worried that the protests will affect the students who come here to take exams. It's exam season," said Vice Rector Orapan Poachanukoon, who is also in charge of student affairs. "Usually we do not allow people to use the field during exam season either. We didn't allow this protest."
Read: Police Warn Against March to Gov't House
Protesters said the university likely caved to pressure from the authorities and vowed to go ahead with their plans.
"Instead of being at one spot, we will have to camp on the ground floor of buildings," said protest leader Nuttaa "Bow Mahattana. "It's clear that they don't want us there. We planned to protest on the 21st to 22nd and they fenced off the dates from 20 to 23. Thammasat is the only safe place for us around there. It would be unsafe to camp on the streets."
Nuttaa said people would find different suitable locations to camp on the campus.
A Thammasat student and pro-democracy leader expressed disappointment in his school's actions.
"It's definitely political. Thammasat usually lets us stage protests," said Karn Pongpraphapan, a student and protest leader. "They were pressured by the police and junta to put up the fence and give this excuse."
The sign, which seems to have gone up Sunday by the field, reads: "Field temporarily closed to lay fertilizer and pest removal from May 20 to 23, 2018."
"I come to study at Thammasat every day. I've never seen them put fertilizer or spray the field, ever," said Karn, a fourth-year student.
Vice Rector Orapan, however, said that she was unsure if fertilizer and pesticides would actually be sprayed on the field during this time.
The authorities seem to be taking the rally seriously. They have erected barriers around the Government House, detained a sound technician and dispatched soldiers to protesters' homes to pressure them to stay home. A deputy police commissioner said protesters face prosecution.
Supanut Kingkaew, 21, a student at Thammasat's College of Interdisciplinary Studies, said he would resign from student council in protest.
"No way would the field be closed from the 20th to the 23rd otherwise," Supanut said. "Something pushed for the administrators to do this, even if it's not right. We have to admit that the state has a lot of power, and the university's administration is part of the state too."
Supanut said that he thought there was "a high possibility" the state told the university rectors to close the field.
"They have to comply to survive, even if they don't want to, Supanut said. "But I didn't expect Thammasat to go this far."
Kittinat Lau, president of the student council for the Tha Prachan campus, declined to comment.
Founded in the wake of 1932 democratic revolution to promote liberal values, Thammasat University housed numerous protests in key moments of Thai political history, including a 1973 student revolt that overthrew the military rulers.
However, critics said the university has shifted its tone in recent years under pressure of the ruling junta. Members of the regime's rubber stamp parliament include Somkit Lertpaithoon, who served as Thammasat rector when the coup was staged in May 2014.
Related stories:
Protest Sound Man Detained Overnight by Army
Police Warn Against March to Gov't House
Pro-Election March on Govt House Set for Coup Anniversary