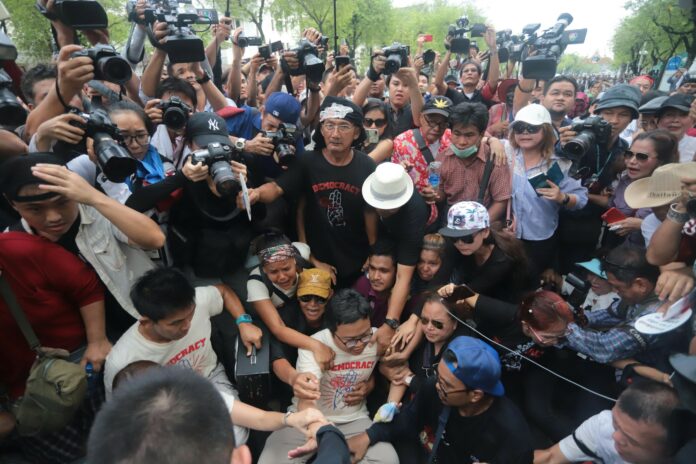 BANGKOK — Facing thousands of police in a fluid, escalating situation I found myself shoved first by one, then by another, away from the thing they didn't want reporters to see, let alone film. Shouts, screams, pleas for sympathy were heard. Elderly people who hadn't anticipated the sudden explosion of violence risked being trampled. Some were on the verge of being badly hurt.
It was my third time in the field to cover a political demonstration.
And from Tuesday I learned how quickly a situation can change, how easily one can miss the day's crucial moment and what it means to serve public interests as a reporter at the dawn of junta year five.
Read: Tense 22 Hours of Tuesday's Thammasat Rally in 22 Photos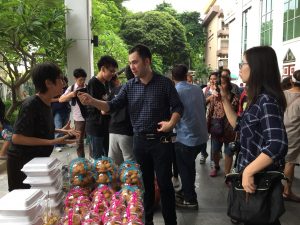 I wasn't initially assigned to cover the Democracy Restoration Group's protest on the day marking the fourth anniversary of the coup, but after covering their warm-up rally the night before, my editor suddenly suggested I join team the following day. "Just in case." I said yes, not really knowing what to expect. My main worry was that it would probably rain.
My colleague Chayanit Itthipongmaetee and I arrived to Thammasat University before 7am. On the way, I saw news saying roads around the campus were already blocked. Sure enough, we were greeted by metal barricades right under Somdet Phra Pinklao Bridge. We continued to the school's main gate on foot.
Approaching, I was a little baffled by just how heavy the police presence was. At the gate, where brawls between police and protesters briefly erupted Monday evening, dozens of officers were positioned, checking the belongings of people entering the premises. I heard activists' voices over speakers from inside the campus, bolstering spirits of supporters who had camped out overnight.
Our team – Chayanit, Pravit Rojanaphruk, and I – decided to grab a quick bite. Around the corner, on Phrachan Alley, traffic was also blocked from the Sanam Luang side to the pier for which the Tha Phrachan campus is named.
The police there were fewer and did not appear ready to tackle whoever. All sat leisurely under a green tent, enjoying their breakfast and double shots of espresso.
After that, after filing some updates back to the newsroom for our live blog, we prepared to go live with our first report as the protesters were getting ready for their march. Police were on the move all over the area. Like the day before, they parked a loudspeaker-mounted truck across the road, urging protesters to go home.
LIVE: Under tense conditions, pro-democracy march about to leave Thammasat University. Their destination: Government House, the junta's seat of power.

โพสต์โดย Khaosod English เมื่อ 21 พฤษภาคม 2018
When the protesters started to head out of the campus, the truck had already moved behind the erected barricades. Supporting the metal fences, hundreds of officers lined up shoulder to shoulder, clearly demonstrating they would not allow the march to leave.
It struck me to see all female officers placed in the front ranks. I assumed the authorities believed an all-female front line would lessen the chance of violence.
When it became apparent the protesters would not try to force through, they were replaced by their male counterparts. Both sides however engaged in an amplified shouting match, blasting messages demanding the back off. The standoff went on like that for a while.
Amid mounting heat and humidity, one protester fainted and the mood tensed. The organizers shouted angrily toward police, accusing them of not opening the way for an ambulance. We quickly ran to the scene to observe, took photos of the woman and filmed two more livestreams.
LIVE: A protester fainted during a standoff between demonstrators and police outside Thammasat University. Police insist they will not make way for the march.

โพสต์โดย Khaosod English เมื่อ 21 พฤษภาคม 2018
LIVE: Protesters struggle to break through police barriers in front of Thammasat University

โพสต์โดย Khaosod English เมื่อ 21 พฤษภาคม 2018
I did not enjoy that part. As often happens, the press of reporters trying to get the shot slowed emergency responders who eventually arrived with an ambulance.
As I'd feared, the rain began pouring down before 11am. The protesters brought out tents and continued to stay in position. The speakers tried to cheer the crowd as the lockdown had settled into a stalemate.
It seemed unlikely any further surprises were going to happen at Thammasat. My social media feed showed reports that some protesters were assembling near the Democracy Monument, so I suggested we head there to see if anything was going on.
After a few phone calls to gather information, Pravit and I left Thammasat for Ratchadamnoen Avenue. The rain had stopped and quickly replaced by sweltering heat.
It turned out to be the right call. As soon as we arrived, a group of protesters led by human rights lawyer Arnon Nampha were setting out from the monument to attempt their planned march on the junta leader's seat of power at the Government House.
We rushed over and hastily began our fourth live report, which would prove the longest, final and most intense of the day.
Protesters who broke away from the blockade at Thammasat University are stopped anew by a police barricade as they march toward Government House. Story: https://www.khaosodenglish.com/news/2018/05/22/coupanniversary-protest-live-blog/

โพสต์โดย Khaosod English เมื่อ 21 พฤษภาคม 2018
The protesters were marching in the leftmost lane. We walked alongside on the sidewalk, dodging an obstacle course of lamp posts, electric poles, broken concrete, trees, sign posts and utility boxes. I took several hits along the way while filming.
After crossing the Phan Fa Lilat bridge, we found ourselves at the head of the march. I was walking backward, focusing on the camera angle when I stumbled upon something and fell down on my butt. I was helped up on my feet.
Arnon started praising the press' bravery for coming out and covering the protest despite being threatened with arrest for doing so without a specially issued police armband.
There was no legal reason to obtain such an armband, so none of our team bothered with it, and the police never were doing anything about it Monday or Tuesday.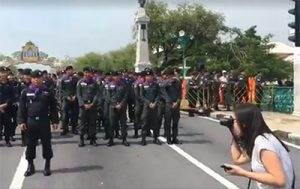 We reached the area in front of the UN headquarters. I was stunned by the thick wall of police and a giant loudspeaker truck towering behind, blocking the way just about 400 meters short of Government House.
After delivering an ultimatum that the protesters – now squatting in the road – go home, the police swarm slowly moved in from Makkhawan Rangsan Bridge. Before we knew it, barricades and another unit of police also popped up at the other end of the street. They were now blocked in both front and back.
Nuttaa Mahattana, one of the organizers, was addressing the crowd when police approached and surrounded them. They quickly formed a human wall encircling the protesters, one layer after another, trying to pluck reporters from the group and shove them as far away as possible. In a beat, the calm instantaneously turned into chaos. People were screaming and shouting in panic.
It happened so fast that some of the elderly among the protesters could not stand up in time and became trapped in the moving scrum, at risk of being stomped upon. They were finally led out of the scuffle. I saw others had to be assisted while hobbling away, but as far as I could tell, no one was badly injured.
After some struggle, I was also pushed outside the ring of police, whose arms were locked tight in a shrinking circle around the protesters. I lost sight of Pravit who managed to remain inside and continue filming. There were so many police that their green uniforms and black berets became all I could see, without any sight of the clump of protesters behind.
I was frustrated and worried. The only thing I could do was take photos, recording the atmosphere around the encircled group. It was full of confusion, with an edge of despair. I had no idea what went on in there, except hearing distant voices of people saying "Don't arrest them."
After a while, the situation seemed to settle down. I spotted Pravit again and noticed that police were preparing to take the protesters away. It proceeded without any twist or turn from thereon. We finished our live reporting shortly after.
Our day ended at the Phaya Thai Police Station, where many of the protesters were taken into custody. The leaders appeared calm and remained in good spirits. A few of their supporters were also rounded up with them. Some said it was the first time they had been taken by police.
The day was long and exhausting, but I felt fortunate for having a chance to witness such an incident firsthand, record it and help relay the information to our audience.
Considering the authorities' removal of reporters, refusal to answer questions and orders not to film in what was a public area, I was left with the impression they were trying their best – however difficult in the social media era – to prevent us from exercising our rights as journalists and bring down a curtain to obscure what was going on.
If there had not been media present, one could only imagine – or remain totally unaware of – what could have happened on the ground.
Related Stories:
Court Grants Bail to Pro-Election Activists
Former Police Chief Backs Jailed Activists as Arrests Slammed
Tense 22 Hours of Tuesday's Thammasat Rally in 22 Photos
Thammasat Won't Charge Protesters Over 'Minor' Damage
Protest Called Off After Police Seize Leaders by Force
#CoupAnniversary Protest Live Blog
Live Blog: Protesters Camp at Thammasat on Eve of Coup Anniversary