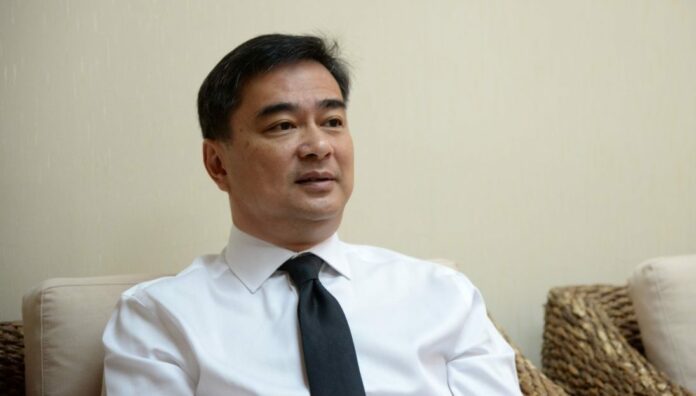 BANGKOK — The Democrat Party will schedule a primary to select party leadership in November if the junta relaxes its restrictions and allows it.
Preparing for a campaign season that could begin mid-December, party chairman Abhisit Vejjajiva announced details Sunday for how ordinary party members will vote for a new leader at a general meeting two months from now in the party's first-ever primary.
Abhisit, who is 54 and has led the party since 2005, wrote online that allowing party members to choose their leader would be part of ushering in what he brands the "New Era Democrat."
"Democracy must begin from within the party. No single individual should own a party. The Democrat Party has proven this over the past 70 years… We are the only party to have serious contests for leaders multiple times," Abhisit wrote.
He said adopting a primary voting system for members to have a say in what candidates advance to the general election, now expected in February, is the next step in the party's progression.
Abhisit said the he expects the party will endorse the change. Abhisit also suggested that due to the introduction of new technology, party members can now vote through a smartphone application.
Abhisit could see a challenge to his ongoing leadership of Thailand's oldest political party from former deputy leader Alongkorn Polabutr, who followed expressed interest in the post following Sunday's announcement.
Alongkorn is a 61-year-old former MP from Phetchaburi province who advocated for reform within the party before leaving it in the wake of the 2014 coup. He was appointed by the junta to one of its now-defunct reform bodies.
The time frame used by Abhisit comes a week after a top junta official said parties may be allowed to begin organizing in September, which would clear the way for political parties to begin rebuilding, organizing and preparing campaigns for the general election. Campaigning could be allowed mid-December.
Primary voting, Abhisit wrote, could take place some time mid-October to early November.