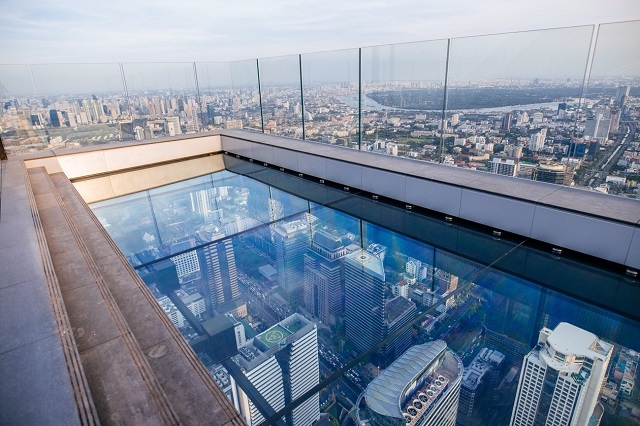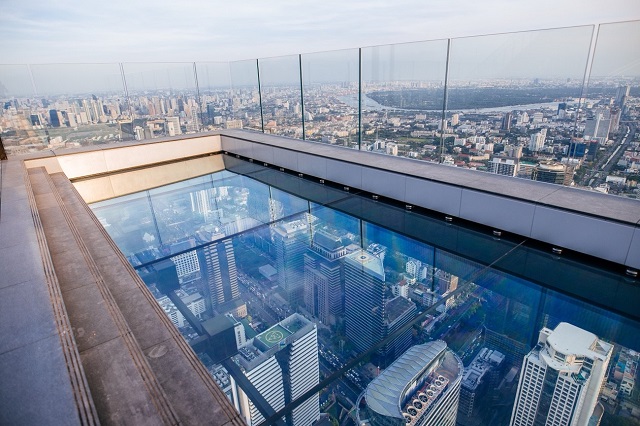 BANGKOK — The nation's tallest skyscraper now has the highest rooftop bar and skywalks in the kingdom.
The MahaNakhon Skywalk, sitting 314 meters up the King Power ManaNakhon skyscraper, opens to the public today.
The skywalks are located on the 74th, 75th and 78th floors. The 74th floor is an indoor observation deck that offers augmented reality looks at tourist attractions in Bangkok.
The 75th floor has a glass elevator which leads to the rooftop and an outdoor observation deck on the 78th floor.
Visit the the topmost floor and step onto the Glass Tray, a transparent floor for heartstopping views straight down. Up another flight of steps sits The Peak, a platform offering a 360-degree view. Have a drink to calm your nerves at what's billed as the highest rooftop bar in Thailand.
MahaNakhon Skywalk is open to the public 10am to midnight daily. The MahaNakhon building is located on Narathiwas Road at BTS Chong Nonsi.
Tickets to the skywalk? They come at two levels: 850 baht tickets offer access to the 74th floor, while 1,050 baht tickets offer access to all the three floors (74th, 75th and 78th).
King Power MahaNakhon, formerly MahaNakhon, opened in 2016 and became the tallest skyscraper. It exceeds the Baiyoke II Tower by 10 meters to become the tallest building at a height of 314 meters. Its claim could be short-lived, however, depending on if and when the Rama IX Super Tower is completed, which would dwarf MahaNakhon at 615 meters.
Related stories:
Duty Free Giant to Buy Bangkok's Tallest Building
Nativist Learns MahaNakhon Designed by Top Foreign Architect, Complains to Govt