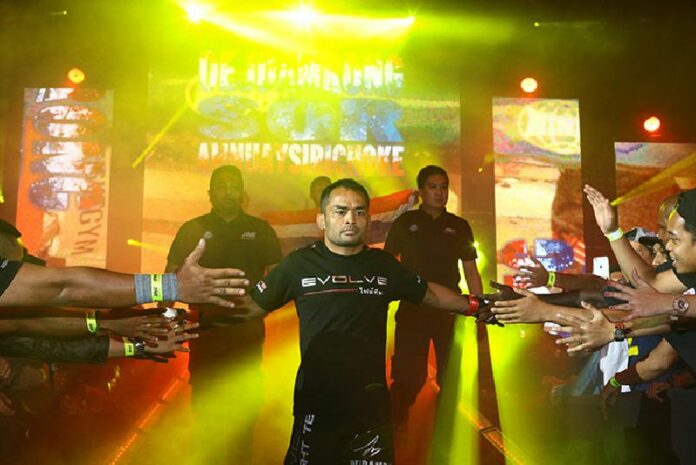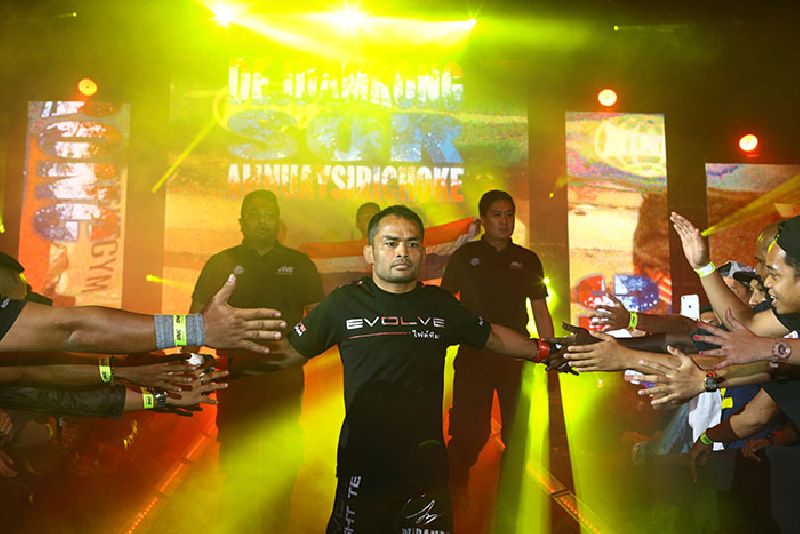 The first time Dejdamrong Sor Amnuaysirichoke fought, he was paid just 70 Baht (about USD$2). It doesn'™t sound like much, but to a 10-year-old boy growing up in rural Thailand, it felt like a fortune.
As a ONE Championship title holder his fight purses can now be measured by the tens of thousands of dollars, and it has been a remarkable journey for the 37-year-old.
In Muay Thai, a fighter is generally thought to be staring retirement in the face once they reach 30. Dejdamrong probably thought his fighting days were well behind him when he accepted an offer to come and coach at Evolve MMA in Singapore midway through 2013.
As a veteran of over 300 fights who had won titles in two divisions at the famous Lumpinee Stadium, his services as a trainer are highly sought after. Dejdamrong travelled to Singapore with the sole intention of sharing the knowledge he had acquired after decades of Muay Thai, but fate would conspire to give his fighting career a new lease of life.
After some time in Singapore, the Trang native was used to seeing Evolve MMA'™s Brazilian Jiu Jitsu, or BJJ, black belts instructing students in the art of grappling and submission fighting. It was completely different from the Muay Thai skills he had spent most of his life mastering but Dejdamrong was intrigued and asked if he could participate in a class.
He took to BJJ like the proverbial duck to water and within four months of taking his first BJJ class, he was stepping inside the cage to compete in mixed martial arts (MMA). At the age of 35, Dejdamrong was a late-starter, but he was determined to make up for lost time.
"It is very different from Muay Thai but there are some similarities. I think I am lucky because I was learning from BJJ black belts every day at Evolve MMA, they have so much experience and when your coaches are so skilled, it is easy to learn quickly," Dejdamrong said.
Dejdamrong would go on to win his first four fights competing in ONE Championship's 125lbs division and remarkably he won two of them by submission. In the space of a few months the Thai had gone from being a complete novice on the ground to establishing himself as a mixed martial artist with no obvious weaknesses.
In May 2015, Dejdamrong was rewarded for putting together a 4-0 record with a ONE Championship title shot. Seldom in history can a fighter make such a fast start to a professional MMA career and the Thai believes that the credit should go to his trainers and training partners.
"œEvolve MMA is the best place in the world to train because there are champions in wrestling, boxing, BJJ and MMA as well as Muay Thai. We all help each other, so I can share my knowledge of Muay Thai with the other fighters while they share their knowledge of BJJ or wrestling with me. It is like a university for martial artists, because everyone is always learning," he said.
Dejdamrong never attended an actual university, as he was too busy training every day to pursue his Muay Thai dreams. But he is now one of the most respected martial arts trainers in Singapore as well as the first Thai fighter to ever win a ONE Championship title. He's also been the subject of numerous magazine and newspaper articles in Thailand and is singlehandedly helping to raise awareness of the sport there.
Dejdamrong's life story serves as an ongoing refute to the old adage that "˜you can'™t teach an old dog new tricks." He is changing perceptions as to what is possible for a fighter in his late 30s to achieve and will need to continue doing so because a monumental challenge awaits him on Nov. 13.
That is the date Dejdamrong will face 23-year-old Brazilian Shooto champion Yago Bryan at ONE: Pride of Lions. The fight is set for the Singapore Indoor Stadium and is being talked about as the biggest 115lbs title bout in the history of Asian MMA. It will be the toughest test of his ONE Championship career to date but the Thai believes his experience will be key.
"œI have the best trainers and training partners at Evolve MMA so I am very well prepared and I have fought for big titles in Muay Thai many times before. He might be 15 years younger than me but that means I have much more experience than him and I am determined to defend my title."
Story: Reuters