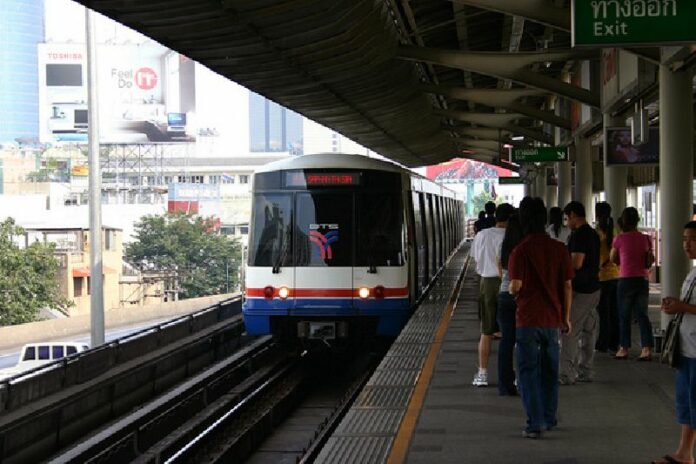 BANGKOK — A moving walkway to whisk commuters nearly a kilometer from BTS Surasak to the Chao Phraya River is one option in a long-delayed plan to rebuild or remove the 16-year-old "temporary" Skytrain station located at Saphan Taksin.
Whether the Silom Line remains a one-way service over the river or is upgraded to a more efficient double-track line, the station located above the Sathorn Pier would need to be demolished and extended for one meter on both sides, according to city officials who hope to decide the station's future by the end of this month following years of prolonged deliberation.
The Bangkok Metropolitan Administration recently discussed options for rebuilding the station, Deputy Bangkok Gov. Amorn Kitchawengkul said, which it hopes to soon complete and forward to transportation officials and relevant agencies.
Two options were floated by officials last year: an expensive rebuild of the station with two tracks or closing the station, leaving commuters with the option of using the nearby BTS Surasak.
Were a second track added, the bridge would need to be widened by 80 centimeters on each side – not an inexpensive proposition.
In 2012 the BMA announced it would demolish BTS Saphan Taksin, but the decision was unpopular with the public and a final agreement was never reached. The station links light rail commuters with boat and ferry services across and along the river.
A 700-meter moving walkway between BTS Saphan Taksin and the Surasak station is also included in the city's plans, most likely as a measure in case the station is closed.
Part of the Silom Line, BTS Saphan Taksin is a major bottleneck because it alternates service in one direction at a time. It was the only BTS station built with a single track; officials said it was only built for temporary use. The problem is believed to cause delays of up to 4.5 minutes on the busy line.