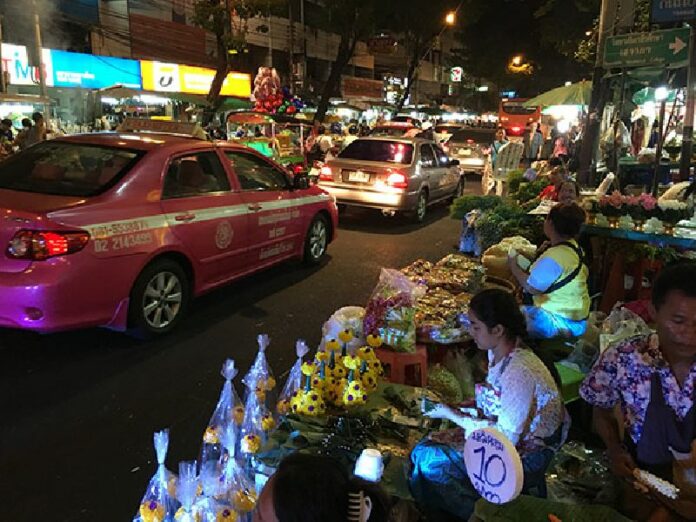 BANGKOK — The campaign to clean up and reclaim public space from Pak Khlong Talad, Bangkok's iconic flower market, is still not settled four months after it began.
As staff from Bangkok City Hall were cleaning the sidewalk in Pak Khlong Talad this morning, dozens of flower vendors, gathered again in front of Government House, asking the junta to postpone the schedule of eviction.
"Some vendors tried moving to sell [flowers] at the new Yodpiman market," Pirome Chitkorn a representative of the vendors told Matichon. "They found that people don't like to shop there since it is not convenient and it's small. Also the rent is pretty expensive."
Since the campaign aimed at returning walkways to pedestrians and solving traffic congestion began to target Pak Khlong Talad in December, vendors and the Bangkok Metropolitan Administration, or BMA, have been involved in a prolonged conflict. With roots as a market stretching back to the late 1700s, the market has operated 24 hours a day for six decades.
Following several discussions, the deadline has been pushed back a number of times. Most recently the BMA announced that all vendors were to remove their stalls from the street by April 1st. Vendors ignored this order and sold flowers over the weekend.
Vallop Suwandee from the BMA said this morning, during his visit to the area, that vendors are still allowed to sell from the sidewalk from 8.30pm to 4.30am until the end of June. From July 1, no stalls will be permitted on the street at any time, day or night. Those who violate the ban will be fined up to 2,000 baht.
Pirom said he and his group of fellow vendors are willing to cooperate with the reorganization campaign only when City Hall is able to find a place that can accommodate all vendors.
On March 28, BMA opened a new market building a few minutes walk away from the site currently used by sellers. The new site is called Pak Khlong Triphet and some vendors are willing to move there. The 24-hour market has 74 stalls and can accommodate 148 vendors. This falls short of being able to accommodate all of the hundreds of flower sellers presently operating in the area.
Related stories:
Say Goodbye to Bangkok's Flower Market
Saved by St. Valentine: Flower Market Crackdown Extended
Huai Khwang Market Vendors Protest City Eviction
Amulet Market Gone, City Swivels to Flower Market and Banglamphu
Say Goodbye to Bangkok's Famous Tha Prachan Amulet Market
Demolition Day: Dismantling of Saphan Lek Begins
One-Year Reprieve Sought for Saphan Lek Market
City Hall Denies Colluding With Developer to Demolish Saphan Lek
Vendors Revolt as BMA Moves to Demolish 'Saphan Lek'