Top: Participants of the "12 Pubs of Christmas" pose for a photo Dec. 1 in front of Hanrahans bar in Nana area, Bangkok.
A dozen people wearing Christmas apparel line up along a ledge in a deserted Patpong street. At the count of three, cheered by a vociferous crowd, they down a vodka penalty shot – the first of a few that afternoon.
It's only 1:45pm on a Saturday, but part of Bangkok's Irish diaspora has already been to Shenanigans Bar, had a full English breakfast, two beers and walked to the Paddy Field pub. There, the unfortunate few pay for breaking the first rules of this year's 12 Pubs of Christmas, which in 2014 left Dublin's frigid streets and found its way to Bangkok. This reporter joined the craic to see how they celebrate the occasion in Thailand.
"It's not often you see 60 people dressed in Christmas clothes walking around pubs in Bangkok." participant Shane O'Mahony said, donning a Santa jumper and hooped, knee-length socks at 32C. "It just brings everyone together, especially the time people are away from home."
The origins of the 12 Pubs of Christmas are uncertain – some say it began 10 years ago, others date it to the '90s. But everyone agrees that it started on the Emerald Island. In Thailand, its beginnings are more traceable. Organized by the country's Gaelic Athletics Association, or GAA, the pub crawl made made a home in Bangkok four years ago.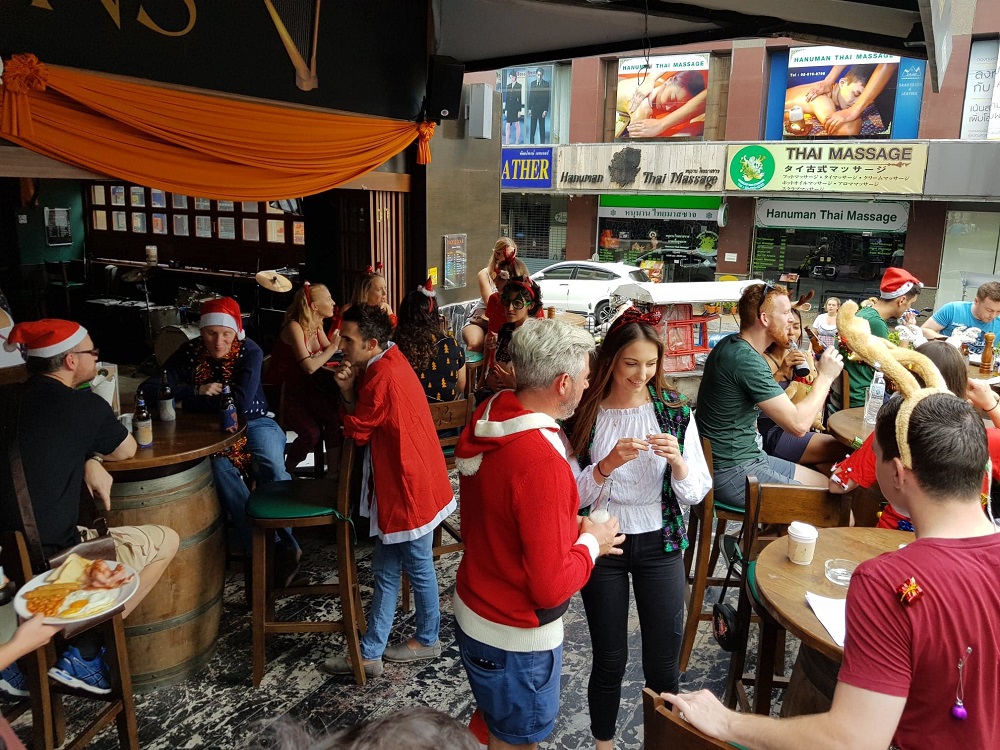 Here, Guinness is swapped for Leo and Jameson for a bottle of Maa Jai Dum vodka from Chiang Mai, but the spirit remains the same. O'Mahony, who has been to all four events so far, explained the proceedings: Go to 12 pubs, have a pint in each, follow the rules set for every venue – or down a penalty shot – and make it alive to the last one.
"You can see that as soon as the rules are introduced, the atmosphere just lifts 100 percent, and you see a lot more people interacting when you have this aspect to it because everyone's looking out for everyone else and everyone's talking," he said.
And talk they did. By 12:30pm, there were close to 50 signed up and down the street we marched from Shenanigans: men and women of all ages and backgrounds – many teachers, others working in travel, a few were businessmen.
Rules are Rules
Niall McSkeane is an engineer, and he was up on the ledge early for breaking rule No. 1 (you can only drink with your left hand) or rule No. 2 (someone else has to feed you your drink.) After downing the penalty shot, he told me about what being part of the event and the GAA meant to him and the Irish people in Thailand.
"To be honest, Thailand GAA for me is probably more of a family than anything when you're abroad, like you know, it's huge… huge, huge, huge," McSkeane said. "So anything you can do for the club will be done."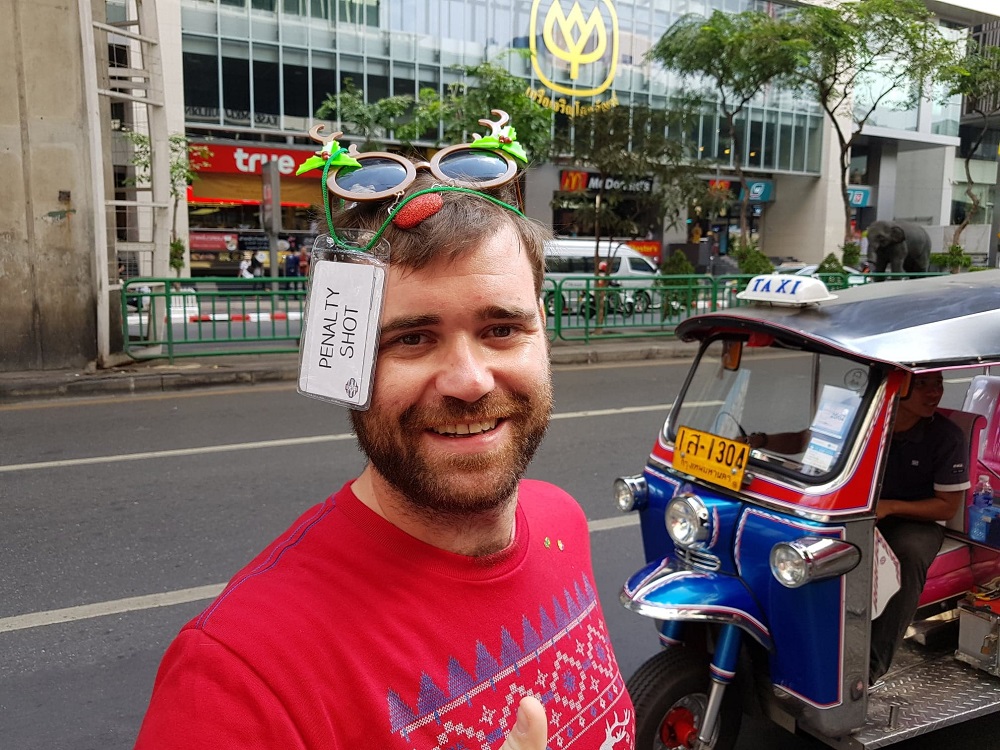 He's been to every event since 2015, and describes the 12 Pubs as an opportunity to gather with the Irish community and enjoy the holiday season with some laughs.
"It's a bit of an opportunity to have a bit of craic, bit of fun, bit of a party, stop worrying about the calories!" he said, adding that the event is incredibly popular in Ireland. So popular in fact, that some venues there have banned it to prevent the throngs of people from draining their kegs.
"Who knows?" McSkeane said when asked if he had made it to the end of every 12 pubs so far. "That's a question for the gods."
Four beers down, the crowd made it to the Nana area in tuk-tuks, and grew bigger at Hanrahans: by 2:30pm we were 85, and the friendly Irish greetings began.
"How're ye keepin' up, ye bollocks?" teacher Patrick Kennedy said. Turns out he was forced to: Rule No. 3 was to say "your bollocks" after every sentence, and suddenly we were close to 100 people all mouthing off at each other in true Irish spirit.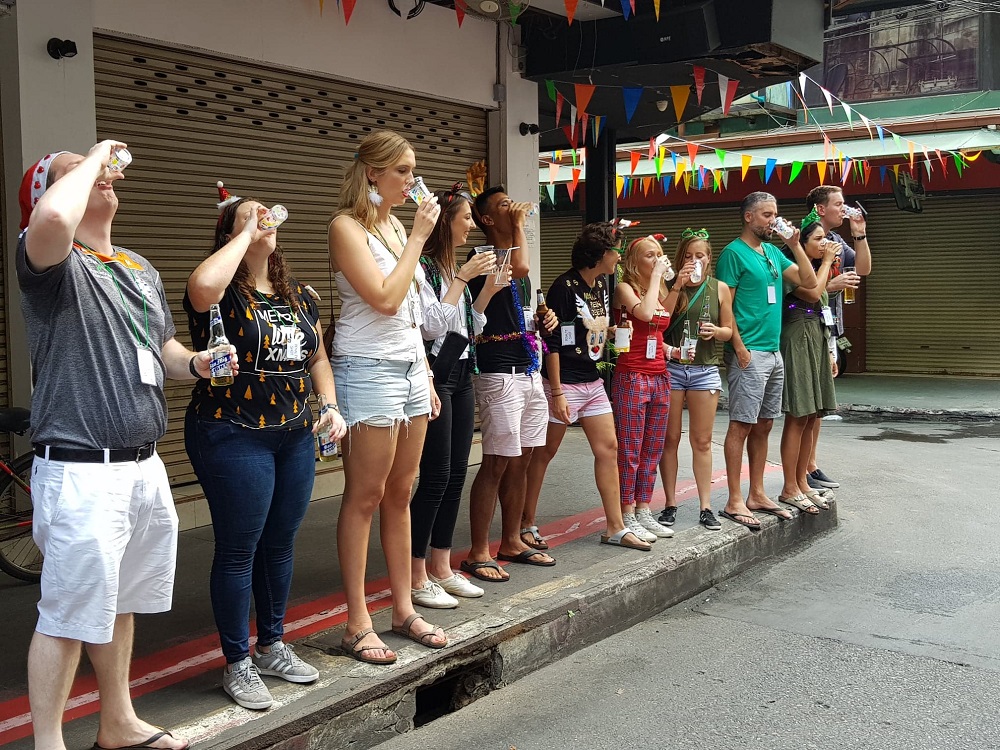 It got even more Irish when plates of grub came in the form of baked potatoes and chips. They were inconveniently served as rule No. 4 – holding hands with someone else – was introduced, and we now had dozens of pairs walking around, trying to either hold their drink or have some food.
But according to teacher Anna Gibson there wouldn't have even been eight pairs when it first began.
"I think in the first [event] we had about 10 or 15 of us. And other years there've been like 80 or 90 people," Gibson said, adding that the event has grown every year.
Beyond the Irishness
After swapping shoes for rule No. 5 and six beers to the good, the crowd strolled over to the Landmark Hotel where – to the incredulity of passers-by – people began walking backward as part of rule No. 6. Rules were broken, shots were downed and off we zigzagged to the aptly named Drunken Leprechaun with four beers to go.
"Rule No. 7 is to speak with an accent!" someone hollered sounding very South African, and it suddenly turned into what a UN after-party might sound like.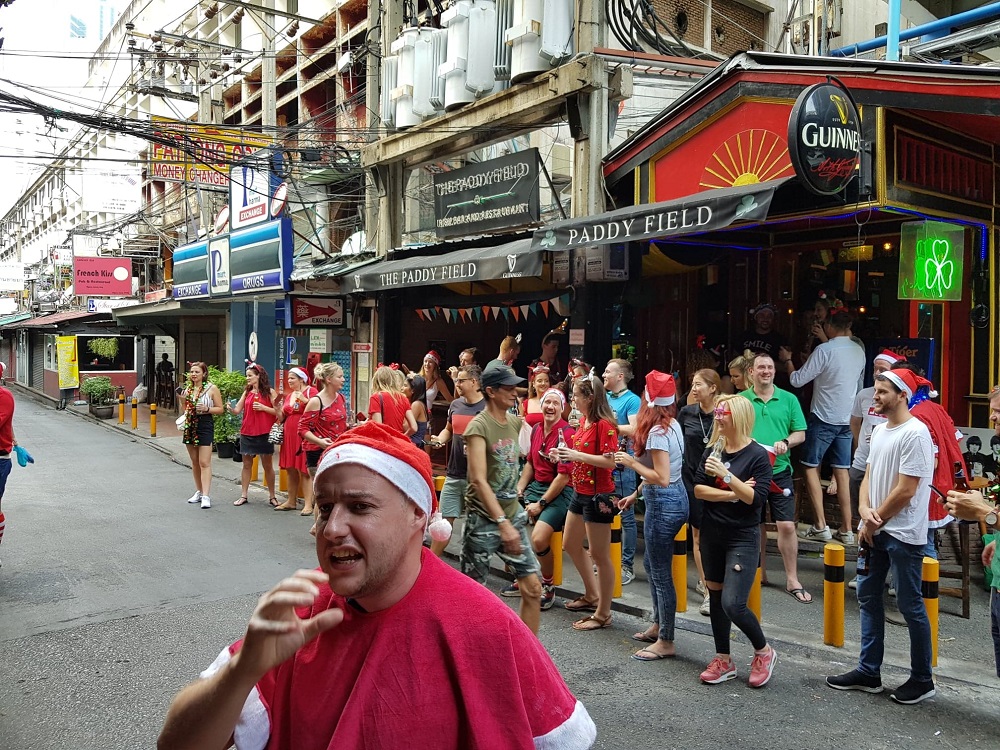 But it might as well have been at that point, for the event was far from Irish-centric. Australians, Scotts, Thais, Spaniards, Americans and Englishmen were among those not native to Ireland.
Among them was Chantal Marson, a Canadian-Jamaican who joined the Thai GAA after arriving from Kuwait, where she was also part of the Gaelic sports community.
"Gaelic football is really big in the Middle East," she said. "So when I came here I decided to join the GAA too."
Still looking strong as evening dawned was Suraphot "Mozz" Piokliang, one of the GAA's Thai stars. He said events such as these make being part of the association all the better, and foster the sense of family within the club.
"It's like being out with your brothers and sisters," he said as he rested his drink on the table. However, Mozz let his guard – or his glass – down at the wrong time, as rule No. 8 banned resting drinks on any surface.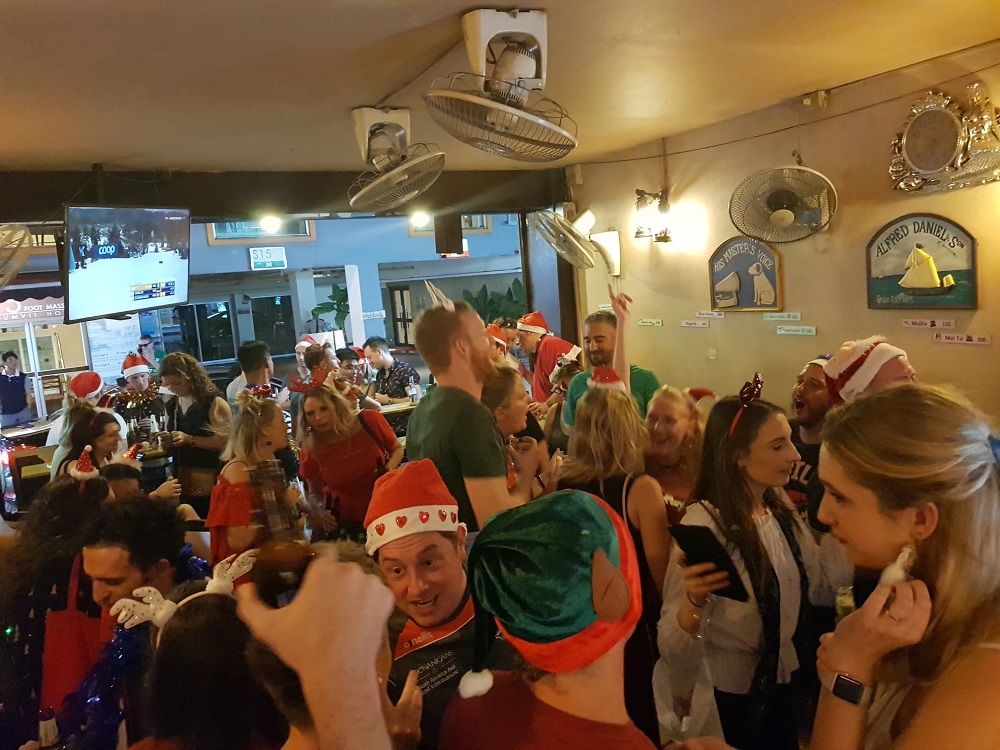 No. 9 had everyone addressing each other by their surnames and out the door as we crawled to Speakeasy, the last pub just down the road.
There, packed to the rafters, it was obvious most had survived the challenge and it was time to dance in celebration. The Dubliners, Flogging Molly and Dropkick Murphys took center stage, as did classic Christmas hits.
"This is really what it's all about, the camaraderie, the craic, the fun. And everyone's invited. This is our Irish family in Thailand," said James Donnellan, who helped organize the event.
It could have only ended with the Pogues' legendary Christmas song hollered euphorically by a joyous and drunken Irish crowd. And so, to the tune of "Fairytale of New York," we finished our last two beers.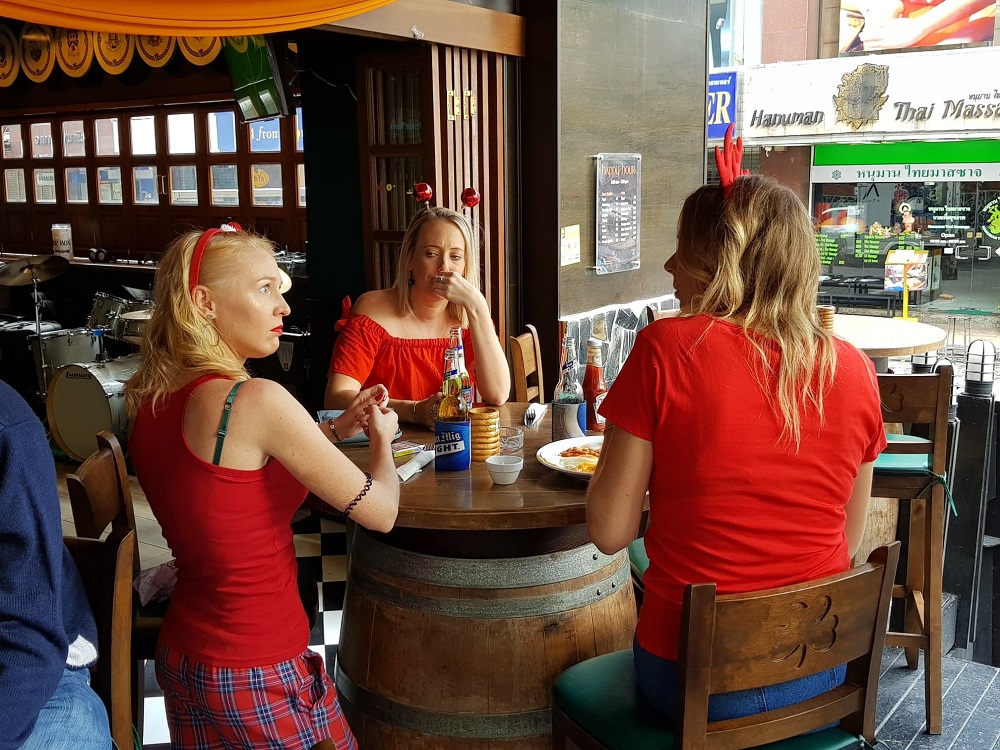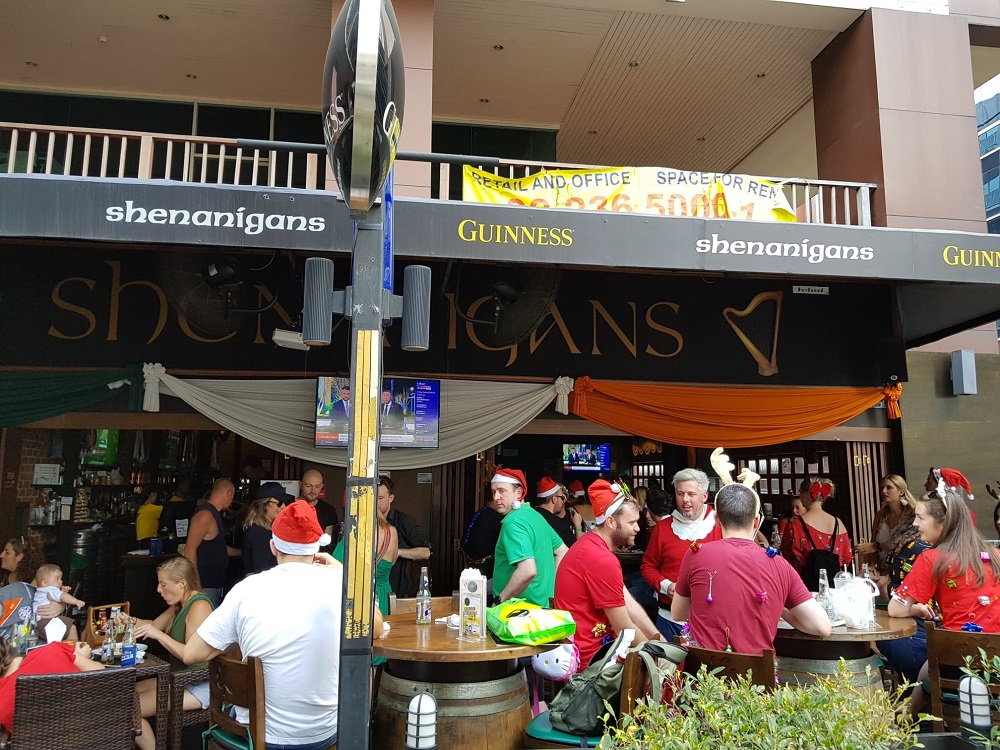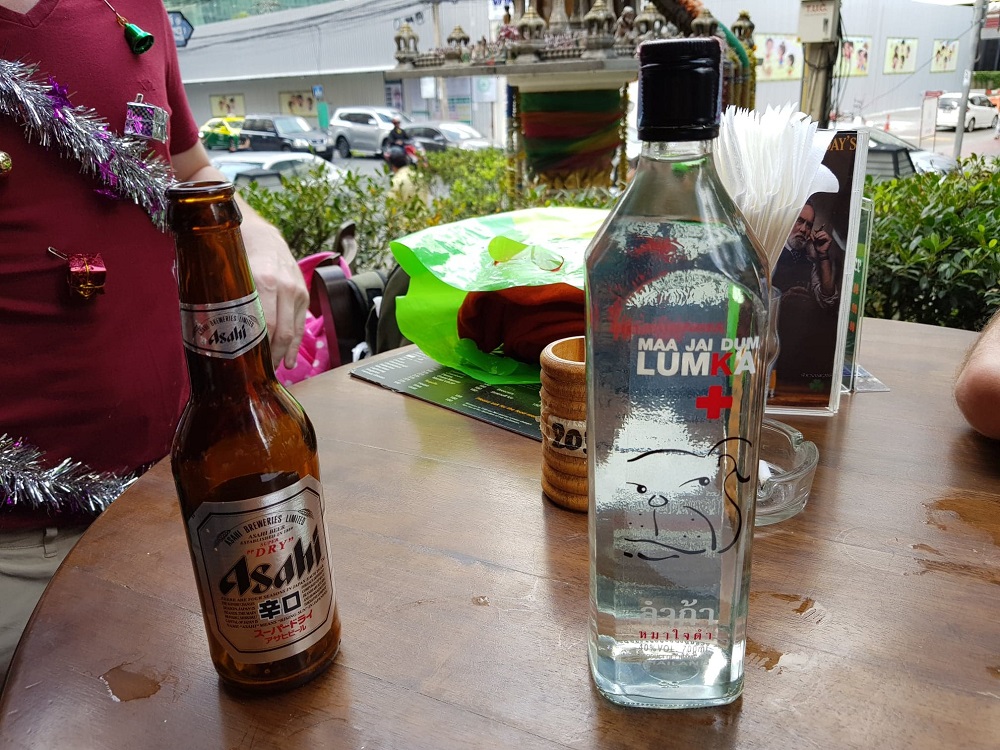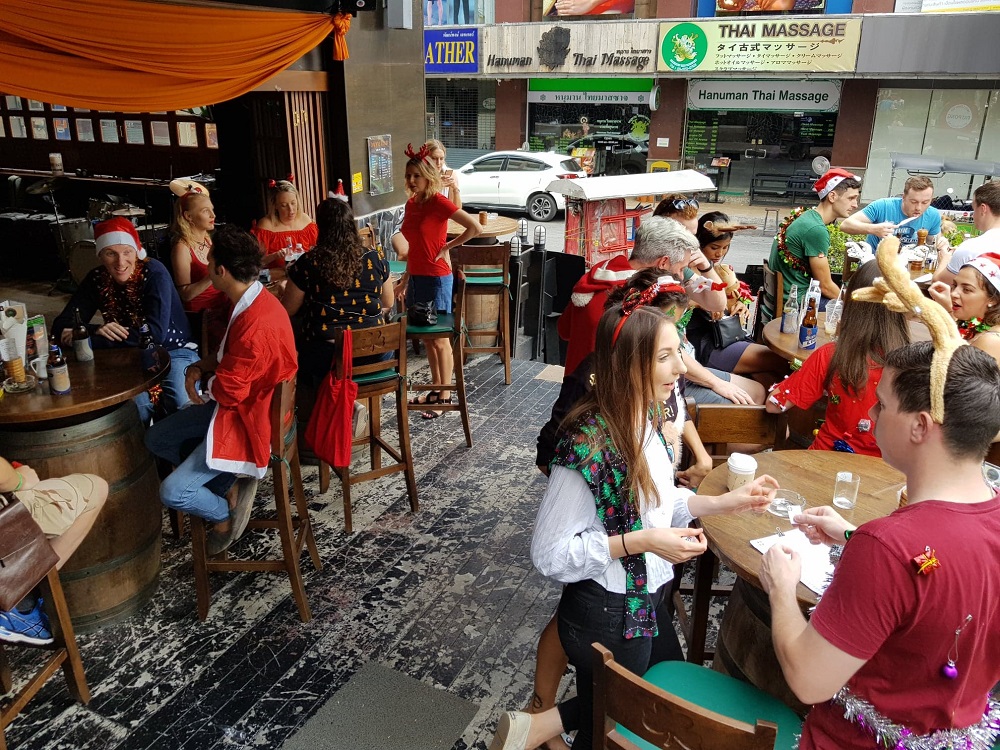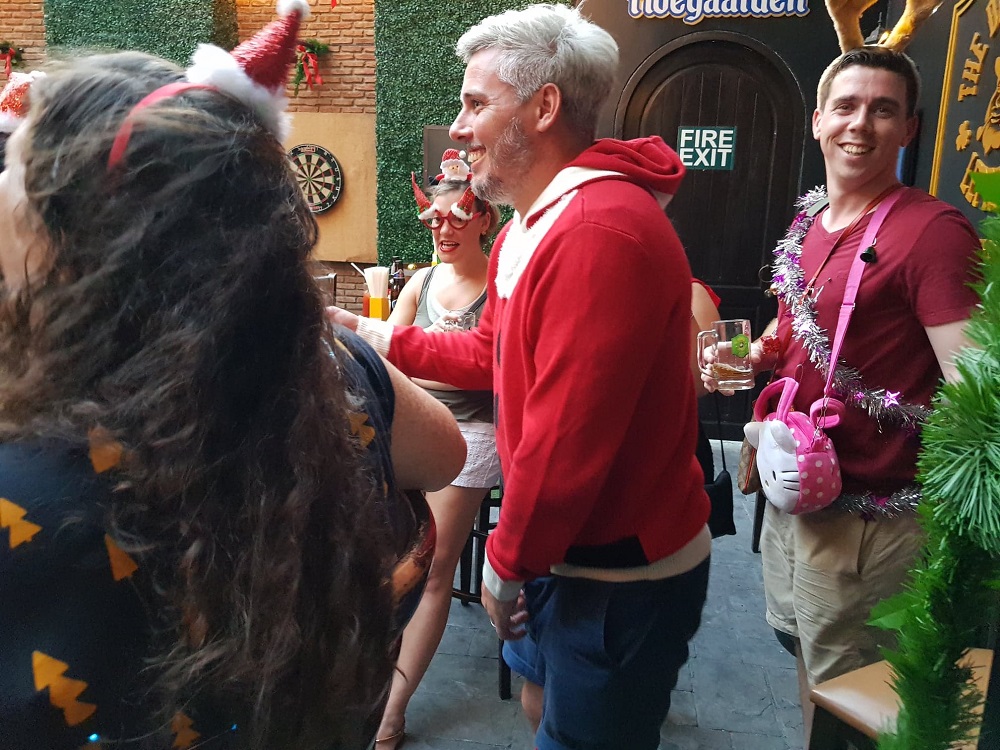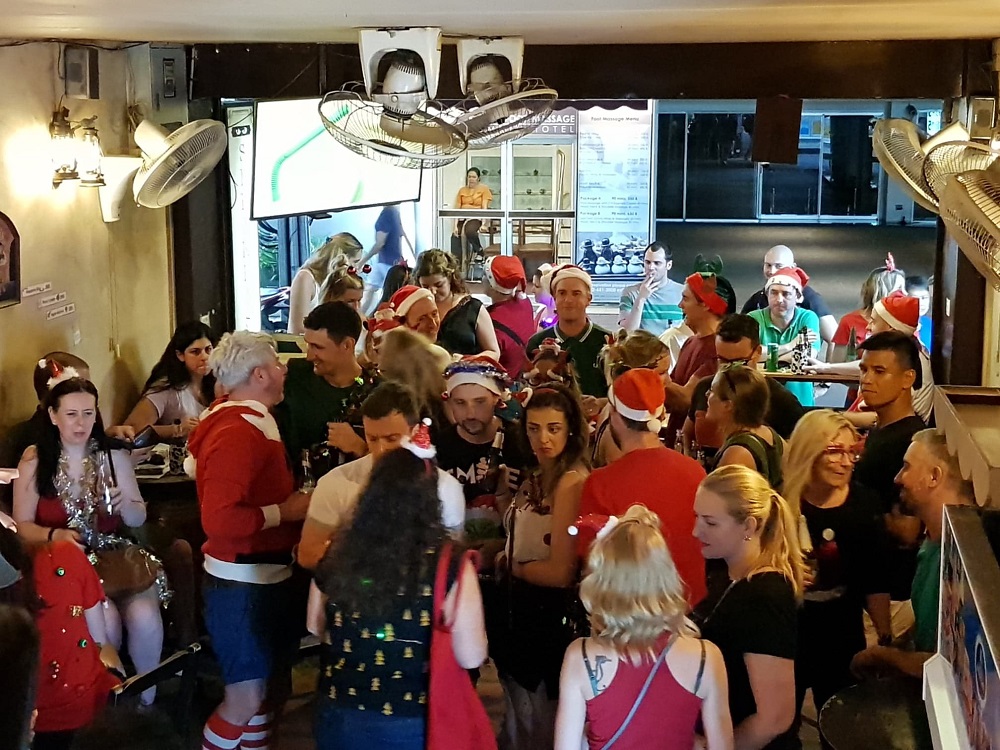 s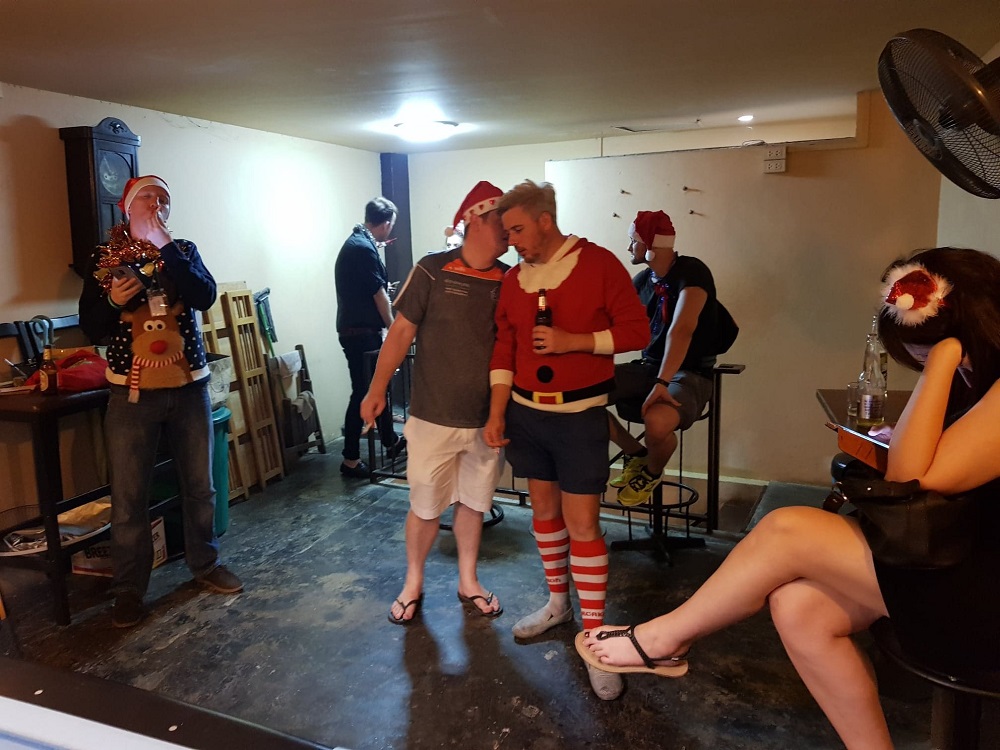 Related stories:
Far From Belfast, Gaelic Football Keeps Their Irish Up