BANGKOK — Three newcomer artists join forces in reflecting on social discrimination through pop art in Parade of Toys exhibition.
Discrimination could be found around the world, not exempting the beautiful Land of Smiles. Three Thai artists were motivated by this topic to create works reflecting superficiality of society.
"The artworks question viewers on how the surrounding affects our true selves. Does it make us see things clearer or just force us to follow others' paths?" said Phurapol Sotaiyin aka Northyang.
After graduating from the Faculty of Painting Sculpture and Graphic Arts at Silpakorn University, Phurapol struggled to start a small business with friends, saying he was taken advantage of. Despite the drama, he learned the hard way from those experiences and channeled them into his work.
"Thai society is classified by class and dominated by favoritism and a patronage system," the 26-year-artist said. "They force people to live according to those stereotypical standards. Only when we play the role that the society wants, we can live peacefully. But is this really what everyone wants to be?"
Apart from Phurapol, Phuwadon Thongnoum aka Phu20, and collage artist Jirapong Somphao express their points of view on society.
The opening reception starts at 7pm on Sept. 9 and runs through Nov. 12 at Kalwit Studio & Gallery on Wireless Road. It's a moto ride or 15-minute walk from BTS Ploen Chit.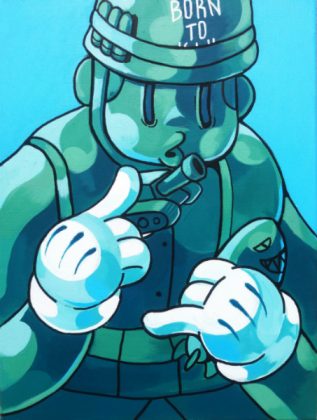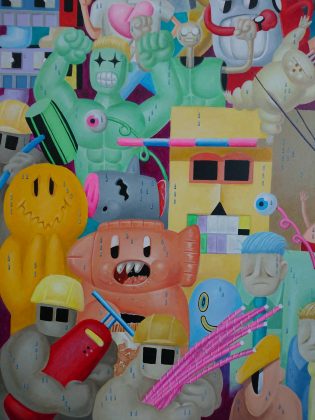 Related stories
Such Wonderful Toys: Imagination's The Limit For DIY Action Figures
Not Child's Play: Balloons, Toy Soldiers Latest Adaptation by Junta Opponents
A 'Toy Protest' Has Broken Out. We Spoke to the Woman Who Came Up With It.