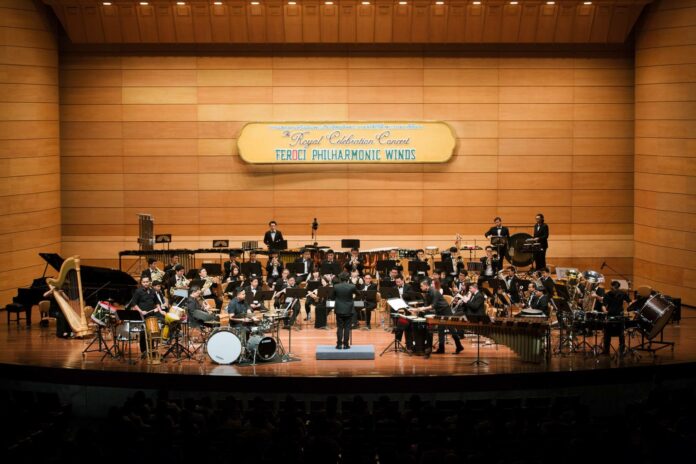 BANGKOK — Several of His Majesty the Late King Bhumibol's musical compositions will be performed by two orchestras next week to commemorate the late monarch.
College of Music from Mahidol University, and Faculty of Music from Silpakorn University will perform compositions of King Rama IX on the same week with their unique style.
The Mahidol Wind Orchestra
Various arrangements of the late King's composition will be presented through a different perspective by the Mahidol Wind Orchestra. The program will feature famous pieces and rarely heard works by the King, including his ballet score "Kinari Suite."
Tickets are 200 baht or 100 baht for students with ID cards and are available at the box office. For more details check out Mahidol's College of Music on Facebook.
The performance begins from 7pm on Tuesday at college's music auditorium located in Mahidol University, Nakhon Pathom. It can be reached by taxi from BTS Bang Wa.
Silpakorn's Feroci Philharmonic Winds
Apart from King Rama IX's composition, Silpakorn University's Feroci Philharmonic Winds will perform a recent composition of Princess Sirindhorn followed by their own works,  Brahms' requiem and Faure's Cantique de Jean Racine. The Bangkok Music Society choir and Silpakorn's Thai Music Club will also join, with former Prime Minister Chuan Leekpai bending the horn for a saxophone solo.
Admission is free. Polite mourning clothes are required. More information is available via email.
Prior to the concert, activities dedicated to the late King such as free T-shirt screenings, an art exhibition and a painting workshop will start from 2pm.
The show starts at 7pm on Dec. 18 at the Thailand Cultural Centre, a 10-minute walk from MRT Thailand Cultural Centre Exit No. 1.