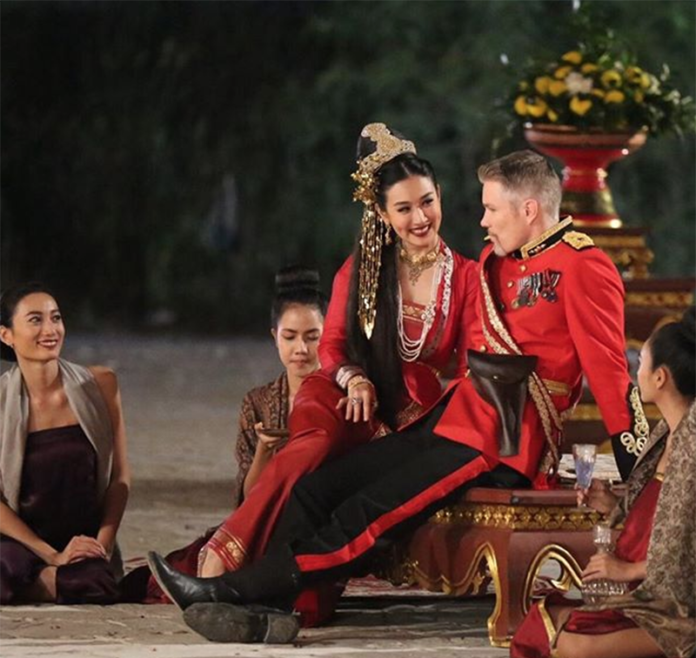 BANGKOK — A prime-time soap portraying a Burma-like kingdom has drawn the ire of some in Myanmar who are demanding it be pulled off the air.
"Plerng Phra Nang" ("A Lady's Flames") has angered those who say it misappropriates Burmese culture and history for a thinly veiled and unflattering depiction of the 19th-century Konbaung dynasty.
Read: Great-Grandson of Last Burmese King Wants Thai Soap Canceled 
The story traces the rise of Lady Ananthip (Patchrapa "Aum" Chaichua) in the court of a fictional city – and though it makes no direct reference to Myanmar, the costumes and story clearly place it in Mandalay.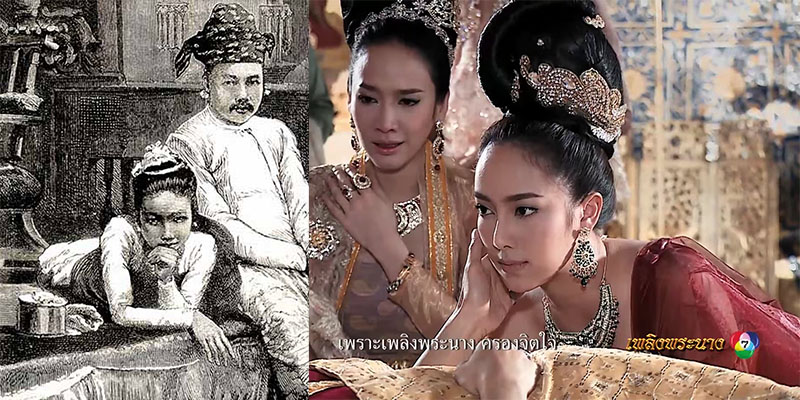 "People in Myanmar are saying that this sort of lakorn shouldn't be created while the descendants of the king are still alive, especially since the main theme blames the queens of King Mindon and King Thibaw for the fall of Burma," Subhatra Bhumiprabhas, an expert on Burmese history who has translated works on the period, told Matichon on Saturday.
Royal Defamation?
The lakorn has stark parallels between Patchrapa's Ananthip and the historical Hsinbyumashin, who in 1879 orchestrated the massacre of upward of 100 members of the royal family with her daughter to ensure her husband's ascent to the throne.
Subhatra last month matched the characters of "A Lady's Flames" with the members of the Mandalay court's final reign: Ananthip is Hsinbyumashin, Muang Koom is King Mindon, Maan Faa is King Thibaw and Pinmanee is Supayalat.
Indeed, just as Thailand has erupted over misappropriations of its culture and is hypersensitive about depictions of its monarchy – "The King and I" has been banned since 1956 – some in Myanmar are unhappy about what they see as degrading depictions of their former, now-extinguished royalty.
"Learned this Thai Movie of King Mindon and King Thibaw is defamation of Myanmar Royals, still living descendants strongly urge to stop this film on the basis of Mutual Respect of two countries Royal Families," Facebook user Cho Lay wrote in English, one of the online Myanmar Facebook users who have called for the lakorn to be pulled.
Royals Behaving Badly
Period epics or television series, from the recent Naresuan film franchise going back to to 2000's "Bang Rajan" and beyond, depend on the "invading Burmese" trope.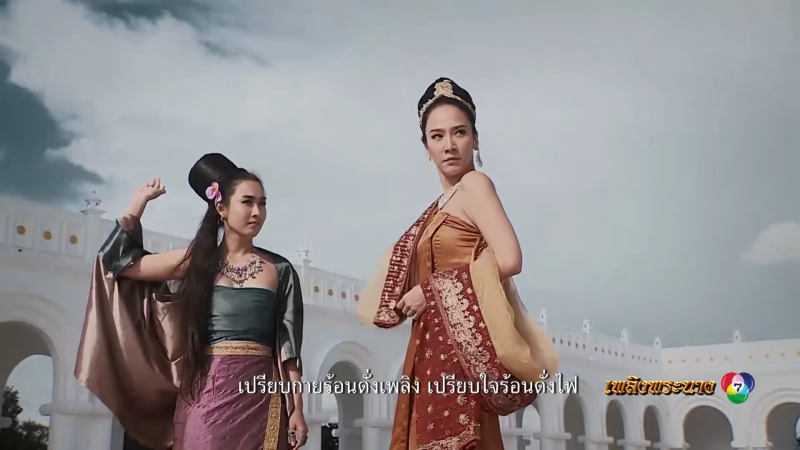 While the Burmese are cunning and occasionally villainous, media depictions of Thai royal characters remain fixed on noble warriors and virtuous ladies.
With a completely "Burmese" cast of characters, however, there's room for the soap's plot to stray into what would otherwise be taboo territory.
Aristocrats can cause as much ignoble mischief as they want in the foreign, ostensibly fictitious city of Muang Thip. They can scream, slap, have sex with foreign colonialists, rape, murder, commit suicide, and put themselves above the nation.
"Your brother took the Golden Stool from my father! You took the position of queen-to-be from me! The golden tray next to your palanquin has no meaning if stinks of blood!" Lady Ananthip screams in the series' second episode.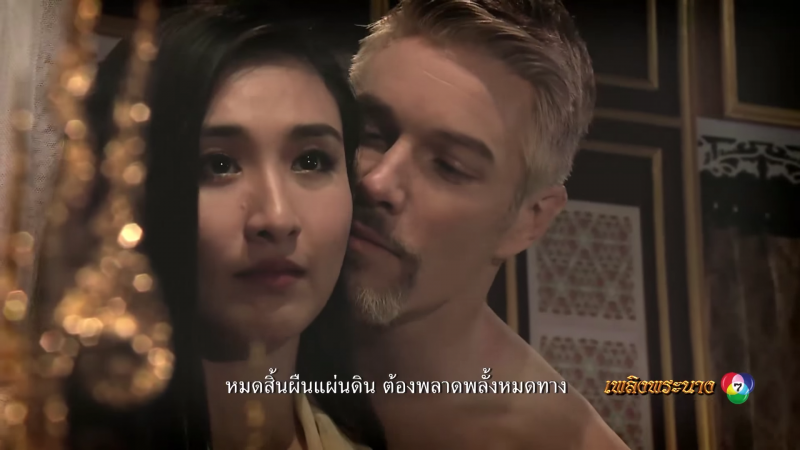 The "scheming women" trope falls to the ladies of the court, whose actions are bringing about the downfall of the not-Burmese monarchy. It's those depictions that have angered viewers in Myanmar, Subhatra said.
'Completely Fictional'
Despite criticism, series producer Chitralada Disayanon insists the soap is "unrelated to Burma and is completely fictional, with the costumes and setting not meant to evoke any country or time period in particular."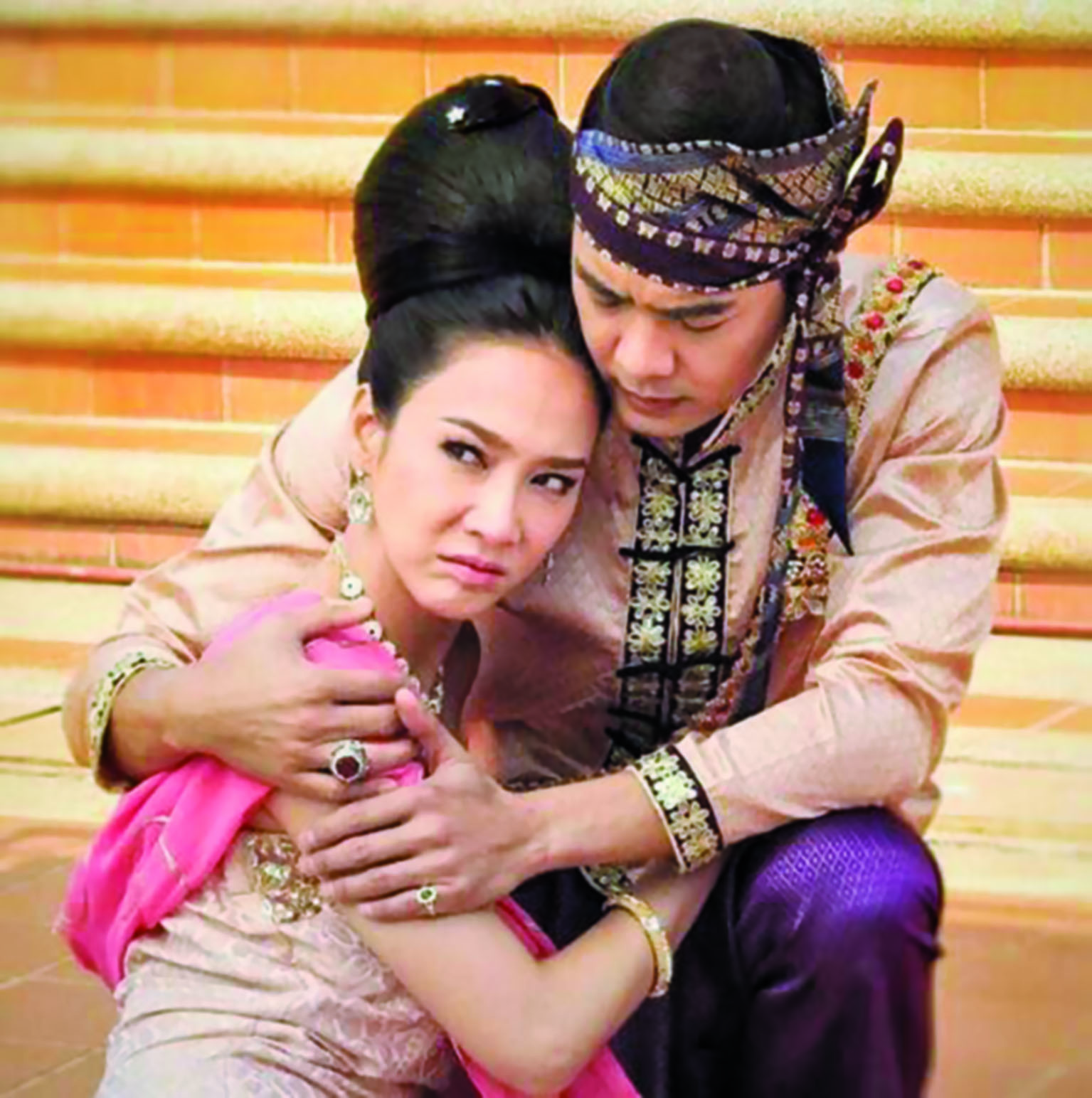 Similarities or no, lead actress Patchrapa, who plays Ananthip, said it shouldn't offend anyone.
"I'm not worried about it since there's nothing in the lakorn that refers to Burma. We're saying that it's a fictional story. Still, I think people comparing the plot to something else is unavoidable," Patchrapa said.
As for those calling for the series to be canceled, she said they were going too far.
"Has it really reached that point? I have to go back and view it," she said. "If the lakorn refers to something then it shouldn't be aired, but it doesn't. It's just entertainment."
Subhatra said putting a different coat of paint on the story isn't enough to wave away the sensitivities it has offended.
"The creators of the lakorn have tried to change up the costumes, but people still perceive the setting as Burma," Subhatra said.
The costuming and setting of "A Lady's Flames" evoke the common Burmese representations are in Thai media—men with head wraps and dark eyeliner, and women in longyi skirts wearing large hair knots bedecked with flowers and jewels.
"Of course some historical facts are changed for drama in the soap opera. We should understand how Myanmar is feeling," Subhatra said. "Imagine if there was a lakorn about Suriyothai…It's all a very sensitive issue."
"A Lady's Flames" is produced by Kantana Group and runs at 8:30pm, Friday through Sunday on Channel 7. It's a remake of a 1996 version also produced by Kantana Group. The 1996 script was based on Kukrij Pramoj's 1969 nonfiction book "The Fall of the Burmese" and Prince Damrong Rajanubhab's "Journey Through Burma in 1936: A View of the Culture, History and Institutions."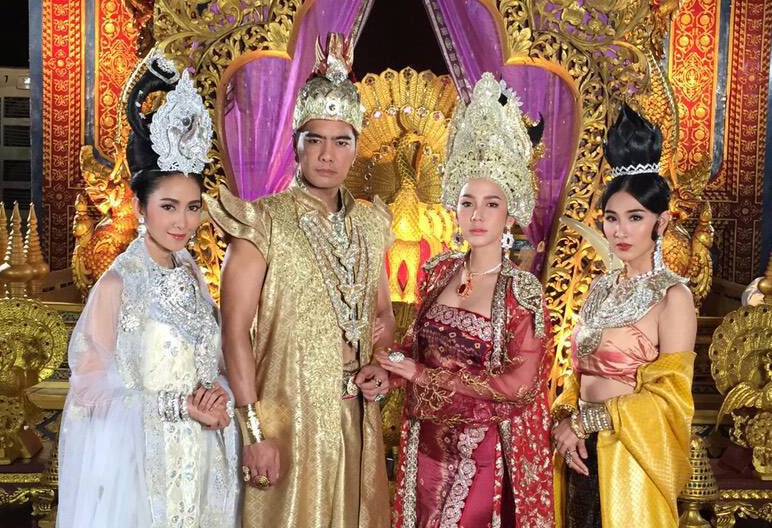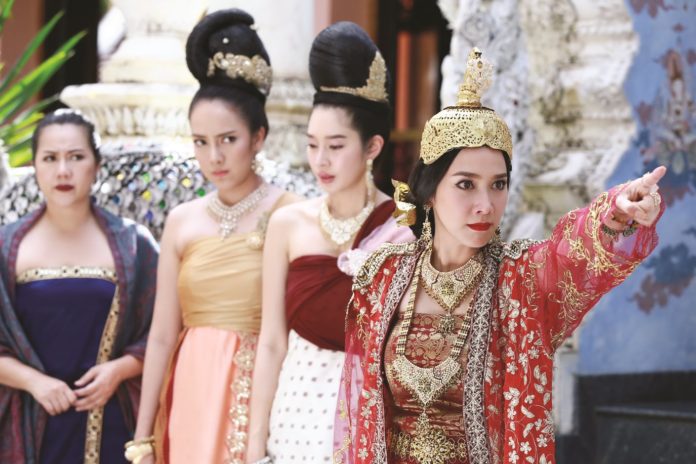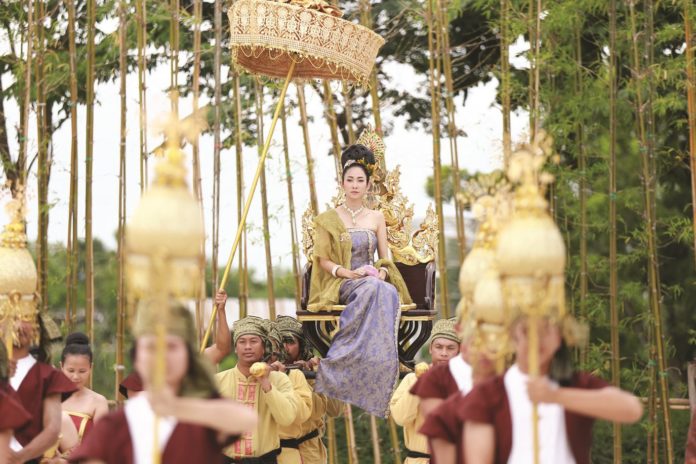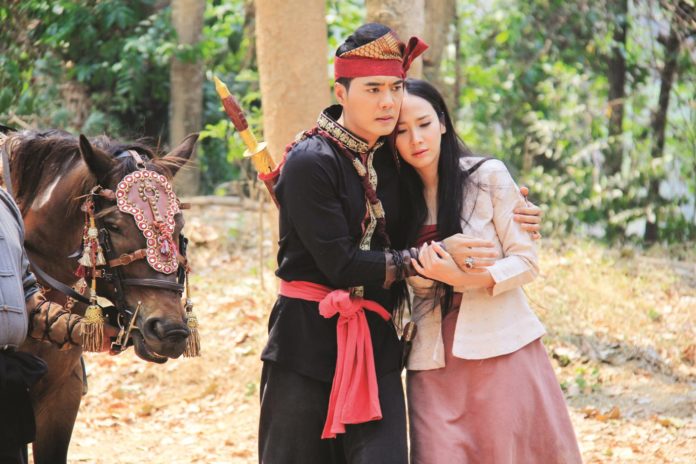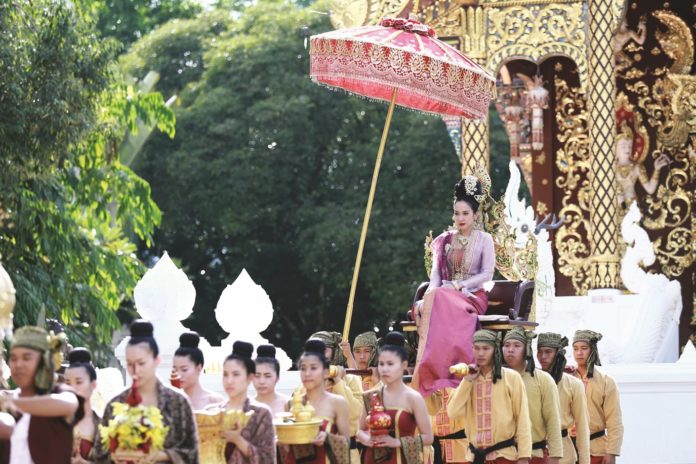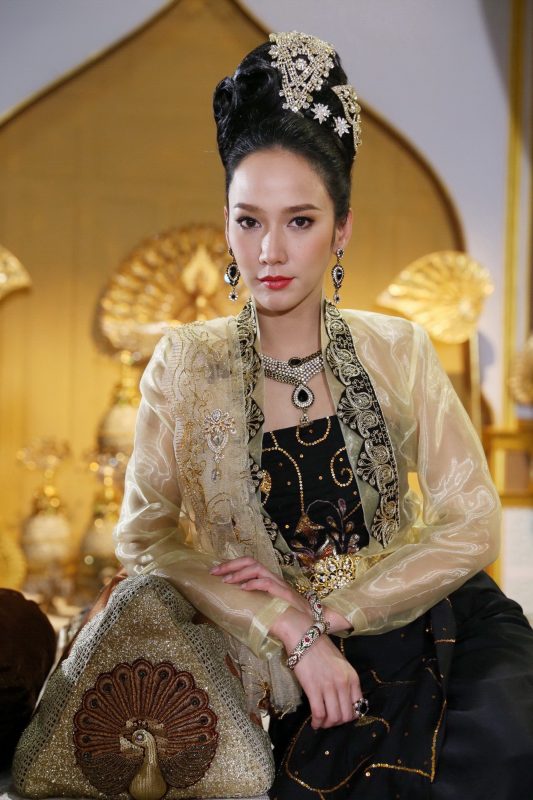 Related stories:
I Was Born In the Reign of Rama IX: The Series