BANGKOK — Sweat, heat and the press of crowds on lengthy journeys is the experience of traveling Thailand by train. For director Sompot Chidgasornpongse, it's the perfect allegory for Thai society.
It took Sompot almost eight years observing and recording the mundane lives aboard several passenger cars – how they talk, walk, glance and sleep – to produce his debut documentary "Railway Sleepers."
"During the time spent on a train, a communal area is created, as strangers have to sit face-to-face across from one another. This transient moment replicates what happens in Thailand," Sompot said.
Inspired by the curious nature of a Mexican boy sitting across him during a train trip in the United States, Sompot intended to film lives aboard Thai trains for his master's thesis for the California Institute of the Arts.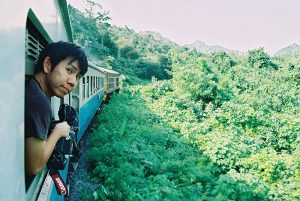 He said people's lives intertwine and connect through the railway: frequent commuters, tourists, vendors, officers, soldiers and monks. All separated are into three classes by ticket price. It's a timeless hierarchy that, like the tracks, runs parallel to society.
"The journey is endless and goes nowhere," the 37-year-old director said about his film. "Change is approaching, but no one knows when or how."
Railways were introduced in Thailand some 130 years back. Although the carriages are still rolling, their condition is frozen in the 1890s. Most trains are decaying, their seats worn, their equipment poorly maintained. To make things worse, they rarely arrive on time or reach their destinations as scheduled.
Still, many commuters have to use the service due to limited resources or a lack of public transportation.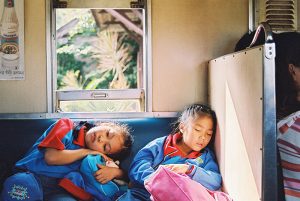 From his research, Sompot said Thailand's railway system was once a symbol of modernity and proof of Thailand's development. It's credited for staving off colonialism by whisking officials between provinces.
Now, the State Railway of Thailand is a debt-laden state enterprise requiring constant infusions of public money to offset its massive deficits.
"The organization needs a major revolution in management," Sompot said from his experience taking more than 100 train trips. "Those who work there don't dare or aren't ready to change, and no one has enough power to adjust things."
Apart from being assisting internationally acclaimed director Apichatpong Weerasethakul in many shorts and features, Sompot has also produced several shorts shown at internationally.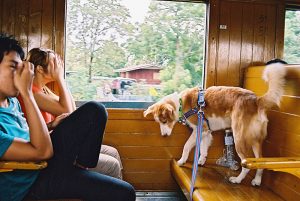 The film premiered at the Busan International Film Festival in 2016 and was screened in Thailand this past January at the World Film Festival of Bangkok.
The title's "sleepers" refers to both the obsolete railway system and somnambulant society.
"The audience is welcome to sleep during the screening," Sompot said. "Just imagine that you're among the commuters on this train and travel with those on the screen. That's how you truly become a part of the movie."
"Railway Sleepers" is showing in Thai with English subtitles once daily at SFW CentralWorld and SF Maya Chiangmai.
Photos: Phim Umari / Courtesy