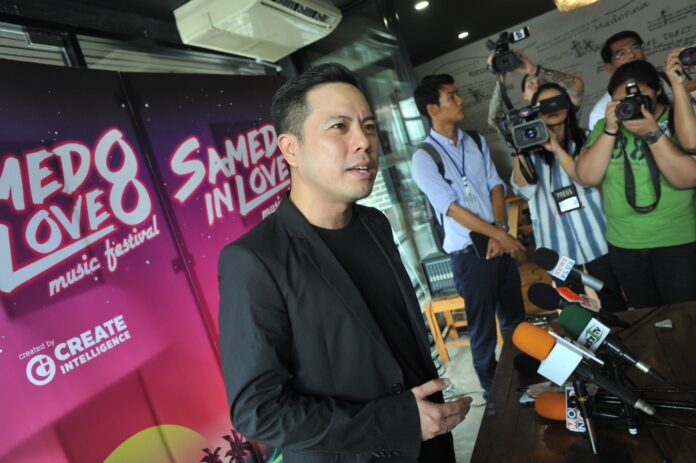 RAYONG — Two weeks before an annual music festival on Koh Samet was to be held, its organizer finally announced Thursday it would not happen, two weeks after the authorities said as much.
After authorities axed the Samed in Love festival earlier this month, organizer Create Intelligence put off notifying its fans as it sought to find a way to hold the event as planned on June 3. Yesterday afternoon they were forced to announce its cancelation at a bistro on Vibhavadi Rangsit Road.
"I regret to inform you that I have to cancel the eighth edition of Samed in Love," said Yannakorn Apirajkamol, managing director of organizer Create Intelligence. "If we move to another venue, we wouldn't be able to prepare a quality event in time."
Yannakorn said his team followed procedure in February when it sought permission for the June 3 festival from Rayong city and the Khao Laem Ya–Mu Ko Samet National Park, which Koh Samet is part of. He believed everything was set when they began selling tickets April 8.
"It's strange that why the problem rose just a month before the event and, until now, we still had no written letter from the government saying we couldn't arrange the music fest," he said, adding that he only learned the authorities denied the request through media reports.
Payoon Pongphan, who heads the national park in which Samet is located, said May 3 that the festival couldn't be held under national park law and due to the mourning period for the Late King Bhumibol, who died in October.
That came after island residents protested against the festival on April 26, saying it was a nuisance that did not benefit the island.
Reached for comment Friday, Payoon said Create Intelligence only contacted the national park after a decision had been made.
"The organizer didn't submit any letter to the national park, so how could we reply to them in written form?" Payoon said. He said the organizer's letter seeking permission went to Rayong City Hall and the park had already responded in the negative by the time it was contacted.
Ticket refunds can be requested online until 6pm on May 31, and the money will be transferred by June 21.
Dissatisfied comments flooded the organizer's announcement on Facebook, where many complained they had booked expensive accommodation that would not provide a refund.
Related stories:

Authorities Axe Music Fest on Ko Samet
Samet Residents Complain Island Music Fest an Unwelcome Mess