BANGKOK — Wearing a glittering golden crown, a male dancer in a purple sarong sways gracefully in an ancient Khmer routine. A necklace hangs from his neck, and bangles adorn his wrists, arms and ankles like the ancient temple dancers whose movements he evokes.
Especially stunning are the bare-chested men personifying female characters in a performance that signifies a leap forward for Cambodia's once-invisible LGBT performing arts community.
At a Friday performance of the Prumsodun Ok and Natyarasa dance company, it wasn't the dancers' sexual identities that made for a captivating performance, but their command of traditional Khmer dance, which communicates beauty through every curved back and synchronized movement.
Apart from their expressiveness, the audience at Thonglor Art Space could clearly sense the dancers' dedication, accompanied by the dignity of representing their sexuality, being accepted and supporting themselves by doing what they love.
Go onstage with the Prumsodun Ok and Natyarasa dance company in this 360-degree video.
The Journey of 'Beloved'
It's been two years since US-born dancer and choreographer Prumsodun Ok, who heads the troupe, received a grant to develop "Beloved," a project on the traditional dance heritage of his ancestral home. He went into it not expecting any long-term commitment, but after only six weeks, Cambodia's first gay dance company came together in his Phnom Penh living room. He said it was fate that brought his dreams and vision into sharper focus and reach.
Last week, the troupe flew from Phnom Penh to perform as part of Bangkok Theatre Festival Asia Focus. They staged a preview of "Beloved" before it officially opens in Cambodia.
Ok studied dance and choreography since he was 16 before training in traditional Khmer dance under Sophiline Cheam Shapiro, a legendary choreographer who helped rekindle Khmer traditional arts after they were all but snuffed out under the Khmer Rouge in the 1970s.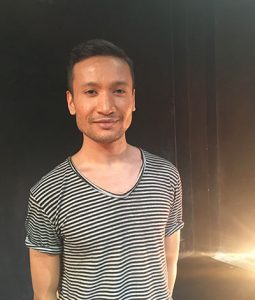 For "Beloved," he used his knowledge of experimental filmmaking to weave an original score and storytelling to present an epic drawn from folklore about a king who mates with a naga, or serpentine deity, to ensure the land's fertility.
The performers communicated all aspects of the divine courtship through dance, representing love unbounded by orientation.
Making Friday night's show even more special, it was the first time male dancers dressed as female characters. Those representing female characters wore female costumes, ornaments and long hair decorated with flowers. Their bare chests recalled Apsara, the dancing female spirits of Hindu mythology.
And when "Beloved" launches in Cambodia next month, it will be the first time male performers play female roles there in an official performance.
Read: Immerse in the Now of Asian Theatre at Upcoming Fest
Artists and academics were all but exterminated in the Khmer Rouge genocide four decades ago. Efforts were made to revive traditional Khmer dance afterward, but it remains in a vulnerable state today.
Ok said the ancient dance is seen as a mirror of heaven, reflecting society's highest expressions of beauty, identity and order. If one looks at that reflection and doesn't see LGBT people, it means that they don't exist. That lack of representation, Ok said, contributes to them being stigmatized and misunderstood.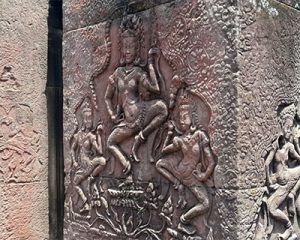 "Giving these gay men a place in this artform is really stretching and re-choreographing the image of heaven and the order it represents," said Ok, the troupe's founder and artistic director. "What we're giving to the tradition is new voices, new ideas, new approaches of where to grow and expand into the future and also allowing young gay men to be heard, seen and to be valued."
Before the troupe was formed, Ok received threats from those afraid and angry that he'd destroy or distort the traditional artform. He compared the situation to a story in which the Hindu Lord Shiva held poison in his neck to save the world.
"I really learned how to transform poison into nectar," he said. "Beyond them, there were young Khmer people who wrote to me saying that they love what I'm doing. Also, I learned to see the love all around me from teachers, friends, strangers who came talk to me."
Eventually, negative criticism faded as his works proved their quality and began transforming traditional dance into a contemporary context.
'I Had to Dance in Hiding'
Ok said LGBT rights are improving in Cambodia, but a lot of work remains, such as ending workplace discrimination, harmful media portrayals and family acceptance.
When Ok polled his five dancers to ask if they were living openly as gay, the 17- to 25-year-old men admitted they were not due to their family obligations. So, apart from helping them develop mastery of cultural tradition and knowledge, Ok also pays them a livable wage, so that they can earn a living being who they are.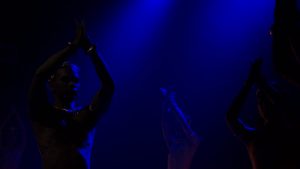 "I've always loved dancing, but there was no path for me into dance as a man or a gay man. So, I had to dance in hiding," 24-year-old Tes Sokhon said in Khmer, with Ok translating. "Joining the company allows me to learn new techniques and be a better performer. … I have come to accept myself more and become happy with my life and the work I'm doing."
Chan Sory, 21, said he's found pride on multiple levels.
"I was living day-to-day, but now I have a job that allows me to sustain myself," he said. "I'm very proud of what I'm doing, as I've grown a lot as a dancer, and it's very meaningful to be a part of Cambodia's first gay dance company."
Ok believes the image of gay men on stage can build a new narrative of what it's like being gay today and also be a source of inspiration, power and transformation.
"Through the dance, we're really making the gay community visible in a dignified way," he said.
Reaching for 'Global Significance'
Apart from bi-weekly shows at their home studio, the troupe has also been invited to perform at Phnom Penh's Department of Performing Arts and the US Embassy. Ok was among speakers at an April TED Talk in Vancouver, Canada. Last month, the troupe stepped out for a warm reception in the annual Cambodia Gay Pride.
Accolades are one thing – paying the bills is another.
As in other Southeast Asian countries, there is no financial support coming from the state.
Ok's looking to generate income through performances, instruction and other activities that can help them stand on their own feet. Apart from that, he aims to scale up from his living room to a performance space where they can welcome larger audiences, dancers and students of all genders and identities in the future.
"We want to give the local and unique expression of what it means to be gay and Khmer, but with global significance," he said.