Despite the usual Bob Marley tracks heard at many of Thailand's island beach bars, reggae nights for the dub and dancehall crowd are rare. The same goes in countries such as New Zealand, where there is a huge following for Roots Reggae.
This weekend will see proper Digital Dancehall in Bangkok, and I'm going to put my credibility on the line by crossing into the no-fly zone of self-promotion to talk about it here.
Kiwi producer Naram says it was Digital Dancehall – synthier reggae that burst out of Kingston and went global in the '80s – that inspires him to make his beats.
"Most contemporary reggae here is inspired by Bob Marley's 'Legend' album – the radio-friendly, lightweight stuff he did after signing to Island Records. Naram said. "Some of it is pretty good – but a lot of it is really quite rubbish. So we derisively call that style BBQ Reggae! I'm personally much more interested in the hardcore Jamaican roots of the '70s and '80s."
The Digital Dancehall sound was coined in the '80s when Jamaican artist Wayne Smith along with his producer King Jammy used a Casio MT-40 synthesizer to create the iconic skankin' bass line for "Under Mi Sleng Teng."
Like his Jamaican predecessor, Naram's gone to great lengths to track down many of the rare Casio, Roland and Yamaha synths synonymous with the early '80s Digital Dancehall sound.
"I love the classic digital synths and drum machines of the '80s. The style of dancehall and reggae I'm inspired by was hugely affected by that kind of technology," Naram said.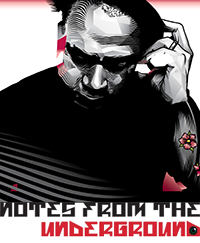 In 2014 Naram earned praise when he dropped his debut album "March of the Gremlins" the album featured collabos with two UK artists, vocalist Peter King and reggae legend Jah Screechy. Since his debut, Naram's released tracks on top-tier labels such as Scotch Bonnet and Grand Ancestor. He also runs his own label Red Robin.
On stage, Naram stays true to the dub reggae ethic. So that means he uses studio hardware and no CDs or controllers. Expect unreleased and remixed tracks played on a multi-track machine, adding live dub effects on the beats and bass.
"I have lots of new music to play, and some great unreleased vocals from some amazing Jamaican artists, so should be fun"
Many folks would think that the tracks on the album were produced by hour long ganja-fuelled studio sessions, but in 2010 Naram set off on a two year bicycle journey that took him from Australia to Scotland.
Using his iPod touch and a program called Nanostudio, Naram would work on his beats after he was riding for the day.
"When I was in Northern Iraq I happened to make one particular riddim that I thought was really good. It had this kind of half-joking cheesy '80s horror film sound to it, and for that reason I decided to call it 'March of the Gremlins Riddim," Naram said.
The album was also released on famed German netlabel Jahtari in 2014 and was titled "March of the Gremlins" So why the Gremlins theme?
"the Gremlins movie was a great metaphor for my sound – the film was dark (but only in a half serious way, also like my sound), steeped in '80s culture, and gremlins are contrarian little creatures that like to rebel against the system and cause problems (and I love that kind of thing!)"
Naram Jahtari Live Dub Set starts at 9pm on Saturday at Studio Lam, which can be reached by a five-minute walk from BTS Thong Lo. Tickets are 250 baht at the door.