The MC announces his name and Whatdatfrog enters the booth to the cheers of his fans. The all-night practice sessions and years of battling have left the master Turntablist unfazed.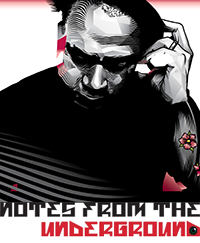 The crowd goes silent, he starts off the set by scratching the sound of a croaking frog, his fans start cheering him on by shouting his name. He then drops in a breakbeat and finger drums the sound effect over the beat. For the next fifteen minutes Whatdatfrog dazzles the crowd and judges with his slick mixing and mashing of beats, along with a healthy dose of dope af scratching and beat juggling.
This was the kind of turntablist vibe that was displayed par excellence by Whatdatfrog and five of the country's best turntablists at the Red Bull 3Style Thailand Final.
The Red Bull 3Style Thailand final took place Oct. 7 at Ce La Vi. This was its third successful third year running. The competition had six of the country's best turntablists battle it out for the No. 1 spot – the prize (besides cash and bragging rights) was a chance to represent the kingdom in the world finals in Poland coming early 2018.
Competition rules are simple. Fifteen minutes to impress judges and crowds, keeping them hyped with lots of fast paced mixes and mashups, scratching and clever transitions – the only catch being a minimum of three genres needing to be played during the set.
Taking the win this year was 32-year-old Vasutee "Kop" Plianchao, or DJ Whatdatfrog. Known as a prominent competitor in Bangkok's "battle" scene since the 2000s, Kop has competed in competitions such as DMC Online Team battle and Vestax Thailand Extravaganza.
Turntablists are a different breed from club DJs. Unlike the latter – a turntablist performs sophisticated scratch routines often testing their skills or "battling" against other DJs. These competitions  were made popular in early '80s hip hop culture. Prestigious competitions such as the DMC World DJ Championships sees the world's best turntablists compete for supremacy.
"The new generation of [turntablist] are learning a lot faster in comparison to back in the day," Kop said about the newbs that joined this year's comp, given that nowaday online learning resources such as YouTube tutorials are readily available.
Back then it was workshops, Demos and meet ups that spread the art. In 2002 It was during a scratch workshop at his high school that Kop met his mentor Metee Quanboonchan aka DJ Spydamonkee.
"I never played any instruments before I discovered scratching, I liked the way I could play with sounds on a turntable," Kop said, also crediting Metee Quanbooncham, or DJ Spydamonkee for helping him prepare his winning set at this years Red Bull 3Style.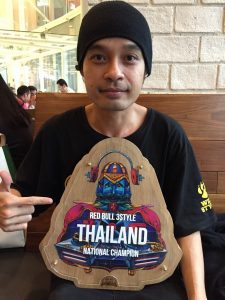 While countries such as the United States and the United Kingdom have been producing world champion turntablists since the early '80s, Thailand's scene started much later.
The Wheels of Steel were set in motion in the mid '90s when Thaitanium frontman Khan and Beatlounge head honcho DJ Spydamonkee, were the first to represent Thailand at the DMC World DJ Championships' in 1996 and 1997 in Italy. Both turntablist had only started out as bedroom DJs years before and always dreamed of representing the country. In later years Khan would leave his turntablist role and began producing numerous hits for his Thai rap supergroup Thaitanium.
Spydamonkee on the other hand is regarded by many as The Godfather of Thai turntablism. He also is the official tour DJ of Thai Rapper Joey Boy.
Kop says taking the win may be a bit too ambitious but he says he's going to try his best getting into the top ten.
When asked about the competitors and what he plans for his set Kop got animated.
"Ahhh man, the DJs at the worlds are really good" he said. "I'm really gonna have to step up my game. I'll stick to the same routine but polish up my technique and maybe add some new bits in we'll see."
In my opinion Thailand's urban arts and music scene has made huge strides since the mid '90s. We didn't come from that culture and most of what the artists and musicians are doing now came from lot of trial and error. But if their hearts weren't in the right place we would not have what we have today and it is their contribution to Thailand's music scene.
Thailand has yet to produce a world champion turntablists. We still have a long way to go but with turntablist such as Kop leading the way – the future's looking bright. I wish him best of luck in the Red Bull World Finals next year.