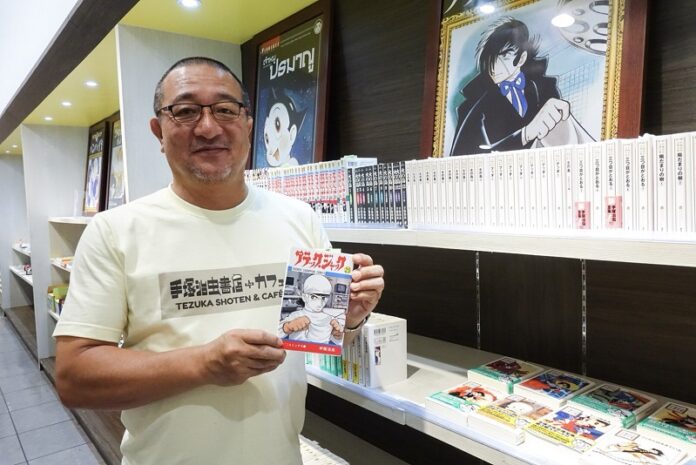 BANGKOK — Geeks who love reading comics all day now have their own "third place" for doing so at the capital's first manga cafe.
Opening on the second floor of Prawet district shopping mall, Tezuka Shoten and Cafe opened last month with hundreds of manga comic books which customers can spend their time reading.
Just one thing: All the comic books available are by late "God of Manga" Osamu Tezuka, regarded as the Walt Disney of Japan.
Filling 400sqm, the cafe is ringed by shelves crowded with 500 comic books ranging from Osamu's most famous – "Astro Boys," "Black Jack" and "Phoenix" – to lesser-known titles such as "Don Dracula" and "Kimba the White Lion," which predated and seemed creatively looted by Disney's "The Lion King."
Apart from finding physical copies on the shelves, manga readers can use their smartphones or laptops to log into Tezuka Spot, where more of the artist-author's works are available for free in Japanese, Thai, English, Korean, Chinese, French and Spanish.
On the menu there's sweet bun melon pan, soft-serve ice cream, mini fish-shaped taiyaki cakes, coffee and smoothies.
The cafe is owned by Japanese expat Toru Sasaki, an ardent Osamu fan. He is also the president of MJ Service, an event organizer and agency based in Bangkok.
"[Osamu's] works are legendary," Sasaki said via a translator. "Over a 40 year career, he could convey delicate feelings through his stories and characters. Each title gives love to his readers, especially children."
Osamu is widely considered Japan's most prominent manga artist of all time for his successful, pioneering and influential works in anime's long-standing history – which just celebrated 100 years last year.
While manga cafes have been increasingly common in Japan – and have popped up in several Western cities – they're still considered unpopular in Thailand.
"Ten years ago I partnered with Family Mart for a manga cafe in Bangkok, but it didn't work out," Sasaki said.
The cafe is currently operating on a one-year contract. It plans to expand services by adding anime films and games to achieve the full concept of a manga cafe.
An exhibition on Osamu's life will take place at the spacious venue as well, cafe manager Sasipitcha Arawatworakul said.
Tezuka Shoten and Cafe sits inside Tokyu Department Store on the second floor of the Paradise Park Shopping Center on Srinagarindra Road. It's open 10:30am to 9pm every day and can be reached by motorbike or taxi from BTS Udom Suk.