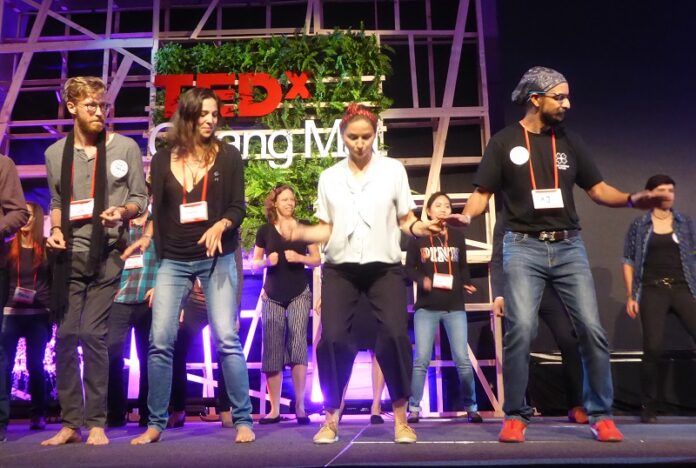 CHIANG MAI — "I couldn't help crying," Oraya Sutabutr said when she recalled seeing an ancient tree being felled near her home in Sukhumvit Soi 35, once open countryside but now in the very heart of commercial Bangkok.
She admitted to knowing nothing about protecting trees, but that the destruction of that one – which had stood there for decades – to make way for another shopping center, prompted her to learn how to help. That defining moment led her to found the Big Trees Project in 2010.
Hers was just one of the many informative and inspiring stories told by 20 speakers who shared the stage at the one-day TEDx ChiangMai 2018 event. It was the latest of 78 such events held in Thailand to date. Under the theme "Our Common Future," social issues and technology among other topics were discussed, with speakers often telling their stories a through a personal angle.
Saving Trees
Sutabutr's group has since trained thousands of people to care for trees, starting with something as simple as removing nails from tree trunks. Reaching far beyond "misty-eyed tree huggers," they also work with local authorities such as the Bangkok Metropolitan Administration which advises them on tree preservation and replanting. Seeing that random trimming can weaken trees, the Big Trees Project also holds tree-pruning training sessions for those keen to learn in Korat and Hat Yai.
"Pruning trees incorrectly makes trees weaker, but if people take care of trees, trees will take care of people," Sutabutr said, citing cooler, cleaner air, and improved mental health as proven benefits of having trees in the environment. "We hope young people will catch the big tree virus."
Reducing Waste
Zero-waste campaigner Madeleine Recknagel, a lecturer in tourism at Bangkok University, had a similar epiphany when she saw garbage washed up on a Koh Phangan beach during a 2015 holiday. Growing up with perennial shortages in pre-reunification East Germany, she already felt mindful of waste.
"Throwing things away did not exist in our vocabulary," she said. She brought her own reusable bag for shopping and carried her own water bottle. But the scene of the littered beach prompted her to take stock, starting by looking into her own waste bin.
She was astounded by the sheer quantity of food, packaging, clothing and other everyday items she found. She looked further into the question and discovered that the average Thai produces 1.5 kilograms of waste per day – half a kilogram less than the average American, but still a staggering amount. Since then, she has dedicated her time to learn about waste (at this rate "in 30 years there will be more plastic than fish in the ocean") and sharing that knowledge through her blog, The Sustainable Self, and through numerous public engagements.
From refusing plastic bags to making her own toiletries or composting in her central-Bangkok condo, she shares her zeal for the changes she has made in her life and hopes to be an example for others. She now estimates that her total non-recyclable waste has been reduced to less than two kilograms a month.
Monachanok "Mo" Seetubtim said her father's guidance and coming to terms with a conflictual relationship with her domineering mother led her to write The Happiness Planner, designed for readers to tap into their own resources and examine their own waste attitudes. The book has sold more than 200,000 copies worldwide, but perhaps her biggest success was convincing her mother to follow the planner. And it's working.
After taking a closer look at herself with the help of the planner, her mother realized that she had "never felt grateful for anything" pushing her to look at how those feelings play a role in forming her own negative habits.
Medical Advances
Unannounced speaker Wiput Laosuksri, a resident physician in emergency medicine at Chiang Mai University, gave a preview of a device that will be officially unveiled later this year. Designed in conjunction with the engineering department of his university, it trains people to use defibrillators properly – a medical tool that increases survival rates from cardiac incidents tenfold. He spent the rest of the day offering CPR courses outside the main auditorium.
Also off stage, TEDx ChiangMai 2016 speaker and champion of local cacao Raquel T. Choa from Cebu in the Philippines came back to see the fruit of the seeds she planted in her talk – quite literally.
She inspired a grower not to import her production but to take her seeds to plant cacao in Thailand. Water bottle company Klean Kanteen handed out eco-friendly reusable stainless steel straws. Chiang Mai Swing Dance gave an impromptu dance class to volunteers who then showed off their new steps on stage – one of the several live performances that punctuated the day.
TEDx Talks are going from strength to strength and Thailand has embraced the format. There are an additional nine TEDx events scheduled accross the country for 2018. Among the events to look out for are TEDx KhonKaen on April 7 and TEDx ThammasatU on May 12.
Correction: Due to an editing error, an earlier version of this story mistakenly said that Thais averaged 2 kilograms less waste per day than Americans. In fact, they produce half a kilogram less than the average American consumer.