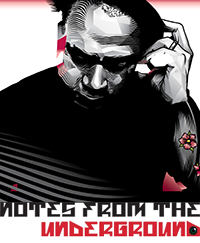 For this week's NFTU, I head into the no-go zone of self-promo to chat with a producer who's been making dancefloor-smashing beats from the dawn of '90s jungle to the bass music scene of today.
Though Zinc's forte is now 120bpm Bass House, next month he's playing an exclusive Drum 'n Bass set at De Commune, where your humble scribe will be part of the action.
It started in the mid-'90s when Benjamin Pettit, DJ Zinc – then affiliated with DJ Hype's Ganja Records – produced "Super Sharp Shooter," a hip-hop/jungle fusion track that sampled LL Cool J's "It Gets No Rougher."
The track flips LL's voice into the iconic intro "the S, the U, the P, the E, the R" that – along with frantic breakbeats and a heavy af warped bassline – made "Super Sharp Shooter" one of the most groundbreaking and recognized tracks in Drum 'n Bass to this day.
The track was first released as a single. The second and most well-known version was released as part of an EP under DJ Hype's collaboration project The Ganja Kru.
Zinc's chart-topping beats didn't end with "Super Sharp Shooter" either and in 1999 he made waves once again with "138 Trek." This time Zinc would ditch jungle's pitched up breakbeats for UK garage's funky beats and bouncy bass lines. This would be the beginnings of Zinc's experimenting with different genres.
His versatility as a producer was further demonstrated when he released his second album "Faster" while some may call it a concept album, "Faster" starts with slower, 40bpm tracks then increases tempo toward the end of the album.
In 2007, Zinc, dissatisfied with Drum 'n Bass music, started experimenting with the four-to-the-floor house beats, mixing that up with the heavy, dnb bass lines. Zinc would call this style "Crack House," and to date he's produced numerous hits with it.
It was also in 2005 that Zinc coined the term "Drop Beats Not Bombs," which was the title of his album released on Bingo Beats. The single "Creeper" was a club hit.
Zinc will touch down April 7 in Bangkok to rock the beats along with myself at De Commune. Before Zinc's gig, we traded some chat about working with DJ Hype, remixing The Fugees and surviving fatherhood.
Mongkorn Timkul: Can you remember the first time you dropped "Super Sharp Shooter?" What was the crowd's reaction like?
Zinc: When I first played it the reaction was like most new tunes, not bad but not great. The reaction for the remix was better as they already knew it, and the intro of the remix makes people go a bit more crazy!
MT: The last time you were here there was a curfew in Bangkok. However your gig still went on. What can folks who didn't make it that night expect to hear you play this time around?
Z: That was the time before last – it was so cool to be driving around when the curfew was on, there wasn't one car on the roads except us! In April I'm going to play loads of new Drum 'n Bass and some classic jungle, I can't wait!!
MT: What inspired you to decide to produce Crack House tunes? I read that you got disillusioned with Drum 'n Bass. I know you had a one or two releases as of late, but will you go back to produce Drum 'n Bass full time again?
Z: I won't go back to full time Drum 'n Bass, because I really enjoy making house and other stuff – but I'm working on a Drum 'n Bass track today and have a few already finished. I had a release last week which is a Drum 'n Bass remix of a house track.
MT: You produced some really big tunes when you were signed to DJ Hypes True Playaz label. Why did you decide to leave and start Bingo Beats?
Z: I felt it was time to have my own label, where I could choose what music to release just based on my taste. It was really cool running players with Hype and Pascal at the time though.
MT: Have both of you ever considered making music as Ganja Kru again?
Z: We didn't really make any music together, except maybe one or two tracks. We just worked on tracks individually and then released them together as Ganja Kru. At that time a lot of the tracks I made had artist relations help from Hype (he'd suggest changing arrangement or adding something) I don't think we'll do any more.
MT: The "Ready or Not" remix is also another big tune that you produced from that era. I read on your Facebook that DJ Hype and Swift helped produce parts of the track. What were their roles in making the tune?
Z: Swift was my DJ partner, and the studio was in his house, but he didn't get that involved with the 'Fugeez' remix, maybe some advice as I was working on it – he'd always have a good idea or two. Hype was more involved with the bassline – he thought it could be better (when I made the first version) so he suggested changing it – good advice!
MT: My wife and I had kids two years ago, and I'd say my life as a DJ has slowed down tremendously. What's it like trying to balance working in the studio and touring with family life? Do any of your kids have an interest in DJing or beat-making?
Z: My kids enjoy music and understand how tracks are made, but they haven't started beat making yet! It's tricky balancing it, but I'm lucky that my studio is in my house so I can put them to bed then go and work!
MT: What's your daily routine like when you are not touring? I've read before that you work late nights and prefer waking up at noon. Has that changed at all since you've had kids?
Z: Yes it has – although weekends I stay up late, so it's quite topsy-turvy. Our usual routine is wake up, help the kids get ready for school, work during the day, sometimes hang out with the kids after school, sometimes carry on working, and then most evenings I get a chance to spend some time with the family, but then I often work again once they're asleep until quite late.