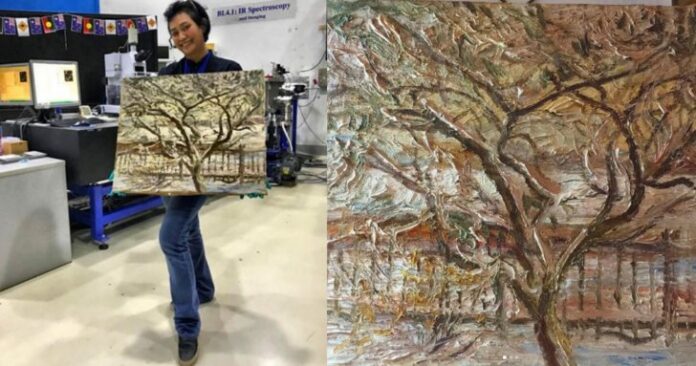 BANGKOK — It's yet to be confirmed whether a singer accidentally purchased a landscape artwork painted by one of the world's most-famed artists.
Singer-actress Haruthai "Au" Muangboonsri has been making headlines for her claim that a painting she bought for 1,000 baht years ago from an antiques shop selling European imports was in fact Van Gogh's "Tree in Winter."
"I was going to buy some furniture, but then I found the painting laid on the floor along with others like a pile of trash," Haruthai told the media. "I felt bad for it, as I'm an art lover, so I bought it."
For three years, the 44-year-old former Paper Jam front woman has attempted to identify the artist behind the painting. At some point, a group specializing in a type of electromagnetic radiation analysis got involved to study the painting.
With help from technology, it was discovered that the painting's pigments could be several centuries old and were once brighter than today. Haruthai – who shares updates on the research online – recently wrote that the pigment used for the tree was a blood orange color produced by a madder root, a plant used as a dye until the late 19th century.
"The synchrotron radiation result shows that it has colors used over 100 years ago," Sarawut Sujitjirn, director of the Synchrotron Light Research Institute, said Wednesday. "However, we cannot confirm the exact age of the painting. [Haruthai] has to go through more scientific tests."
The final word on whether it's a Van Gogh will soon be confirmed by the Van Gogh Museum in Amsterdam, where she is sending the painting for study.
If proven to be the real deal, it could be worth 2.8 billion to 3 billion baht.
Haruthai on Friday will join a panel at Centara Grand at Central Plaza Ladprao to discuss the research on the painting with the Synchrotron Institute.