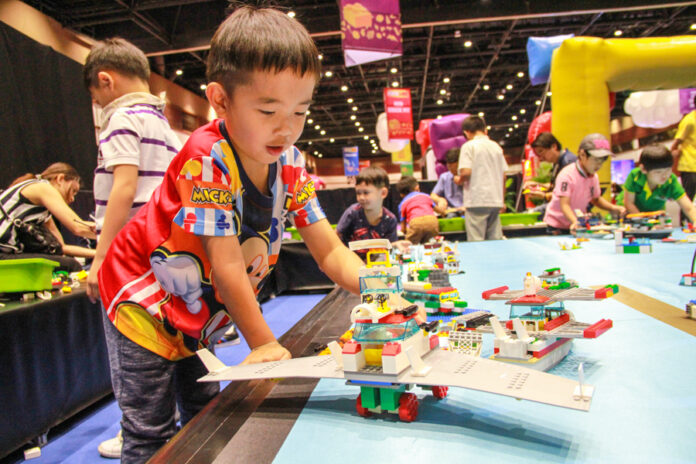 BANGKOK — "Oh no! My boat is sinking! I must call a friend to come and help me," a boy said Thursday, pulling a boat made of bricks toward a bigger one, before dropping liferafts onto a blue table, or his imaginary ocean.
No plans on where to take your kids this long weekend? Take them on an adventure where fun meets creativity with tons and tons of Lego bricks.
For the first time in Bangkok and Southeast Asia, Bricklive invaded town Thursday with a Lego wonderland where kids, parents and Lego fans can transform the world-famous bricks into anything from a lightsaber and a racing car to a spaceship and a water park.
Read: Build a Better Bangkok – With a Billion Lego Bricks
More than 100 children of all ages stormed into a 4,000sqm hall inside Queen Sirikit National Convention Centre to get their hands on the construction toys.
Some ran straight to a pit filled with thousands of colorful Legos, others were eager to see tuk-tuks and Ninjas among life-sized models made of toy bricks.
Star Wars fans may be amazed at how bricks can build the Millennium Falcon. Others may notice the Taj Mahal and the not-really-leaning Tower of Pisa among stunning architectural sites made of white Legos.
The event is divided into several zones under themes such as City, Architecture, Mapbuild, Minecraft and Race Track. A group of excited boys raced their Lego cars down a slide. The winner gets a trophy – made of Legos. Staff members are stationed at each area to help the kids.
Bricklive will run 10am through 8pm until Sunday at the Plenary Hall in Queen Sirikit National Convention Centre, reachable via MRT. Tickets are 350 baht for 4 hours and 500 baht for the whole day. They can be purchased online or at the door.