BANGKOK — Through characters, colors and prints, a young artist is seeking to start conversations about femininity, beauty and the meaning women bring to her life.
Chalita Tantiwitkosol's art exhibit "Her" features works created by lithography and is based on themes of storytelling, femininity and hidden emotions.
Chalita, who is pursuing a master's degree in printmaking at Silpakorn University, said the organized and systematic nature of printmaking influences the way she portrays the people in her artistic portraits.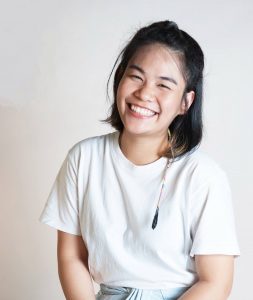 She used some of her close friends and family as models along with animals or symbols that represent their personalities. The sketches she creates of her friends inspired her lithography techniques.
"Her" opens at 6:30 p.m. on Aug. 23 at the Ardel Gallery of Modern Art, located in the west Bangkok district of Thawi Watthana.
Below is a lightly edited interview with the artist.
Khaosod English: What is your work process like?
Chalita Tantiwitkosol: My work is about "women" and their diverse emotions. As a woman myself, I have been influenced by women around me, whether it is my family or friends. They played an important part in the stories, events, and experiences that I have heard of or encountered by myself. It made me feel that female is a gender that is so diverse and emotionally complicated as normally they will be so sensitive with those surrounding them. The artwork portrays delusion by using overlapping movements/gestures. It also shows an unstable/unpredictable emotion. Women also represent the beauty that paints the world. I chose to include insects and animals in my work to symbolize the abundance nature in which is also an element that fulfills the world.
KE: What do you see is the state of feminism in Thailand?
CT: I think Thai society is still highly patriarchal. There's still gender inequality, even though people have become more aware of such things whereas lots of campaigns are held to promote the idea of equality. Women are still considered inferior. This social norm hinders women's abilities and need to express their feelings in order for them to be able to live in the community. With such deep-rooted idea, I think it's difficult for change to happen.
KE: Tell me about the pieces you have. How are they made?
CT: I am fascinated by printmaking technique, especially lithography because this technique includes drawing, which is also the technique that I'm fond of and very good at. To create a lithography work, one has to start by drawing on aluminum plates, shading the volume of light and dark before proceeding to chemical processes. The plates will be used to print on paper, color after color, where layers are overlapped until becomes a complete work of art. Lithography possesses special techniques that other kinds of printmaking cannot create such as the charming details of drawing or texture that is stunning and unique.
KE: What are the hidden feelings and meanings you are trying to convey? Any examples?
CT: The hidden meaning in my work of art is that I want to present the diversity of femininity, their existence, status, feelings, emotions that do not depend on who or what. I also want to portray the value of female, the respectful act they all deserve. Physical beauty is not the only thing that makes women attractive. There is also beauty from within that is no less important.
KE: How can art inspire change within a society?
CT: To change the society, I think we have to start from a small unit, like each individual self. I hope that my work could help motivate people to see the truth and begin to change themselves before transferring the good vibes to others, little by little. Our society gradually and truly changes.
KE: How do you come up with concepts and stay creative?
CT: Regarding the work process, I asked those who are close to me to be my model, then I would search for living creatures that reflect the individuality and characters of that person. I would sketch them in different gestures and postures before choosing the best one to go through the lithography technique.
To stay creative, you need to keep seeing the works you are interested in. You need to look for new experiences, talk to friends and other people in order to draw inspiration for your work.  
KE: Tell me about your background. Were you always interested in art?
CT: I have always liked drawing ever since I was a kid. At one point I thought "why not study art?" as I was doing pretty decent at it and I liked studying art in class. I then decided to enter a school that focuses on art and ended up in The Demonstration School of Silpakorn University which later led me to further my study at Silpakorn University where I get to do what I love until this day.
KE: Could you describe a couple of your favorite pieces of art you made?
CT: My most favorite work right now is "Mouth Melon (Tang-Mo)" I like this one the most is because the protagonist is my best friend. She has a very distinctive personality. Her style and lively characters always bring joy and laughter to those around her. This artwork, therefore, expresses her liveliness through bright colors. I also used bees and jewel beetles in my work to symbolize my friend's uniqueness. In my work, my friend is like a blooming flower in the field attracting all insects with her beauty. Jewel beetles are also special as whenever they flip their wings, they create various beautiful colors, just like my friend who, whenever we meet, always has vibrant stories to tell.
KE: Is there any particular piece of artwork that has a strong story or significance in your life?
CT: There's no particular piece of artwork that owns more significance than others. Each work is important and special during each moment of my life. They tell stories, experiences, and impression that reflect my identity, thoughts, and feelings at that specific moments.
Photos courtesy of the artist.