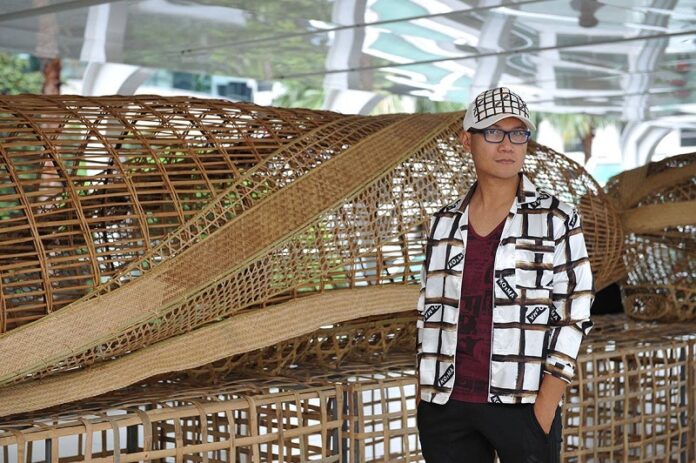 CHIANG MAI — See art inspired by century-old tribal weaving and Japanese ceramics among others when an exhibition premieres later this month at a gallery in northern Thailand.
Three artists will exhibit their interpretations of Thai culture, urbanism, consumerism, tribalism and pollution among other themes to be explored through a variety of mixed media in a fortnight's time at the Toot Yung Art Center in Chiang Mai province.
Curated by French artist Myrtille Tibayrenc, the center will feature work by Montri Toemsombat in its Art Gallery room, as well as crafts by Kachama Perez and Somluk Pantiboon to inaugurate a new Design Gallery space.
"This is a special exhibition as it is also the launch of a new space dedicated to design and craft," Tibayrenc said.
Montri's "Plateau Rouge" will present a dominant red theme and focus on the contrast between urban and rural settings, consumerist society and the balance between these themes through a variety of mixed media. It's the Chaiyaphum province native's first show since 2016. In the past he as presented work in Indonesia, Finland, Australia and Italy.
Kachama and Somluk will band for "Lanna Spirit," an expose in which they will combine their respective crafts. Kachama weaves textiles using centuries-old techniques from mountain tribes such as the Karen, Katu and Hmong.
The artist, whose work will be a critique of pollution – a recurring topic in her work – has previously shown her work nationwide as well as in France and Taiwan.
Somluk will present ceramics influenced by his five years in Japan. Having majored in the study of ceramics at Chiang Mai University, the artist opened his studio in 1991 in the northern city. Aside from Japan, Somluk has also held exhibitions in Hong Kong and Norway.
The Toot Yung gallery – which moved to Chiang Mai in March after eight years in Bangkok – holds exhibitions in a withdrawn natural setting to present nature and art side by side. Tibayrenc said she pictured a place where visitors could experience art in a laid-back style.
"I wanted to propose something mingling art, nature and slow life," she said. "A space where the visitors can take the time to really appreciate all details of the exhibitions and collection, as well as the space and surrounding nature."
"Plateau Rouge" and "Lanna Spirit" will open at 1pm on Sept. 30 and run through Dec. 2. More information can be found online. Entry is free.