BANGKOK — Rather than help, a voyeur uses a camera app to put a floppy tongue and dog ears on a dying man's face. Behind him, smoke belches from the green-and-yellow taxi that may have hit him.
That Bangkok's unique ironies have entered the vocabulary of illustrator Joan Cornella is evident. Having spent months now in what's become a favorite city, the Spanish cartoonist includes that gruesome scene among others from his dark imagination in an exhibition opening here Thursday.
It's his second Bangkok show in as many years.
Known for tackling every taboo and human foible; from cannibalism, suicide and drug use to terrorism; the Barcelonian is back for his second solo exhibition under the name Happy Endings.
Read: 'Happy Endings' Take a Grim Turn When Joan Cornella Returns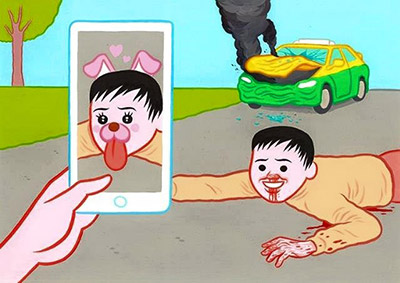 Having spent several months in Thailand since last year, the 37-year-old artist said he has learned to speak Thai nid noi while discovering his favorite capital city haunts for distracting him from work (though he won't name them).
After preparing the show on the rooftop of the Woof Pack Building on Soi Sala Daeng 1, Cornella talked to Khaosod English about his work and life behind the canvas. The lightly edited conversation follows.
Chayanit Itthipongmaetee: How was your first solo exhibition in Bangkok last year?
Joan Cornella: It was really crowded. Pretty, pretty packed all the time. I didn't expect that amount of people. I constantly have feedback from my audience. I have to say in Asia, the reception of my work is really good. [The audience] is more enthusiastic, more keen, comparing to those in Western countries. Most of my fan base is in Hong Kong. I tell that all the time. I don't know why. I guess I'll find out some day.
Chayanit: What have you learned about Bangkok?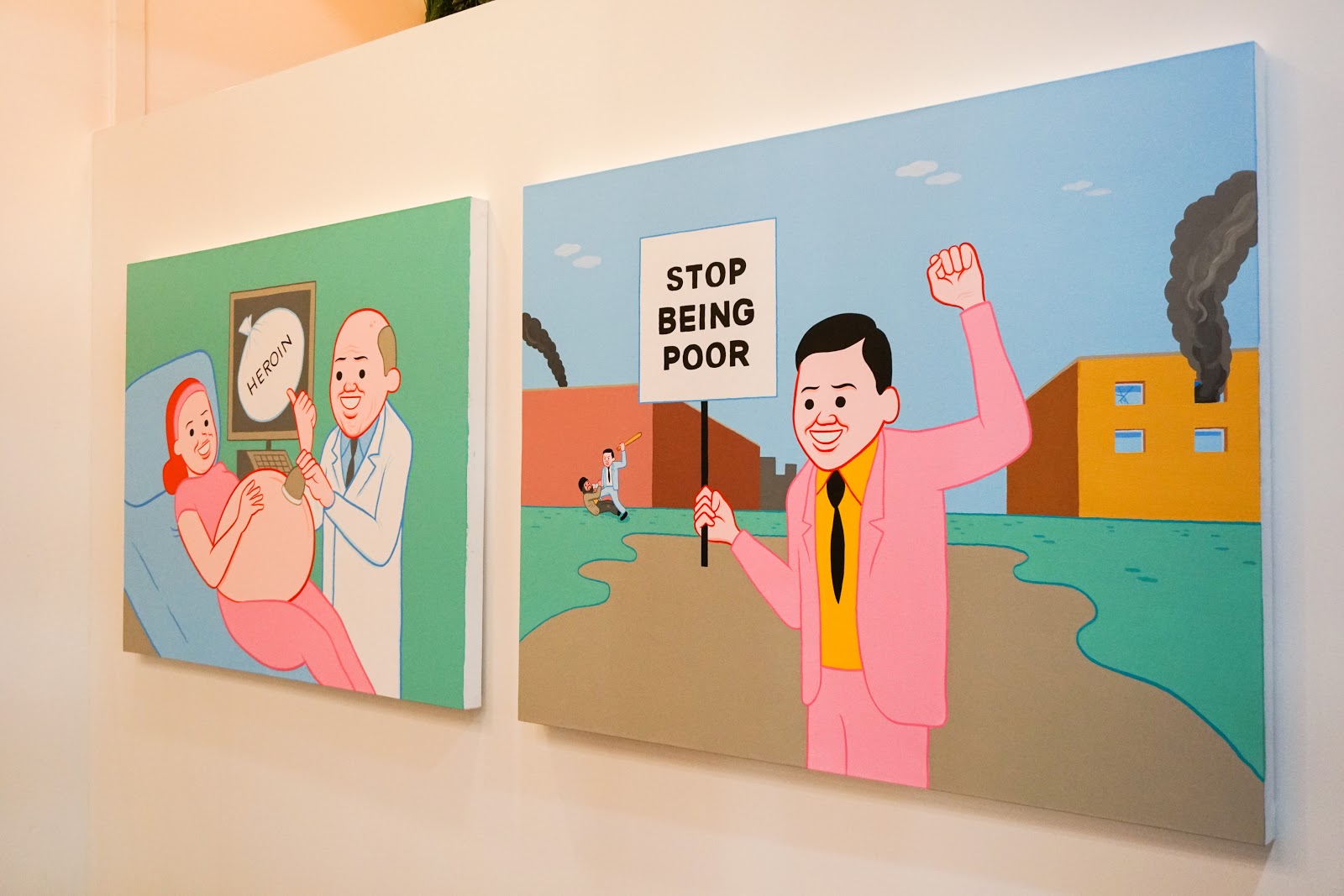 Cornella: Last year I was in Bangkok three months. First I came and worked for awhile, for like one month, then the exhibition started, and I decided to stay longer.
You know, compared to many other capital cities, I think Bangkok is a lot more relaxing. Usually when I travel, I go to capital cities … they're pretty crowded and congested. Even when Bangkok can be like that, it's also chill. It's good.
For this year, I've been here one month. (So you can speak some Thai?) Sabai dee mai krub! Nid noi. I think I'm lazy. I speak English, and it's convenient enough.
As far as I know, Thailand is a pretty unstable country in terms of politics. Most of my friends are from Catalonia, so the news I get is mostly from where I come from. But yeah, the more time I live here, the more things I know. Last year, I actually didn't know about the coup d'etat, about Thailand having a dictator in charge. I didn't know the situation was pretty unstable.
Thailand is usually known as a country where people go to the beach and have fun. In the beginning it was like that. And then I knew about the muslims in the south. I even knew about the ethnic group in the north; I hear that they are not considered Thais. I didn't spend much time, but people start to tell you. I went up to Chiang Mai, they say it's supposed to be related to the arts. In a historic way, I guess that's true, as far as I saw. I think to know a place, to be aware of a place, you need time. For me, I don't want to be a tourist. I prefer to spend more time there.
Chayanit: What about the exhibition, 'Happy Endings'?
Cornella: I came up with this name with the help of [event organizer] Farm Group. I mean my works are somehow related to the happy endings from Hollywood, because the actors are always happy with their smiles and so on. For some people, it's really positive. But some others, they just despite that.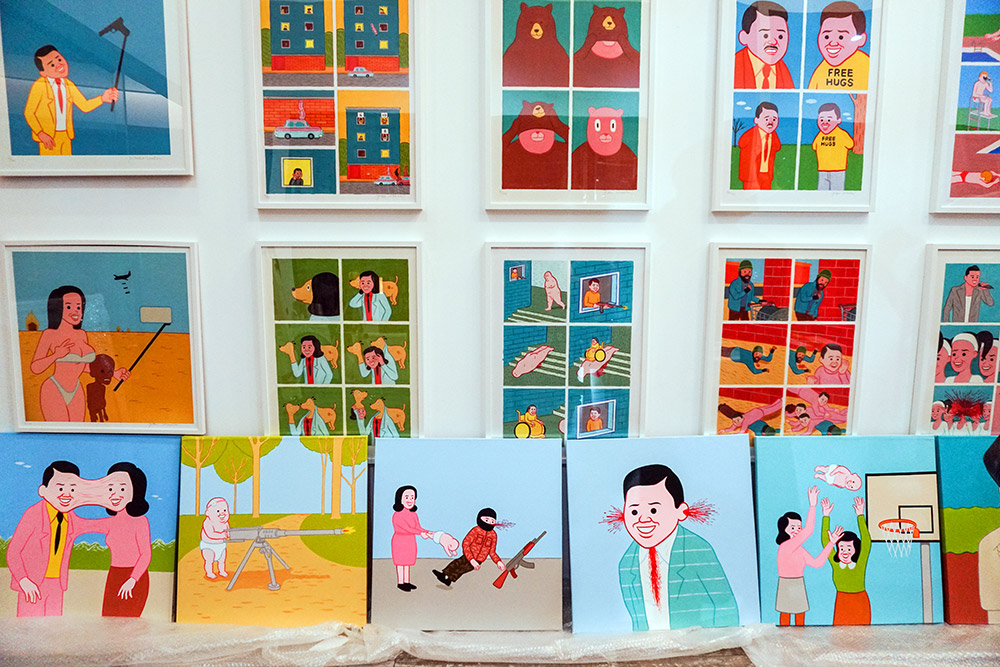 I did like 40 new works made in Thailand, but it doesn't mean all of them are directly related to Thailand. I prefer that my work has a meaning that can be understood wherever you go, but it's true also that if you show something that is related to the place … it makes more sense. I think I could work on that more. It's not just because people can have more fun – they can feel related to their lives or their experiences – but also because you try to do something related to the place, trying to understand how the place works. It's like a political activism, you know. I prefer to do it gradually, not radically.
Chayanit: What have you seen in Bangkok that has influenced your work?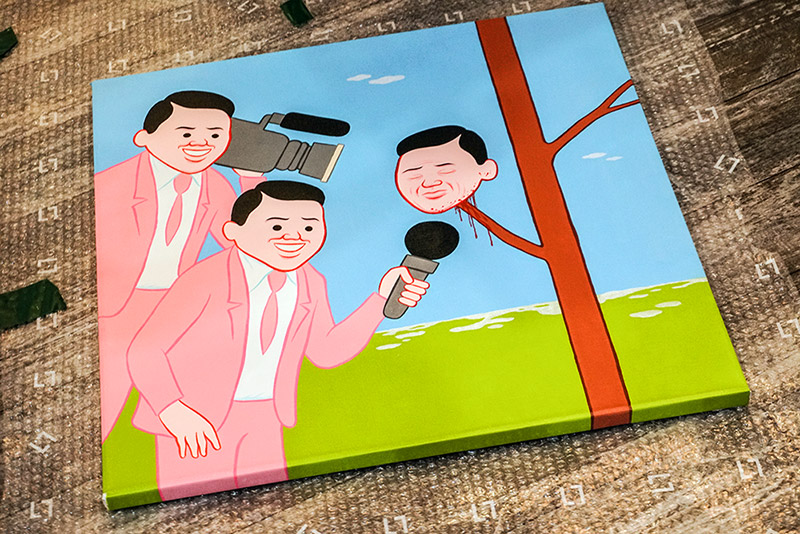 Cornella: Maybe I try to find a connection between my work and what I see. I work mostly with fictions. I try to put a few ingredients from what I saw into my work, but not the opposite way. When I went to China, people told me there were many news that can be related to my work somehow, in a sense that people are getting more cynical. And you can find that in many aspects all around the planet. In Thailand, you have the same thing. Lots of people lost their sensitivities, their human side … they care less about politics and many other things. In Thailand you see specific things that you cannot find in any other places, but at the end it's more or less the same almost everywhere. We have this resilience related to internet and so on, our lives are going faster and faster, we don't care about our lives somehow. We just live without thinking what we're doing is right or wrong.
Chayanit: Do you have to be careful when producing work?
Cornella: It depends on the moment. For some people, they just have this approach which is literal, sometimes they just don't even know what irony is. There comes a problem, they say, "You're being racist" or "You're transphobic" or whatever shit they think about. And they decide that you shouldn't talk about that. They censor you or they try to censor you.
I would say, now, I don't care what people say or think, more or less. Sometimes, you get some feedback and that's a pressure. One day I posted a comic strip related to suicide, and this guy happened to kill himself. I don't remember his name. And people went like, "Oh what's going on? You should wait." "You should show respect." I didn't even know. And what if I knew? This is my voice here.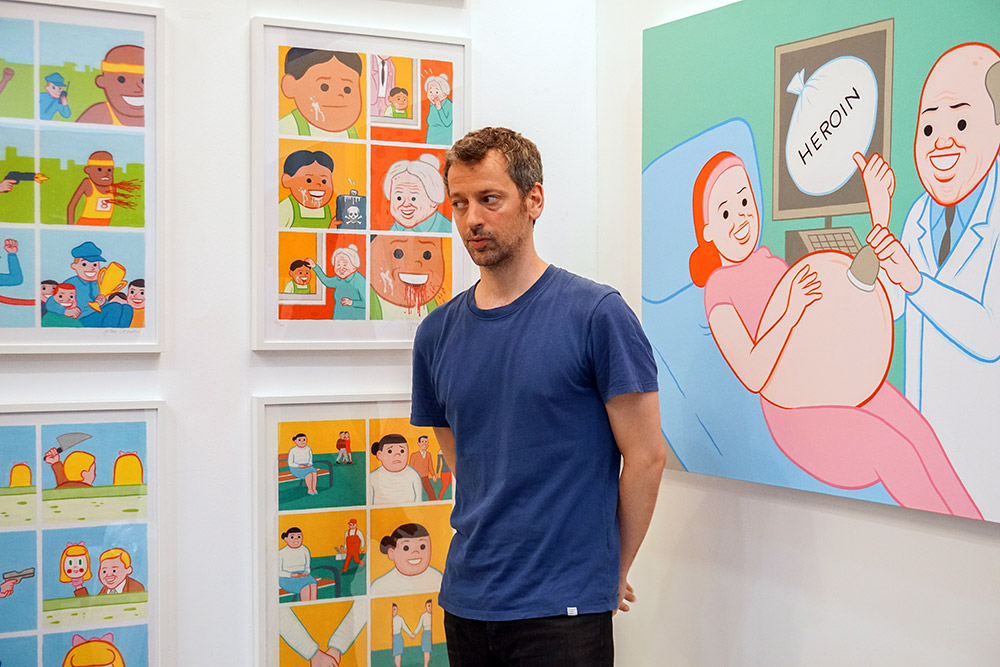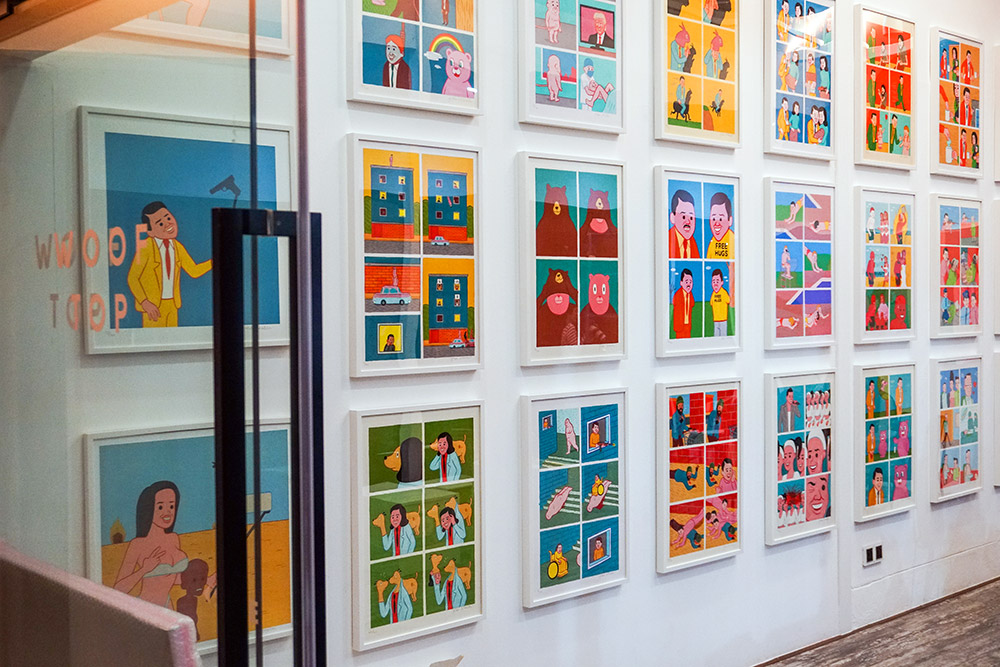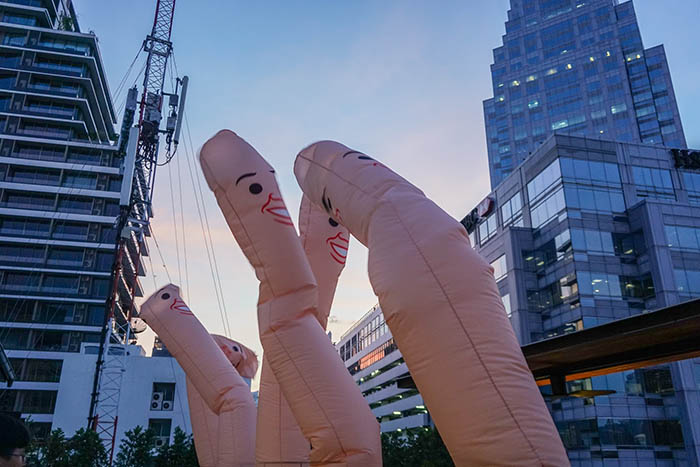 'Happy Endings' runs Thursday through Dec. 3 at Woof Pack in Soi Sala Daeng 1. Tickets are 200 baht and can be booked online. Woof Pack is open from 10am to 11pm daily. The gallery is a 10-minute walk from MRT Silom and Lumphini or BTS Sala Daeng.