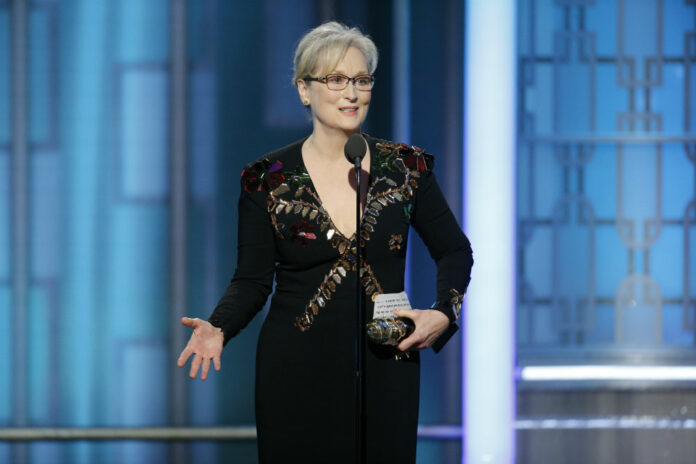 BEVERLY HILLS, Calif. — Actress Meryl Streep earned a lifetime achievement award at the Golden Globes Sunday and in accepting, turned the spotlight away from herself.
She defended Hollywood and journalists, honored the late Carrie Fisher and took shots at President-elect Donald Trump, without mentioning his name.
Streep said a performance from the past year that stunned her came from the campaign trail, noting the incident where "the person asking to sit in the most respected seat in our country" imitated a disabled reporter from The New York Times, an incident replayed frequently in campaign advertising.
"It kind of broke my heart when I saw it," she said. "I still can't get it out of my head, because it wasn't in a movie. It was real life."
Streep said that "when the powerful use their position to bully others, we all lose."
She noted that "Hollywood" is a reviled place. But in reviewing the backgrounds of several of her colleagues surrounding her at the Globes, she said that it's really a community filled with people from other places united in the mission to show different people and make audiences feel what they feel.
"If you kill 'em all, you'll have nothing to watch but football and mixed martial arts, which are not the arts," she said.
Streep put in a plug for vigorous journalism, urging that contributions be made to the Committee to Protect Journalists.
While Streep won the annual Cecille B. DeMille Award and can boast of 48 Oscar and Golden Globe nominations, her career is still current. She was nominated this year for her portrayal of a bad opera singer in "Florence Foster Jenkins."
She mentioned Fisher, who died just after Christmas, and how the actress and writer urged others to "take your broken heart and make it into art."
She was introduced by fellow actress Viola Davis, who said her husband urged her every day when she worked with her to tell Streep how much she meant to her. She was too bashful then, but not on stage Sunday.
"You make me proud to be an artist," Davis said. "You make me feel that what I have in me — my body, my face, my age — is enough."
Story: David Bauder