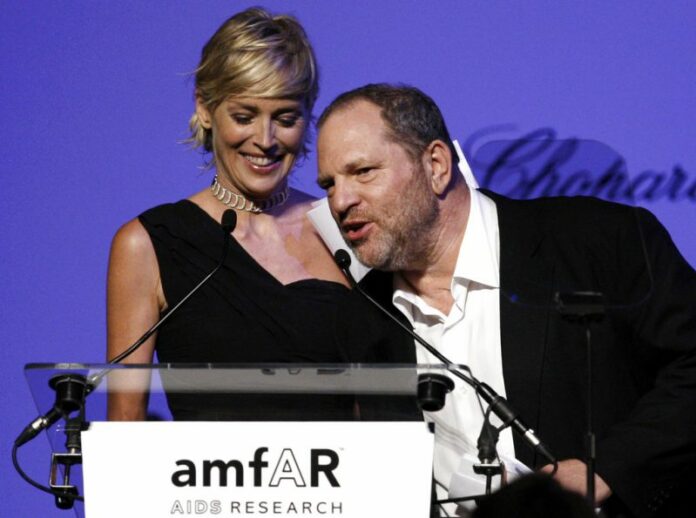 The experience of watching a few dozen or more films inside two weeks at the Cannes Film Festival can be jarring, exhilarating and exhausting — even for those who live and breathe cinema.
Jessica Chastain, an actress and regular attendee of the French Riviera festival, last year reflected on her time spent on the Cannes jury shortly after they selected Ruben Ostlund's "The Square" as the Palme d'Or winner. She was both overwhelmed and disappointed.
"This is the first time I've watched 20 films in 10 days, and I love movies," said Chastain.
"The one thing I really took from this experience is how the world views women, from the female characters that I saw represented. And it was quite disturbing to me, to be honest."
On the cusp of the 71st Cannes, which begins Tuesday with the premiere of Asghar Farhadi's "Everybody Knows," with Penelope Cruz and Javier Bardem, Chastain's piercing criticism still hovers over a festival that finds itself, unlike it has in decades, in tumult.
This year's selections, including three female directors among the 21 Palme contenders, have done little to quell pleas by Chastain and others for more female storytellers at the world's most prestigious film festival.
Questions of gender equality are especially pointed at Cannes, which for the last 20 years had been a seaside playground for Harvey Weinstein, long one of the festival's most ubiquitous operators.
Cannes remains perhaps the most supreme and heightened realm of moviedom, but its rarified stature has been increasingly challenged by both the era of #MeToo and the age of Netflix.
"There have been seismic, tectonic changes in the industry that are still unfolding," says producer Simon Chinn, who will be premiering the Whitney Houston documentary "Whitney" — "a corrective to the tabloid story," he says, and shopping a documentary on Weinstein titled "Citizen Weinstein." "This will be a very different Cannes without Weinstein."
Festival director Thierry Fremaux, who called the Weinstein revelations an "earthquake" for Cannes, has promised this year heralds "a great renewal."
He has stocked the competition lineup with eight first timers. He has banned selfies from the red carpet, irritated by their interruption to the highly orchestrated, star-studded procession on the most famous red carpet next to the Oscars.
He has, after a public scuffle, accepted the absence of Netflix films from the festival after being unable to secure theatrical releases for its entries. And he has brought "Star Wars" back to Cannes for the megawatt premiere of "Solo: A Star Wars Story."
Cannes, a feverish pageant of celebrity and cinema, is trying to both rigorously guard tradition and adapt to fast-changing times.
The festival this year even altered its sacred schedule to eliminate morning press screenings ahead of premieres — a strategic switch intended to blunt the effect of press-corps boos marring film premieres, a practice that had emerged as a kind of blood sport at Cannes.
Yet some say it's not enough for Cannes to change its clocks. Critics says the festival has lagged in gender equality (only one female director, Jane Campion, has won the Palme; in 2015 a minor scandal erupted when women not wearing heels were denied entry to a premiere), and that Cannes is overly in the thrall of male auteurs.
Cannes has regularly been home to Roman Polanski (he premiered his "Based on a True Story" at Cannes last year), even while other institutions — like the Academy of Motion Pictures Arts and Sciences — have distanced themselves from the director.
This year, Cannes welcomed back Danish director Lars von Trier, who's premiering his "The House That Jack Built"," starring Matt Dillon and Uma Thurman.
Von Trier, who was declared "persona non grata" at the festival in 2011 after making sympathetic comments about Nazis, was last fall accused by Bjork of sexual harassing her on the set of "Dancer in the Dark," a charge von Trier denied.
This year's jury is headed by Cate Blanchett, an outspoken member of the Time's Up movement.
Her jury of nine includes Ava DuVernay, Kristen Stewart, Lea Seydoux and Burundian singer Khadja Nin. Among the films vying for the Palme are Spike Lee's "BlacKkKlansman," Pawel Pawlikowski's "Cold War," Nuri Bilge Ceylan's "The Wild Pear Tree" and David Robert Mitchell's "Under the Silver Lake," with Andrew Garfield.
Also in the mix: "Happy as Lazzaro" by Italian Alice Rohrwacher; "Girls of the Sun," by French director Eva Husson; and "Capernaum," by Lebanese filmmaker Nadine Labaki.
Asked if she was proud to be one of the three women in competition, Labaki replies: "I'm proud but I'm proud to be there, full stop."
"This is recognition for my work as a filmmaker, not for my work as a female filmmaker," says Labaki.
"For me, I don't think that the choice should be made because of that. It has been irritating to me to think that I'm in Cannes because I'm a woman filmmaker and that now, with everything that's happening, the world has decided to put females in the spotlight."
Labaki, one of Lebanon's most famed filmmakers whose "Where Do We Go Now?" played in Cannes' Un Certain Regard section, has spent the last two years making "Capernaum," a realistic rendering of the lives of Syrian migrant children, with nonprofessional actors playing version of themselves.
The experience, which will culminate with the film's migrant cast walking the red carpet, has been life-changing, says Labaki.
Many other films at Cannes, which runs through May 19, will put a spotlight on injustices from around the world. Two filmmakers in competition — Iran's Jafar Panahi and Russia's Kirill Serebrennikov— are living under house arrest in their home countries.
Chastain, while not connected with any film playing at the festival this year, will in a way still be influencing the conversation. One of the hottest properties on the Cannes market is a female-led spy film "355," to star Chastain, Marion Cotillard, Penelope Cruz, Fan Bingbing and Lupita Nyong'o.
For even veterans of Cannes, this year will look and feel different.
"I've been to Cannes with 'The Da Vince Code,' and 'Willow' and 'Far and Away,'" says "Solo" director Ron Howard. "But I've never been on the red carpet at the Grand Palais with a Wookiee and some Stormtroopers."
Story: Jack Coyle