Photos by Taylor McAvoy
By day, he's a programmer who graduated in robotics. By night, he dons a tux, goes on stage and predicts futures.
Sarin "Paco" Suriyakoon, 24, bills himself as the first English-speaking, Thai stage practitioner of the psychic arts. His preferred word is "mentalist," that time-honored art of card tricks, misdirection and the deft switcharoo in service of chuckles and the occasional gasp of disbelief.
"I see myself as an entertainer. Although what I do is derived from spiritualism, such as convincing others to believe, I use it for entertainment," Sarin said.
And entertain he does. On a recent evening, the lanky young man took his place in the spotlight before a room of about 50 people, many of whom were called upon to pick cards, thoughts or random words from books for him to guess in protracted bits of stagecraft punctuated with humor.
"What I do is scientific. I would say 80 percent is psychology and misdirection. The other 20 percent is intuition and using magic tricks," Sarin said.
The set ran a little long and had some rough patches but otherwise showed an investment of time and thought.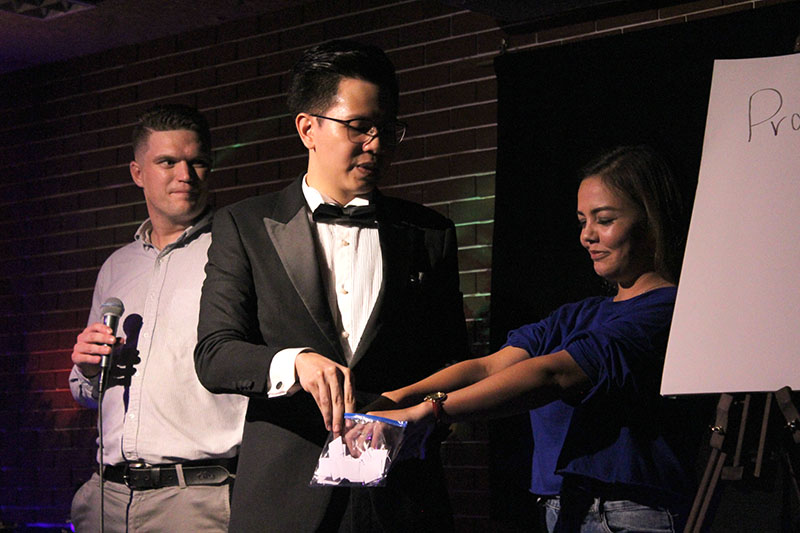 Sarin, who watched spoon-bending Thai magician Win Iaam-ong in his childhood, said he was first captivated by psychology and its effects by his elementary school principal, who wrote books about positive thinking and the unconscious mind.
The principal would read students' palms and tell them positive things were coming to them.
"That really stuck with me. I knew then that if I could use his type of psychology, I could do positive things too. We have the authority to help people to expect good things, so that good things will happen," Sarin said. "Even if I pick a bad card, I try to interpret it in a realistic and positive way."
Two years after graduating in robotics and engineering from King Mongkut's University of Technology North Bangkok, Sarin took up his childhood passion. He started practicing and learning magic tricks through YouTube before starting to perform at the Suan Rotfai market, cafes. Since May 2017 he's become a regular at Bangkok comedy clubs.
"I started by unlocking people's phones, guessing their childhood friend's nickname, and guessing the country, celebrity or number the participant was thinking of. I also make predictions using Tarot cards," Sarin said. "My friends and family supported me, but they were also concerned that my work would be affected."
Sarin the Mentalist's next show is Sept. 22 at Dice Cafe. He will perform at Thonglor Art Space on Oct. 6, Oct. 20 and Nov. 3. He plays Nov. 10 at Stagetime Comedy Club.