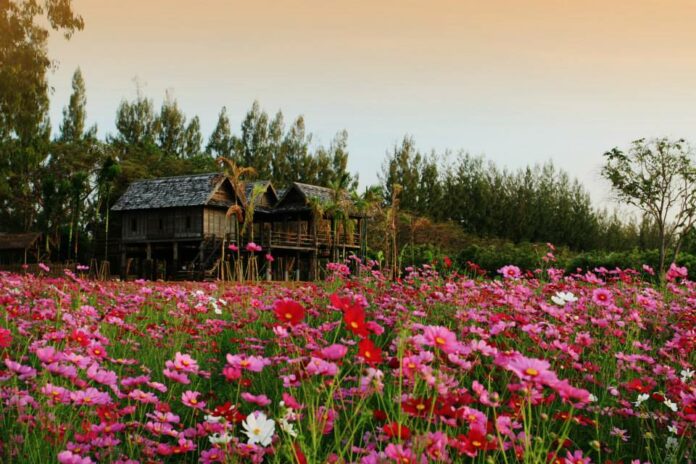 NAKHON RATCHASIMA — Taste the Isaan life and see fields of pink flowers, pumpkin patches, silkworms, antique wooden houses and more starting next month.
The Jim Thompson Farm will open its doors to the public for five weeks starting next month for visitors to see silk farming up close and tour rice fields and gardens of organically grown fruit and vegetables.
Timed with the start of the cool season, the farm will be open Dec. 3 through Jan. 8.
City slickers can indulge their Farmville fantasies through activities such as picking cherry tomatoes. Gardeners can shop for pesticide-free farm products while those just along for the ride can pose for photos in the farm's signature giant pumpkin patch.
The Jim Thompson Farm will be open daily 9am to 5pm. Weekday tickets for children are 100 baht and 150 baht for adults. Weekend tickets for children are 140 baht and 180 baht for adults. Between Dec. 31 to Jan. 3, holiday pricing is 160 baht and 240 baht for adults.
All tickets can be purchased online, at the Jim Thompson House and Museum in Bangkok or Jim Thompson shops in Siam Paragon, CentralWorld and The Emporium.
The farm, which covers an area of 721 rai (280 acres), was established in 1988 primarily for producing silkworm eggs and silk cocoons. It later started opening to the public annually in 2001 as an agritourism attraction.
Jim Thompson Farm is situated in the Pak Thong Chai district of Nakhon Ratchasima province, about a four-hour drive from Bangkok.