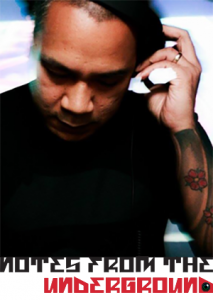 South African artists such as Die Antwoord, DJ Mujava and Okmalumkoolkat have put their own twist on modern dance music from house to hip-hop. Less known abroad is Kwaito, a music from the townships that uses African sounds and samples to make music with a house sound but at a slower tempo.
Leading the way in South Africa's electronic music scene is Nonku Phiri, a vocalist who has performed and recorded music in Kwaito, house and hip hop.
In the past couple years, she has collaborated with some of the industry's best producers, including Swindle (Deep Medi/Butterz) and Buraka Som Sistema's Branko, and on Sunday night, she is playing in Bangkok.
Though Nonku comes from a musical family – her dad is jazz musician Ray Phiri – she says she didn't discover her talent until high school. It wasn't until later in college she became inspired by the likes of Bjork and Angelique Kidjo.
"I kept the fact that I could sing a secret until I got into my late teens," Nonku says. "I guess you could say my musical journey started when I was in college when I discovered garageband and beat tapes."
In 2015 came her first solo release "Things We Do on The Weekend," a track about a relationship gone wrong that earned praise from fans worldwide. The track's future Kwaito beats provide the framework for dark bass heavy atmospherics accompanied by Nonku's haunting voice.
[youtube https://www.youtube.com/watch?v=kEqErEO1z9g&w=400&align=right&showinfo=0&theme=light ]
Not to be pigeonholed in one sound or style, Nonku has flexed her vocals further with rap cyphers recorded under her Jung Freud alter ego, a character she developed while collaborating with many of South Africa's hip-hop MCs.
Nonku's fans are eagerly awaiting her much-anticipated EP due to drop after she ends her Asian tour's final show in Bangkok. She's also plans to return to the studio later this year to work on a solo album.
"This is my first tour in Asia, and we've been fortunate enough to perform in Shanghai, Luoyang and Guangzhou, and we'll be playing in Kuala Lumpur and Hanoi before we wrap up the tour in Bangkok," Nonku said, adding that her first time in Asia is a chance to expand her network and be on the lookout for future collaborators.
Nonku Phiri performs live 8:30pm to 10:30pm on Sunday at Jam. Tickets are 200 baht at the door. Jam is located just off lower Sathon Road, a 5-minute walk from BTS Surasak.
Curious about the South Africa scene? Nonku suggests checking out these three artists:
Hlasko
"One of my favourite vocalists and producers, don't think the world is ready for this one!"
Samthing Soweto
"Another vocalist who always seems to tug at the heart strings, I'm really looking forward to seeing Samthing Soweto blow up."
Jumping Backslash
"Bass master, friend and collaborator whose recently released a stunning project featuring myself, Hlasko and another amazing instrumentalist/ producer/ composer Card on spokes."