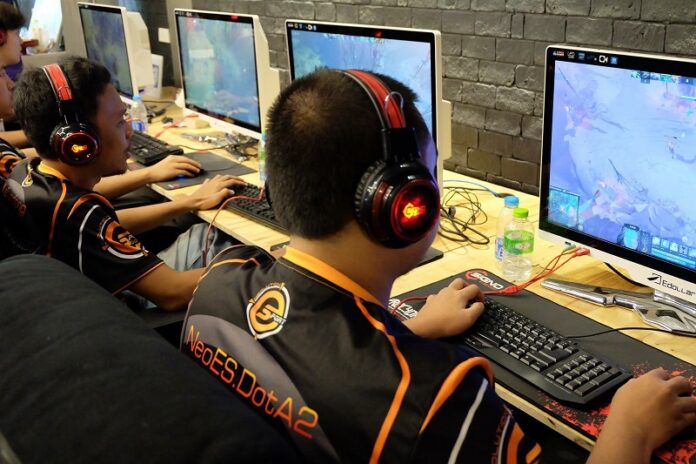 BANGKOK — Thai sport authorities have drawn aggro from competitive gamers for declaring they are not a real sport and denying them participation in the fifth Asian Indoor and Martial Arts Games, or AIMAG.
While ministries that only perceive gaming as a social ill may have been responsible for the decision, pro gamers were left frustrated by two reasons cited by the Sports Authority of Thailand to bar their participation: Esports is still a demonstration sport, and the Thai E-Sports Association is not yet a nationally registered organization.
"Esports is still a demonstration sport, so it won't cause much damage whether we send the team to join the tournament or not," deputy governor Natthawut Reungwet said Thursday. "The Thai E-Sports Association still has plenty of time."
Cyberathletes have seized on the decision to rail against an ossified bureaucracy out of touch with the digital world for preventing them from attending the event backed by the Olympic Council of Asia.
"Because we let these hidebound people sit in management, this is the answer we get," Facebook user Tum Duangthai wrote. "The world has developed for millions of years. These fucking guys just think there was nothing like this in their age. They just can't keep up with reality."
"To simplify in short… 'Go compete and make yourself famous, then the Sports Authority of Thailand will go after you to exploit your fame,'" Facebook user Sitthipol Kositpanthawong wrote.
Games such as Defense of the Ancients, or Dota, and League of Legends are widely known among Thais, and Thai esports have begun to come into their own, with more professionally organized events and larger purses at stake.
Still, the government says it does not yet recognize it as a sport.
The esports association president said Friday that to turn down the invitation to the event, sponsored by the Olympic Council of Asia, is a lost opportunity for Thai gamers, as they could gain experience in the early era of esports.
The Asian Indoor and Martial Arts Games feature competitions in traditional sports as well as esports. They are held every four years. National Olympic committees were to select teams by July 20 to participate, including for the esports competitions in Dota 2, Starcraft 2 and Hearthstone, according to the official site of the Ashbagat 2017 games.
"If we wait until we are ready, it will be too late," Santi Lothong said Friday. "This is a chance for Thai players to be training at the same time with players around the world."
He said the council gave each country a quota of 11 players and paid for their trips.
As he waited for authorities to decide, Santi had already prepared to recruit national players – and more than 200 gamers applied for the coveted spots.
Instead, he had to cancel the whole thing.
The esports association is currently registered with the Provincial Administration Department.
In order to put forward players to represent the kingdom, it must gain full status as a sport association under the rules of the Sports Authority.
Natthawut said the association already submitted its application, but the process wouldn't conclude in time to send players to join the Asian Indoor and Martial Arts Games in September in Turkmenistan.
The association president said he made the original request almost a year ago. He has also been campaigning for esports to be officially recognized in Thailand.
Contrary to what gamers believed – that the move was obstructed by the sports authority – Santi said that greater pressure came from other ministries involved in the process.
Though the deal got the green light from the Ministry of Tourism and Sport, recognizing esports also involves other ministries; culture, education, public health and social development and human security.
Santi admitted it was a tough job to get the support of agencies, such as public health and culture, which often assign blame gaming for all manner of social ills.
"I've also given presentations to the lawmakers two times," he said. "They asked me, 'But how would you solve the problem of kids addicted to games?"