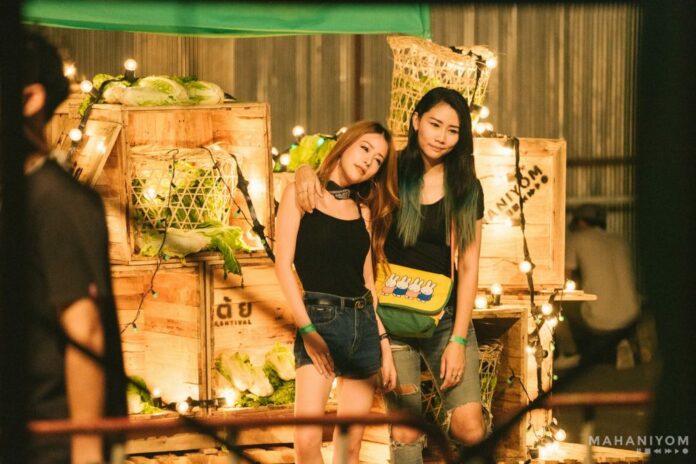 KHON KAEN — It will be a weird weekend in Khon Kaen when an alternative music festival returns later this month to the heart of Isaan.
It won't be a musician headlining the return of Toey Freshtival, but leafy and slightly bitter Chinese kale. Pose for selfies beside the piles of fresh Chinese kale spread throughout the event, use them as props in kale-powered gun fights but be careful – some will definitely be thrown from the stage.
Seventy rai (11 hectares) at a wholesale market in the capital of Khon Kaen province will be given over to the second coming of Toey Freshtival with live music from seven bands, food and drink stalls and illuminated wooden crates of Chinese kale. Last year's superstar was cabbage.
The two guys behind it are Pawin "Benz" Assawapattanakul and Bangkok musician Engkarn "Aon" Phonpho.
An avid concertgoer, Khon Kaen-born Benz said he has to pay for flights to Bangkok several times to see international indie acts such as Foster the People and The XX.
He said Khon Kaen, 400 kilometers from Bangkok, has never seen an international show, so he decided to make one himself.
"I want to do something for Khon Kaen people," Benz said.
For Aon, it's all about the vegetables.
"Most important thing: Eating veggies is healthy," Aon said.
They said they settled on vegetable produce as their theme to represent freshness: quality sounds from talented bands for young audiences.
Among seven bands to play are six from Bangkok: Rock quintet The Yers, pop rock group Moving and Cut, indie up-and-coming act Safeplanet, post-rock group Inspirative, tropical-inspired indie pop Gym and Swim and alt-rock Poomjit.
From Japan comes an indie rock trio called The Fin. After playing at the event, they will play Voice Space in Bangkok (Sadly, a kale-free affair).
All the produce will be bought at local markets and won't go to waste.
"We'll be hiring a truck to carry the veggies. After the event is finished, we take them to feed pigs," said Benz.
Toey Freshtival 2 will run from 5pm through midnight on March 24 at Wufoo Market in Khon Kaen city. The event is 20 and up. Tickets are available online for 500 baht. They are 800 baht at the door.
Wufoo Market is located on Mittraphap Road in Khon Kaen city. Fly, drive to take a bus or train to get there. Its parking lot can accommodate 1,600 cars.