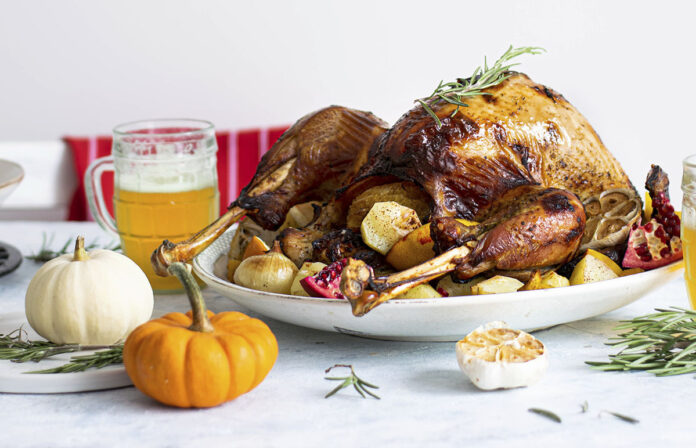 BANGKOK — Show off that American cultural capital by pretending to care about pilgrims in 1600s America and binging on turkey in Bangkok.
Although variety for Thanksgiving events are few and far between, they still range from expensive five-star hotel buffets to pub grub to free church services.
Family Fun
The Londoner Brew Pub at Phattanakan Road 32 is holding a whole day of fun for the family on Sunday Dec. 1. Grab a plate of roast turkey for lunch, play jenga with giant blocks, and practice your cornhole-tossing chops for the tournament at 3pm. Cornhole is a lawn game where players try to toss beanbags into holes on a board. There will be prizes!
Each plate of roast turkey, lamb, beef, or pork – or a mix of them – is 395 baht.
For an even more all-American dinner, Roadhouse Barbecue is having a 1,289 baht (583 baht for kids) buffet on Nov. 28 that includes Maryland style crab cakes with creole mustard sauce, Southern style cornbread, and roast turkey with giblet gravy, and sweet potato casserole. Yeehaw! Bookings recommended.
If you don't mind a side of Jesus with your dinner, the Pentacostal Empowerment Covenant Church is holding a free Thanksgiving dinner and service on Nov. 24 starting at 5pm, but call in advance so the church can prepare the right amount of food. However, there will be grilled chicken and other Thai food rather than turkey.
Hotel Dinners and Buffets, Listed by Net Price Per Person on Nov. 28
We called up all these hotels and demanded the net price for you – no more getting blindsided by that pesky "++" found at the end of prices.
Related stories:
Isaan Turkey Farmer Talks About His Gobble Gobbles
Bangkok Quickies: Where to Feast For Thanksgiving