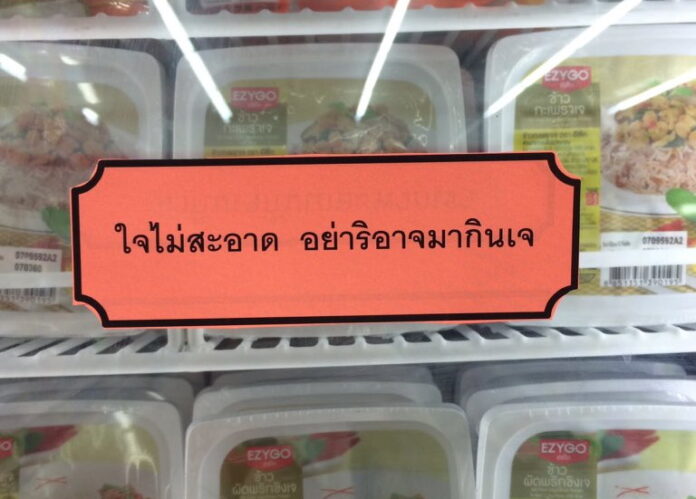 BANGKOK — The Vegetarian Festival kicks off today with an apology from the conglomerate that owns Thailand's ubiquitous 7-Eleven stores for a sign telling customers to stay away from meat-free food unless their hearts are truly pure.
A photograph of the sign was tweeted Thursday by a user who said he spotted it in a store near MRT Sukhumvit . It was supposed to advertise vegetarian food for the annual Vegetarian Festival, or kin jae, the Sino-Thai lent in which observers refrain from animal-based products and certain "emotional" foods for a week in order to purify their souls.
"If your hearts are unclean, don't dare eat jae," read the sign over a fridge full of such food. The photo went viral and offended many on social media.
In an online statement, CP All said Friday the sign was made and placed there by a new employee out of good intentions to invite customers to join the festival, but the idea was poorly thought out. The company said it did not terminate the staff member, who was not identified.
"The company would like to apologize for the incident," the statement said.
This year's festival begins Saturday and continues through Oct. 9.