Top: Chef Gaggan Anand, at center, of Bangkok's Gaggan restaurant. Photo: Courtesy
BANGKOK — "Do I care? Yes. Nervous? No. Excited? Yes." We're in the middle of a photo shoot in Bangkok's Gaggan, the No. 1 restaurant in Asia on both the 2015 and 2016 Asia's 50 Best Restaurants lists and No. 23 on the 2016 World's 50 Best Restaurants list.
Chef Gaggan Anand is shouting for staff to have their pictures taken while fielding questions about Tuesday's event with his characteristic candor. What did making the list change? Gaggan goes straight to the point.
"It changed everything, I am what I am today because of Asia's 50 Best," he said, adding that with the laurels came recognition and acceptance. And popularity. "What you're doing becomes a trend."
Update: Threeplay – Bangkok's Gaggan Tops Asia's 50 Best Restaurants, Again
Over near Rama IV Road, at Issaya Siamese Club (No. 19 in Asia for 2016), Chef Ian Kittichai agreed.
"It is always great to be recognized, especially by our peers," he wrote in a measured email reply.
The sentiment was echoed by many of the chefs we talked to, for whom the distinction is coveted recognition by fellow chefs and gourmets in the know.
Golden Ticket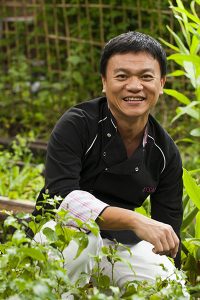 Others however suggest it is a popularity contest won by rubbing shoulders with the list's voters known as "tastemakers," and by PR machines with deep pockets and the right contacts. What is sure is that a spot on the list practically guarantees long waiting lists of eager diners clamoring for a table and the full coffers that come with having a packed house night after night.
Litti Kewkacha, the CEO of family concerns including Safari World and the group that includes chains like Sfree, is both a businessman and one of the World's 50 Best Restaurant tastemakers. Acknowledging that the award was good for business, he elaborated on the importance of financial success to the creative process.
"Business brings opportunities for chefs to venture out of the orthodox, to invest in R&D, to seek and serve rare, sustainable and organic ingredients that wouldn't be possible if the restaurant were empty."
Somebody who has earned the luxury to explore less-traveled avenues is Chef Prin Polsuk of Nahm (No. 8 in Asia and No. 37 in the world in 2016). He talked about his passion for researching old Thai recipes, growing aromatic ginger on the roof and sourcing fiddlehead ferns grown to his specs near Chiang Rai. But the recognition brings both freedom and responsibility.
"Here at Nahm we serve family style, Thai style, and that's against the mainstream of fine dining, right?" he said.
But he can't break all the rules.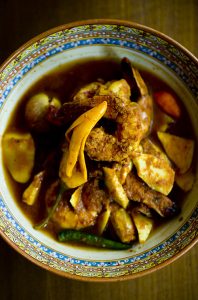 "We need to keep our standards. The year we got No. 1, there was a lot on my shoulders, it was really hard," he says, referring to 2014, when Nahm ranked No. 1 in Asia.
The third generation of a Michelin-starred family, Marine Lorain came to Bangkok to open J'aime under the guidance of her father, executive chef Jean-Michel Lorain who had inherited his stars from his father. Steeped in that tradition, Lorain knows about the pressure created by expectations but expressed a different take on the 50 Best list.
"For me 50 Best means 'best' gastronomic restaurants in terms of cuisine and service. There has to be some sort of refinement," she said. "I wonder about a list where Robuchon isn't there, or Le Normandie, an institution in Bangkok, or Savelberg."
Those are all Bangkok restaurants grounded in classic French haute cuisine, none of which appears in the current selection.
Krung Thep Rising
Bangkok placed four restaurants among the top 50 in 2016 and hopes are high to do even better this year. Chef Tim Butler of Eat Me (No. 23 last year) says that of course there will be changes to the list.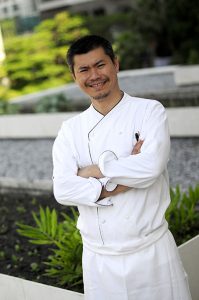 "We've been really really lucky to be included in the list over the years. But just for the longevity of the list, it has to reinvent itself," Butler said. "You need that evolution. If [Chef Thomas Keller's iconic California restaurant] French Laundry were No. 1 after 10 years, the [World's 50 Best Restaurants] list would lose its relevance. I hope there are a lot of new restaurants."
Better representation was the idea behind breaking the list up.
The Asia's 50 Best Restaurants list was born in part to address credibility issues concerning the World's 50 Best list, founded in 2002. Originally the only voters were chefs, voting for their peers. But the method resulted in largely stagnant lists centered on Europe and North America and raised concerns that being on the list had more to do with cronyism than quality. The pool of voters was expanded to include food experts, journalists and enlightened diners. Auditors were hired to ensure that voters followed procedures designed to reinforce fairness. In 2013, the Asia's 50 Best Restaurants list and its cousin, Latin America's 50 Best Restaurants, were launched to give the awards a global perspective.
So who will the new faces be? Tastemaker Litti Kewkacha said that he didn't see anyone topping Gaggan again this year, to which Gaggan himself mused, "Three times lucky would be very lucky. I don't know. Three years in a row? I hope the pressure ends this year…"
Some chefs, like Gaggan, diplomatically declined to make predictions or name any names. It is easy to suppose however that he has high hopes for his other horse in this race: Suhring, run by twin chefs Thomas and Mathias Suhring, in which he is a partner.
The majority of chefs interviewed for this article named Suhring as a likely entry. The restaurant even has supporters among the tastemakers.
"I'm pulling all the way for Suhring," enthused Kewkacha. "It's the best thing to happen in this city for years. Finally a true fine, Western dining restaurant that can compete with any in the region."
However Mathieu Campion, manager of the restaurant, responded with a coy "no comment." When asked if the chefs would answer questions ahead of the awards to be announced on Tuesday, he said the chefs would be happy to grant an interview.
"I would suggest the 23rd onward," he replied.
One Night in Bangkok
Some chefs concentrated on the event itself, rather than potential prizes. Gaggan says it is not about proving himself anymore.
"It no longer a competition, it's a gathering, meeting all the chefs," he said. "It'll be craziness, madness. We'll show them what Bangkok is all about, one night in Bangkok!"
He adds that this edition will be the last in Bangkok, for now at least.
Chef Thitid "Tonn" Tassanakajohn also chose to focus on the event rather than the possibility of winning a spot on the list. "We are looking forward to the event, it's very exciting for us." His flagship restaurant Le Du is often tipped as a favorite, but will this be his year?
"I hope one day we make it to the list," Tonn says. "But more than that, I'm excited about the event because a lot of chefs will come, people in the industry. Some will try my food, some will come to Bangkok and enjoy my home town, and that for me is very exciting already."
Chef Bongkoch "Bee" Satongun of Paste was award-ambivalent.
"Awards mean that people recognize what I'm doing, but I don't live for awards, I'm living for the people who come to eat in the restaurant." Chef Bongkoch "Bee" Satongun of Paste, widely admired for her unique spin on historical Thai recipes while using modern ingredients and techniques, but who has not attracted the local or international plaudits conferred on her peers.
Still, "it's a chef's dream, having a Michelin star," she admits wistfully. "It's [like] you're the student and the teacher gives you full marks."