BANGKOK — Bam and Boom come from the modest Wachiratham Sathit community in southern Bangkok. They lacked the funds to go beyond middle school and sought a way to continue their studies and do more with their lives.
"My mother was looking for a way that I could continue my education, like adult education," Bam said. Some months back, her mother learned about a place her 18-year-old daughter could get training for work in the hospitality industry along with an ongoing education.
Now she works at Khanun, a restaurant opened last month by Peuan Peuan, the local chapter of Friends International, an NGO best known for its work in immigrant communities and child protection.
In a town under constant deluge of cheese tarts, international franchises and celebrity chefs, it's refreshing to see the arrival a low-key restaurant not driven by fanfare, fads or hyped-up promises but tasty food, friendly service and a mission to bring promise to young lives.
Bam told her friend Boom, also 18, about it, and they joined the program three months ago. Neither wanted their full names used for this story.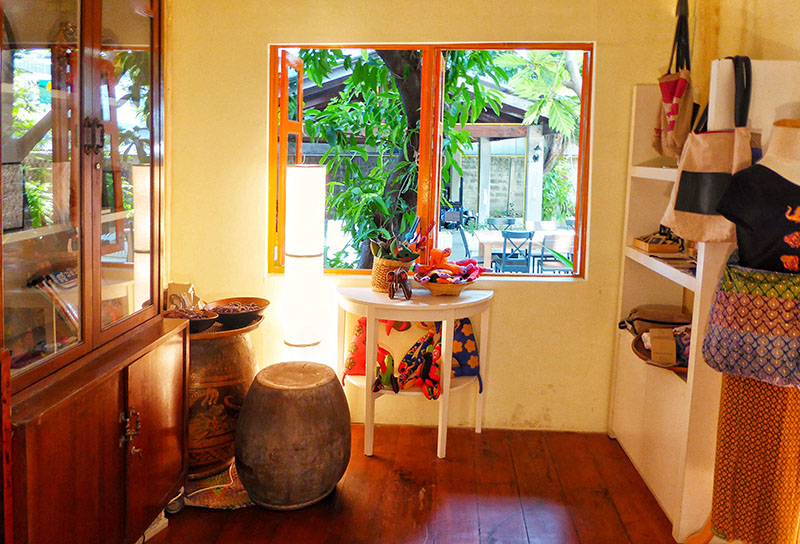 Bam likes learning English vocabulary words and making baked goods the most, but is a little apprehensive about her turn working out front, where she has to interact with the public.
"I don't really care for numbers, being the cashier," she said, shyly. After her training, she'd like to finish high school before opening her own shop, maybe a bakery.
Boom on the other hand sees himself as more personable and suited to working out front with customers, but he doesn't shun the kitchen work.
"For now, it's not about what I like or don't like," he said. "Everything is new and I came here not just to try new thing but because it's a challenge."
At Khanun, trainees spend 48 hours a week gaining experience in the kitchen and out front, and also have classroom time for subjects including kitchen hygiene, stock management and English. Peuan Peuan (friends) provides a range of social services in the disadvantaged neighborhoods of Bangkok and among displaced populations at the Cambodian border.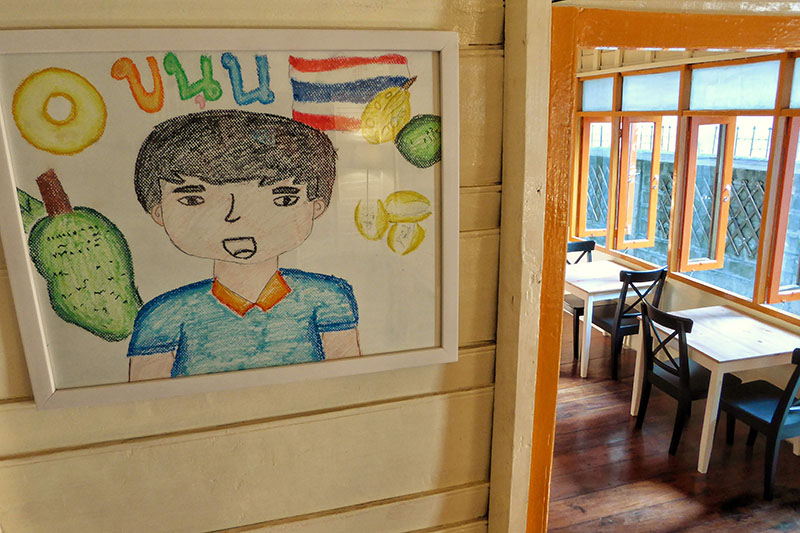 Khanun is their first attempt at opening a business that doubles as a training center.
Pornpimol "Nim" Pinchareon manages the site, handles the paperwork and deals with the day-to-day challenges of getting a new restaurant off the ground. She's also responsible for overseeing the training side. During a conversation, she had to jump up to deal with a supplier, take questions from the kitchen and throughout the evening was never far if the trainees needed a hand.
"It's crazy here," she said, after interrupting a conversation to deal with a supplier issue.
She explained how it works.
"Peuan Peuan finds [the trainees]. We take in people who are not in school, whose parents have problems or who don't have the financial support," she said.
The program covers the expense of Bam and Boom's two-hour commute, and other incidentals like their uniforms, food and medical care. Because of less reputable NGOs, Friends International imposes a number of safeguards and strict guidelines governing the welfare of the student workers.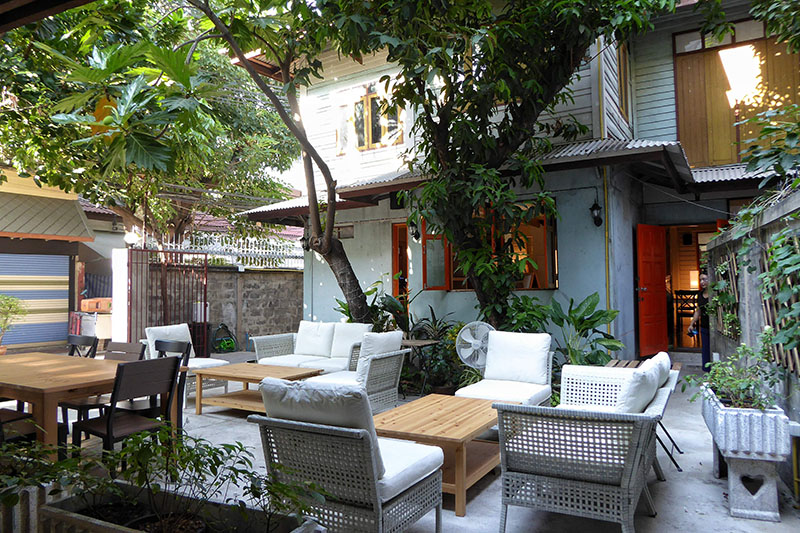 "The social service teams comes every week to check on the students and make sure everything is okay, to get their feedback," she said.
Khanun is located in a peaceful mid-century wooden house just a stone's throw away from the beer-drinking backpackers of Khaosan Road.
Pornpimol said it takes about 18 months to finish the program, after which they reach out to their industry partners to help them find jobs.
Boom would like to further his education.
"Maybe I'll go to work or do a vocational degree before training at [Srinakharinwirot University], but I'd need to ask my dad for support," soft-spoken Boom said, letting it hang unspoken that such support could not be assumed. "One thing is sure though. I will not let this experience go to waste."
After working as a hotel sous-chef at a hotel chain's training academy, Jum Pachmanee joined Khanun eight months ago.
"To be honest, I didn't know anything [about the project]. I saw on the internet that they were looking for a head chef, and then I read more and learned about [Friends International]."
It's only been three months since the first trainees began, so it's too soon to declare it a success. But the signs are promising.
"We've had a lot of repeat customers, some have come back four times in two weeks, and they have brought different people because they liked us so much," Pornpimol said.
But what about the food?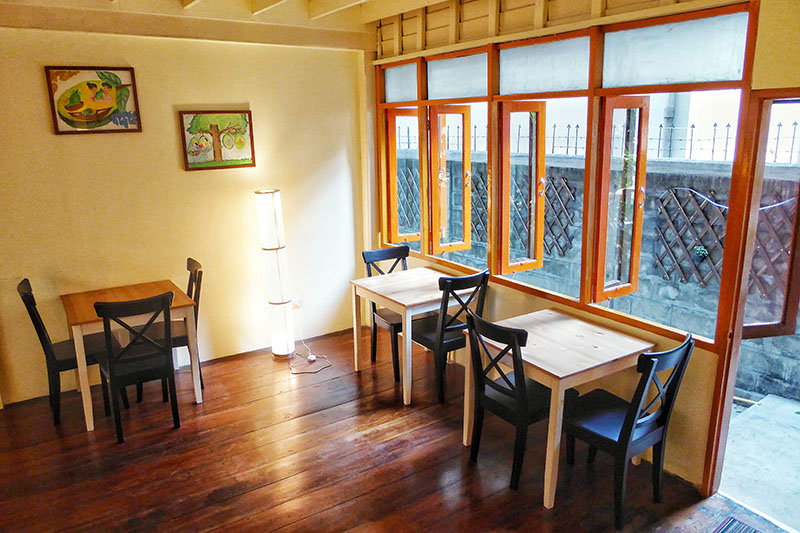 The menu designed by Chef Jum and her team favors bold Thai flavors with a couple of tamer fusion dishes. On a recent evening, three friends – Vinnie Rodriguez from New York, Joe Rajan from Florida and Shawn Carson originally of Rhode Island – walked in to have dinner. Rodriguez was drawn by the sign on the street describing the project's focus on disadvantaged youth and thought it would appeal to Carson, a teacher.
Later on, Rajan was polishing off the Thai Fish Curry with Young Jackfruit, a dry fried pad prik gaeng.
Asked for his verdict, he pronounced it a dish with enough flavor and fire to please even his demanding Indian parents.
Rodriguez agreed on the balance of heat and flavor, saying it was "very spicy, but I couldn't stop eating it!"
The curry uses unripe jackfruit, the khanun that gives the restaurant its name.
Carson named the Chicken Khao Soi, the northern-style coconut curry soup topped with crispy noodles, as his favorite. Other highly recommended dishes include the Crispy Mixed Mushroom Salad garnished with zucchini and a tangy pesto and Chef Jum's take on mango sticky rice. Her twist? The rice is wrapped up in a soft crepe topped with coconut cream and the mango is macerated in rum.
A few days later English teacher Carson got in touch to comment further on the experience and say how glad he was to share it with two friends who had been his students in the 1990s. He was particularly impressed with the work the restaurant does with young women who struggle with many barriers to advancement because of gender.
"I love what they're doing at Khanun, and I would love to continue supporting their efforts to empower youth," Carson wrote. And, I'd suspect, to have seconds of that khao soi while he's at it.
Khanun is located near the National Gallery, a short walk from Khaosan Road. The closest parking is at Wat Chanasongkram. It's open for dinner from 5pm to 10pm, Monday through Saturday. As more trainees and staff join the project, the restaurant plans to add lunch service.