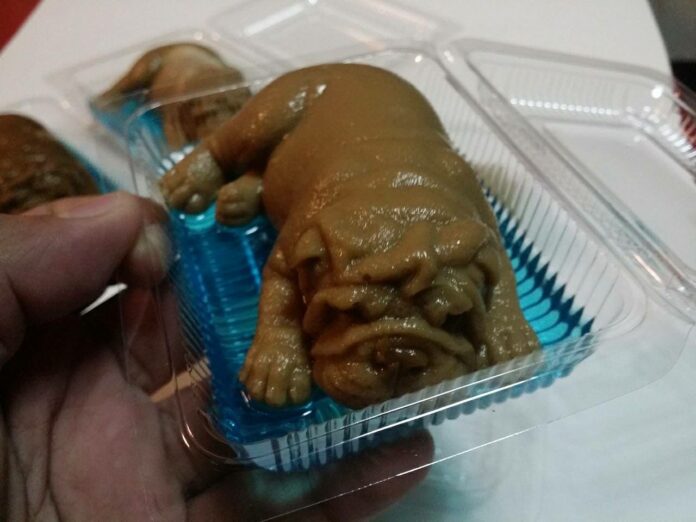 BANGKOK — A Thai sweets vendor's creativity left the social media appalled when she shared her latest creation online Tuesday.
Photos of coconut milk jelly, or woon, in the shape of a dog sold by Wilaiwan Thai Sweets went viral yesterday, drawing overwhelming expressions of disgust from netizens who complained they looked a little too close to humans' best friends – though the shop owner said business has never been better.
The photos were first posted on the shop's Facebook page Tuesday morning, advertising the woon for 25 baht per box. The post had been shared 23,000 times by Wednesday with more than 12,000 comments posted.
Nearly every person who commented said they wouldn't eat it.
"Let's say I praise your skill for the likeness, but I probably won't eat and won't buy it for anyone to eat," Ann Pan wrote. "Please try to be creative in some other form."
"It's not appetizing at all," Fon Khwanarun Nualkaew wrote. "Foodstuff should be something that looks cute, right? Eating this woon would feel like eating dog!!"
"I was shocked. At first I thought you sold boiled dog," Kantida Sakhon wrote.
Despite the negative reception online, shop owner Wilaiwan Mee-ngern told reporters that so many orders poured in through the day that her boyfriend had to help make more dog jelly.
Wilaiwan, 30, said she's been in business over two years now, and she decided to make the now-infamous jelly because she loves dogs.