Top: Jimmy Rojas Lopez makes a set of three pork alambre tacos.
Far from his native Cholula, Mexico, Jimmy Rojas Lopez has found a home in Ari.
Specifically, a two-story residential house he's transformed into a Mexican taqueria. Large French windows in funky colors frame the space, while a bed of rocks recalls the latinoamericano desert outside and loteria cards lie on the tables inside.
First, Lopez wants one thing to be clear: "It's a taqueria, not a restaurant."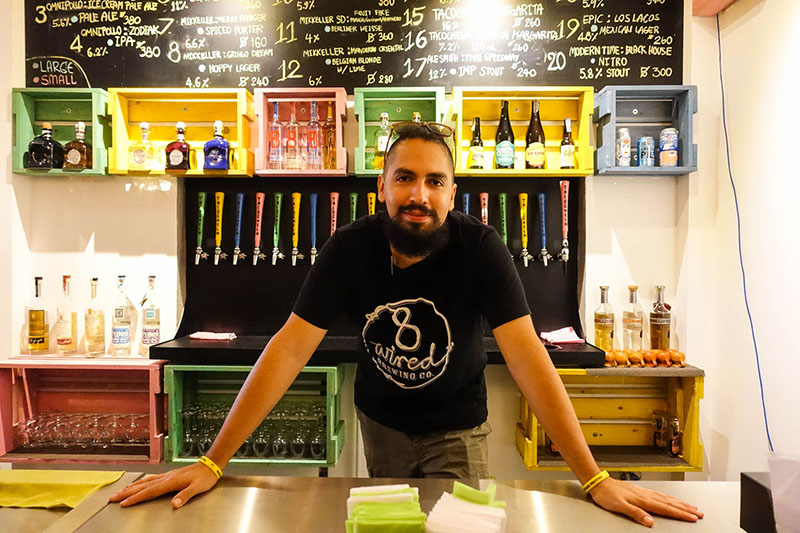 "I wanted it to be like a chill place to eat a taco and drink some refreshing, easy-to-drink, cheap beer. I wanted the house to be like you're hanging at a friend's house with loud, weird colors or a cantina in Mexico," he said.
Although Mexican restaurants have proliferated in Bangkok over the past few years, Lopez said there wasn't a place that "offers a real Mexican street food vibe" until TacoChela.
The taqueria focuses on tacos, ceviche and compartir-con-tus-amigos starters such as guacamole, but the menu is flexible and may change depending on the taqueria's whims and casual fancy.
"We had scallop ceviche last week, but not this week," Lopez said.
That TacoChela is more a place to drink with friends with some plates of food rather than a complete dining experience is evident in the chalk menu on the wall, over half of which is given over to craft beer and cocktails. Mikkeller is a partner.
The space itself lends well to this and there's a lot of delicious food to try, though poor acoustics make conversation difficult and the kitchen was still finding its pace on a recent visit, with some dishes taking an inordinately long time to produce.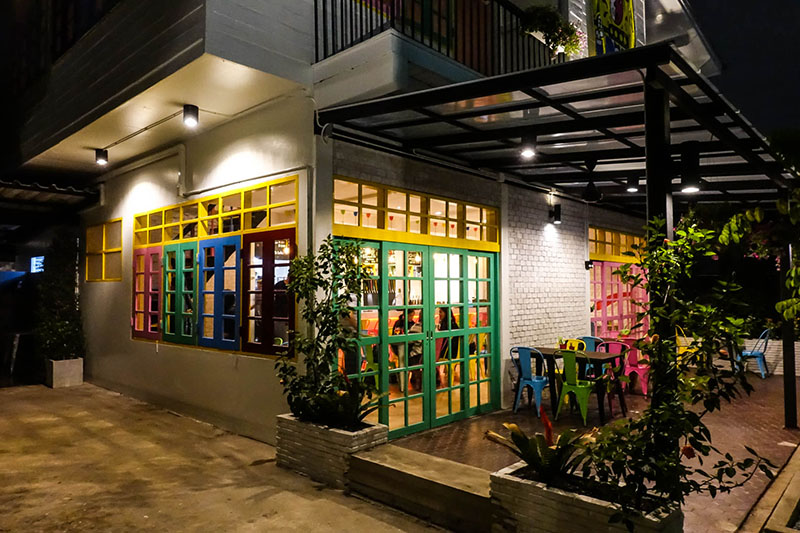 The guacamole (220 baht) came heavy on the lime and cilantro, but it's a tangy accompaniment to the palm-sized tacos which come in sets of three. The pork alambre tacos (190 baht) are a hearty, lip-smacking mix of steak, ham and bacon, but the fried fish tacos (280 baht) taste like a misguided attempt at putting battered fish from a British pub's fish and chips into a tortilla.
There's also a rare Bangkok chance to try traditional latino fare such as longaniza and chicharrones in salsa (280 baht), which may disappoint – or delight – some local palates for tasting like red Chinese pork sausage (gun chiang, in Thai) swimming in spicy tomato sauce.
"Mexican food is so rich and diverse, and it incorporates the surfer culture of Baja California," Lopez said. "There's some of that at TacoChela: the idea is that you can put anything in a tortilla and you eat it with your hands, no knife, just a spoon to scoop salsa."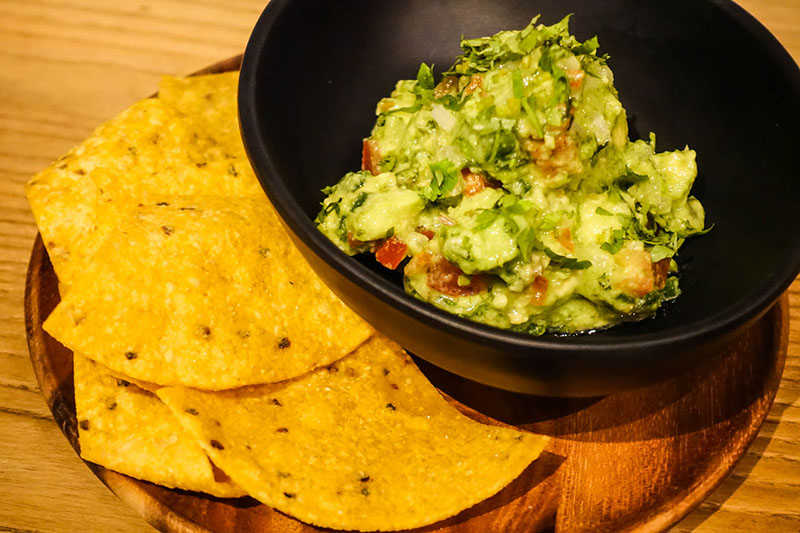 There's a refillable selection of salsas and condiments, including cooked and raw variations of salsa roja, chimichurri, pickled red onions, salsa macha and spicy mayo.
Local Thai palates, Lopez thinks, should have no problem adjusting to comida callejera mexicana.
"The ingredients are similar to Thai food. We just put the salsas at the side," Lopez said.
Vegetarians must stick to the guac or queso fundido with mushrooms (250 baht), an aromatic mix of hon shimeji, shiitake and king oyster mushrooms pan-seared into a glorious lava bed of melted mozzarella and provolone – so there's really no punishment.
"If I was a vegetarian, I'd eat guacamole, mushrooms and cheese every day," Lopez said, laughing.
Whatever one's preferences (corn or flour tortilla?), it's worth skipping over there just for a cool, tall glass of the hibiscus tea (80 baht) and horchata (soon to be on the menu) to eat with the tacos.
Since TacoChela is partly owned by Mikkeller, the Ekkamai craft beer bar run by Jakob Rasmussen, the taqueria's art style – and beer– is similar to the bar's.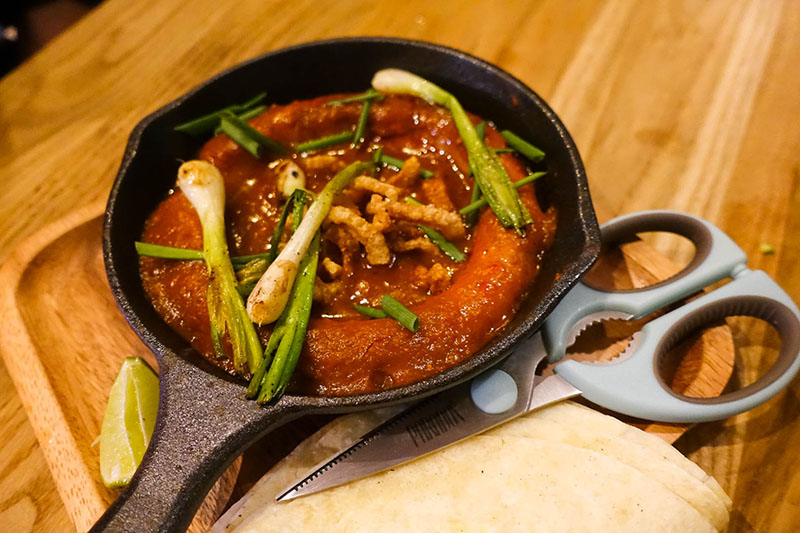 "Like the tacos, which you can personalize by choosing the corn or flour tortilla and  filling, beer is just as colorful a combo," Lopez said. "You just gotta have a taco with a beer you feel like drinking that day: coffee beer, cornflower beer, lemon beer and so on."
For a two-person dinner, Lopez recommends you roll up your own tacos by ordering queso, longanizas and guac to share. If you come alone, order ready-made tacos in your preferred filling.
The authenticity is definitely there, although the kinks of running a restaurant – the food must be waited with a chill pace of hanging out and the upstairs is still unfinished – still have to be ironed out. The bar's acoustics currently resembles a living room rather than a bar, but Lopez says he has plans to add ceiling wood panels and more speakers to better absorb the din and chatter.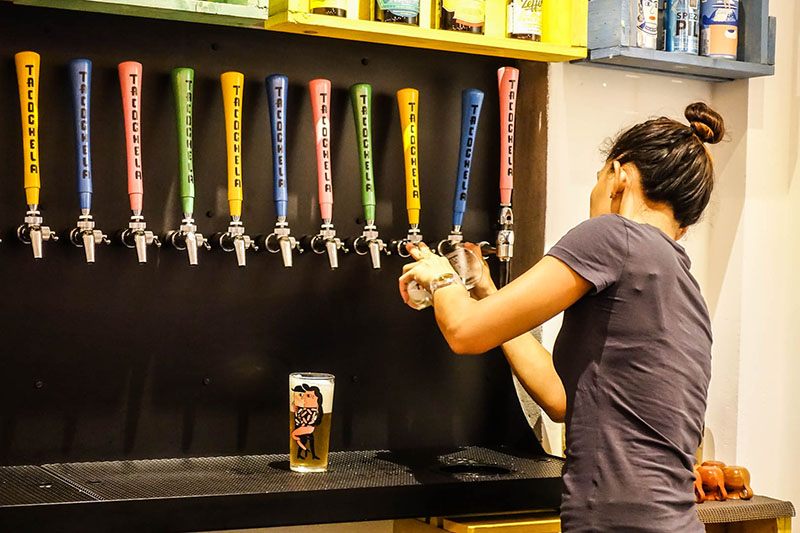 Still, for Lopez, his taqueria isn't about become corporate.
"I don't want to be commercial. We are about food, quality and beer," he said.
Feel free to pick up Mexican toys such as the trompo and valero from the tiny azure toy box in the corner of the bar para jugar con amigos. The logo is of a Dia de Los Muertos skeleton holding a beer brewing paddle, an apt sum-up of TacoChela's vibe.
"Mexican culture is one of the few in the world that praise death and aren't afraid of it. So enjoy your life. You don't know when it will end. Eat a taco everyday," Lopez said, laughing.
TacoChela is open Mondays through Thursdays from 5pm to 11pm and Fridays and Saturdays 5pm to midnight. It's reachable by a 15 minute walk or short motorcycle ride from BTS Ari.