Top: Clockwise from top: Saag Paneer (320 baht), Aloo Gobhi (280 baht), Rogan Josh (475 baht) and Garlic Naan (140 baht). Photos: Taylor McAvoy
BANGKOK — Atop the roof of a hotel up past the nightlife playground of Soi Sukhumvit 11, Nabah Grill & Sky Lounge is a fusion affair with a split personality.
The drinking area is a hodgepodge of tiki decor plastered with retro ephemera including an old ship wheel. Inside the restaurant proper, find a well-appointed Mughal dining hall with touches of North African flare.
This extends to the food. While the Mediterranean offerings may be bland to local tongues, Nabah's Indian fare is top-notch at prices reasonable for rooftop dining.
That's not surprising, considering it's owned by the same family behind the Bawarchi Indian restaurants found in the area.
"This isn't an Indian restaurant or a cuisine-specific restaurant," said Shiva Pineru, the 27-year-old son of Nabah's owner. Still, he recommends the Indian food.
"I don't want to be arrogant, but we're just that good at it. People don't get enough authentic Indian food in Bangkok. I want this to be a place where people come back to," he added.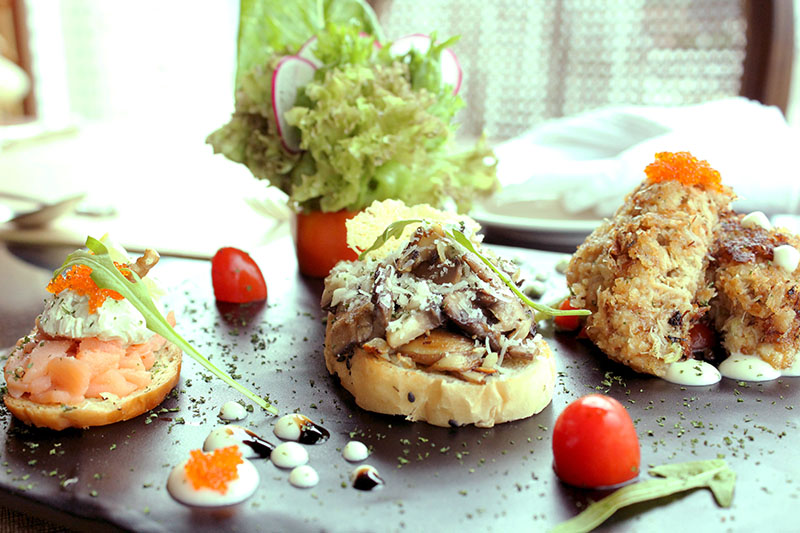 Indeed, the Mediterranean fare can't compare to the Indian, although those preferring milder flavors will appreciate the generous servings.
The Garlic Mushroom and Toasted Parmesan Bruschetta (฿225) comes with two hunks of bread alternately smothered with salmon, creamy mushroom and a tasty crab cake. The Fresh Crab and Poached Salmon Salad (฿450) is admittedly generous on the seafood but, again, light on the spice one would expect here. The Lamb Cutlets (฿800) is a forgettable meat-and-potato dish, and the Parmesan Coated Sea Bass (฿750) fails to exceed hotel-food generic.
In short: Go for the Indian food. For the love of Shiva, try the Rogan Josh (฿475), a Kashmiri stew where the lamb is so tenderly cooked it melts into a spreadable, spice-filled mash.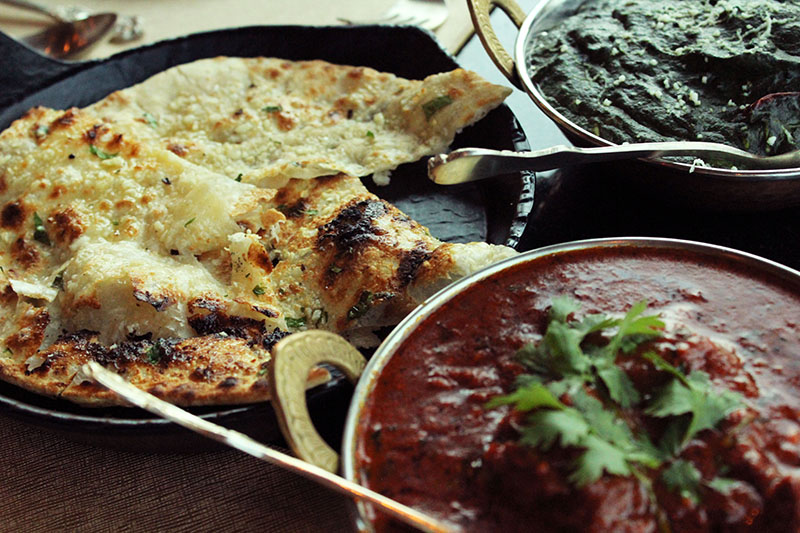 There is, of course, a good selection of vegetarian dishes. In fact, they're so good even a carnivore can feast with only one meat dish on the table. Try the Aloo Gobhi (฿280) for a cauliflower and potato medley that tastes like masala french fries and the Saag Paneer (฿320) for a pile of pureed spinach with cottage cheese cubes to spread over the springy Garlic Naan (฿140). Swig it all down with milky chai Indian Tea (฿100).
The servings are large and prices reasonable for hotel rooftop dining, so the only advantages of a higher-end Indian experience such as Indus would be ambience.
The restaurant is divided into two parts. The hexagonal-tiled dining area is decked out with wooden rocking horses and Persian rugs. The confused sky bar area looks like an outdoor furniture fair with tufted sofas, Balinese totems and oversized vintage 1950s bottle caps crowding the wall. As happens too often, the music was an afterthought of Top 40s international pop.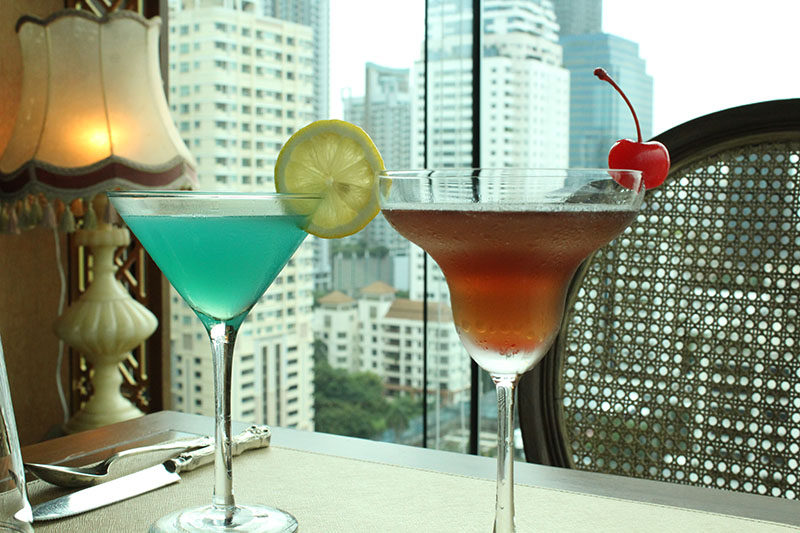 But wait for night to fall and the Bangkok skyline will command more attention as you sip sweet, sweet cocktails. Ask about spinning the ship wheel for a chance at a free drink.
After quietly running some weeks now, the word doesn't seem to be out yet. It seems a likely destination for neighborhood expats and hotel guests. The menu currently has none of the beef or pork or heavily spiced Mediterranean dishes that might entice the Thai palate. The waitstaff, entirely Filipino, don't speak Thai but are incredibly attentive.
The sweet, refreshing cocktails (all ฿280) are made by Frenchman Adriano Etienne.
"Each time you order a drink, I can tell you a story," he offered on a recent visit.
Cranberious neutralizes any vodka acidity with cranberry juice and strong, sweet elderflower syrup. El Secreto de Maria, a bright blue gin pour, is even stronger. For a full dessert drink, get the Chocolate Latte, which is less chocolatey and more bracing blend of tequila and coffee.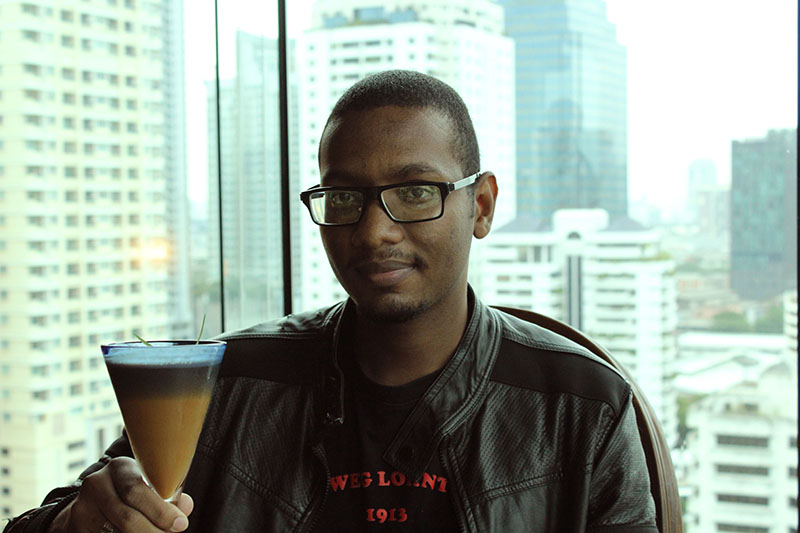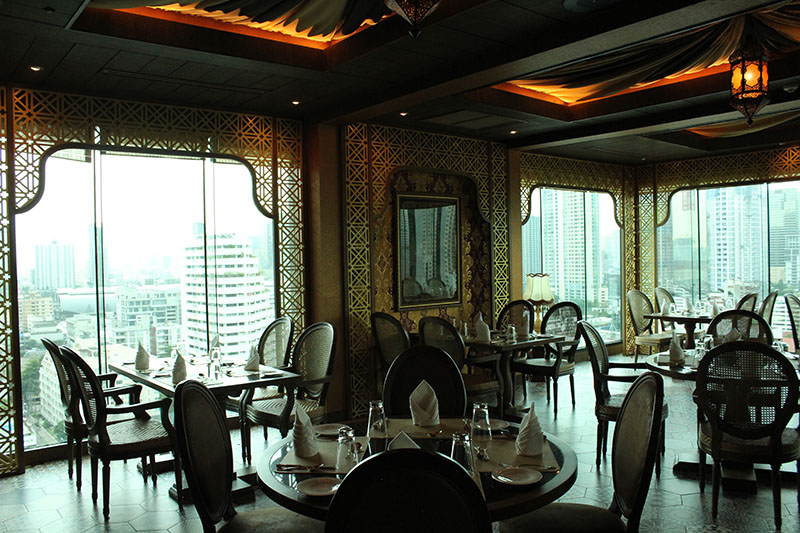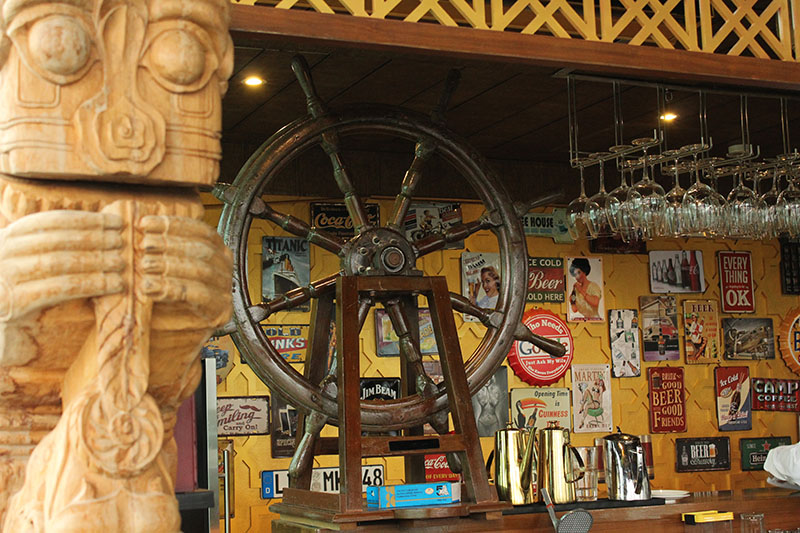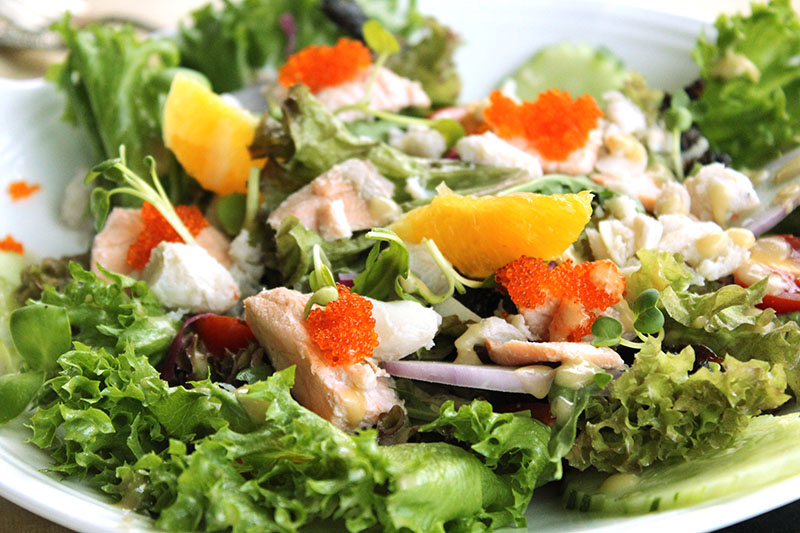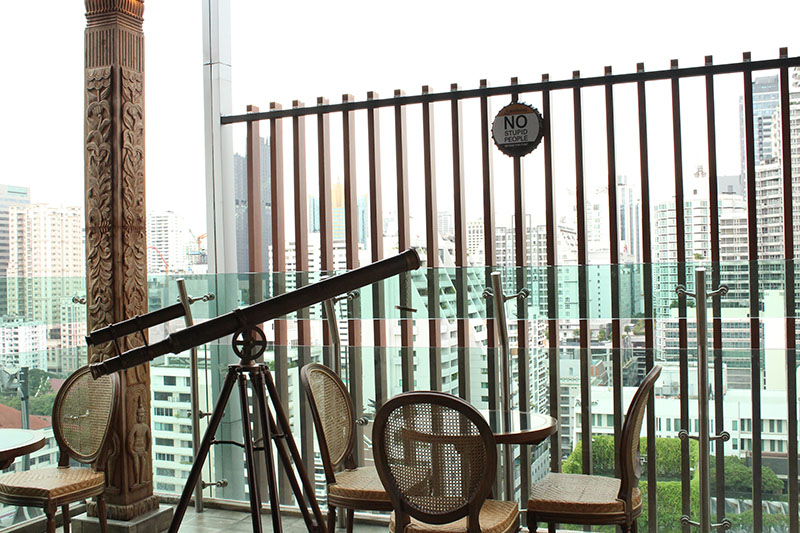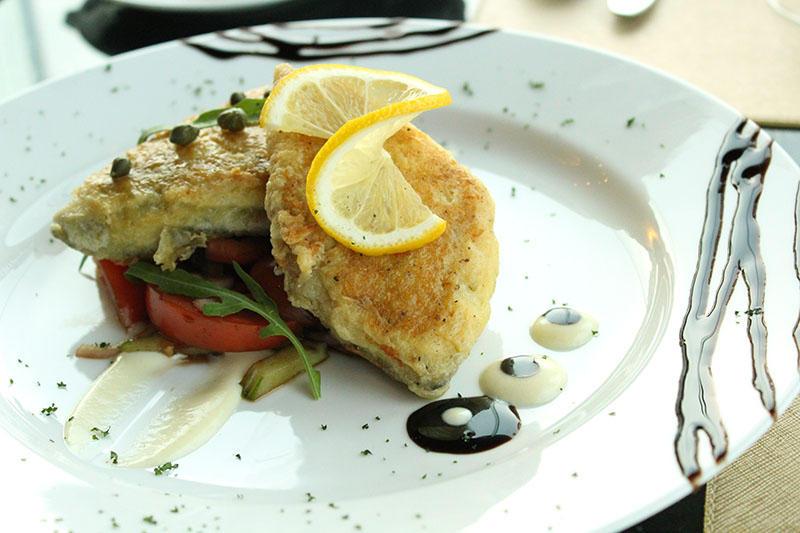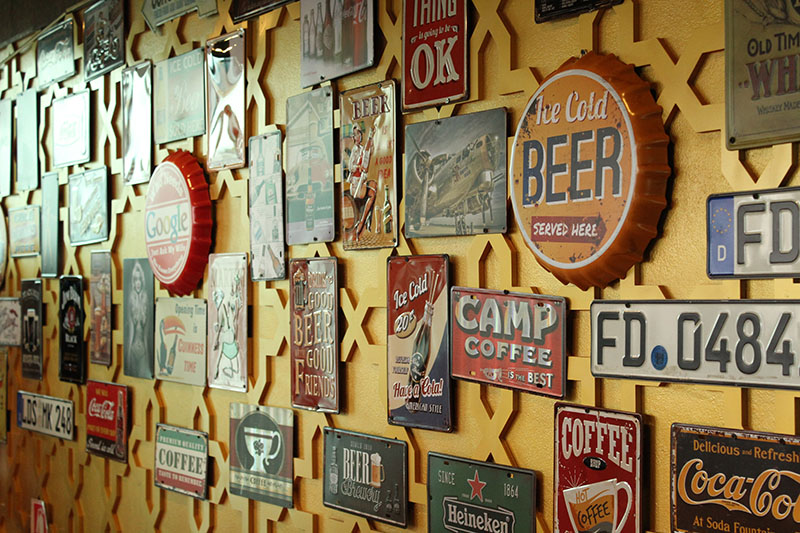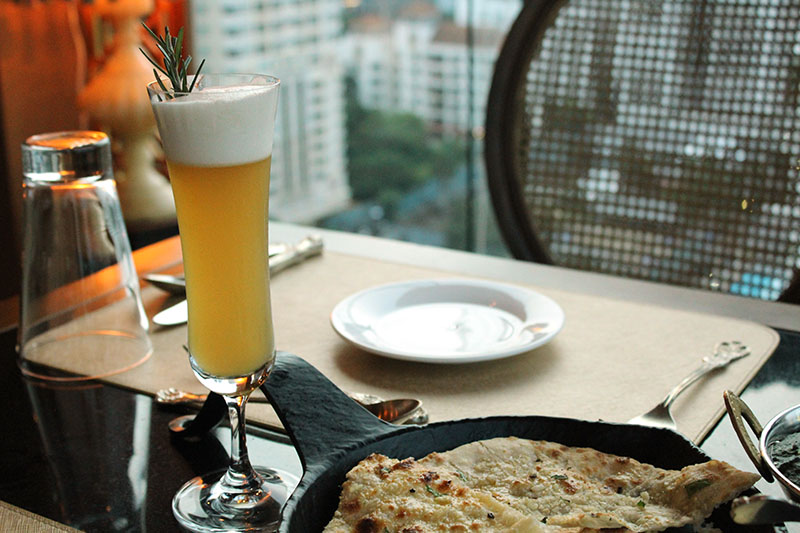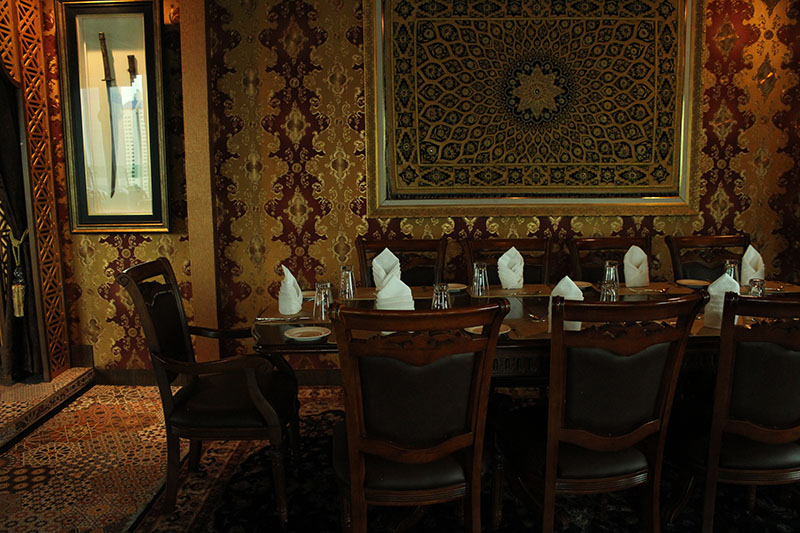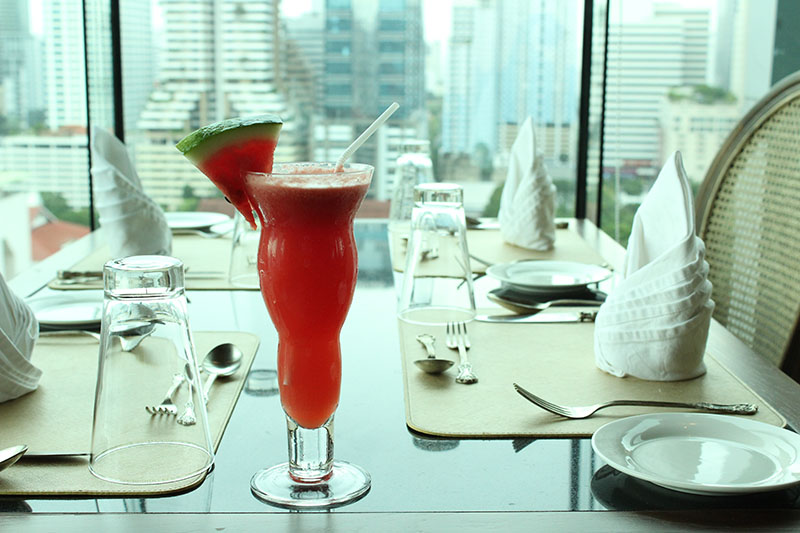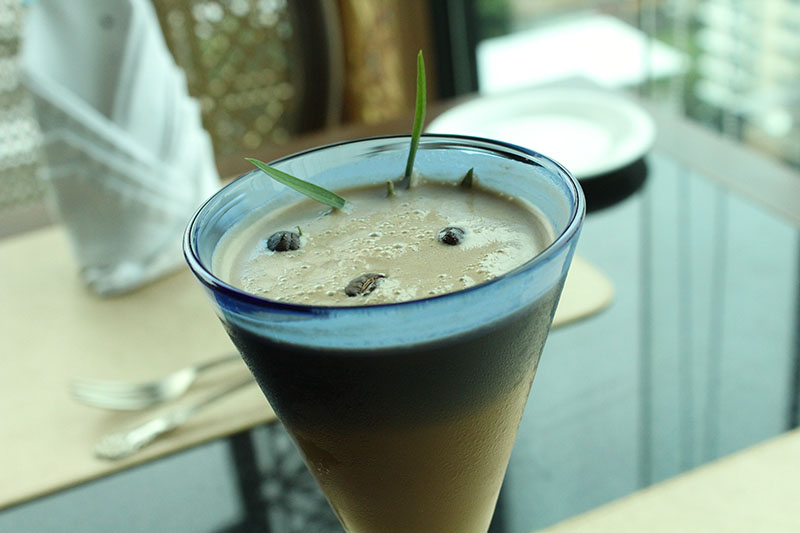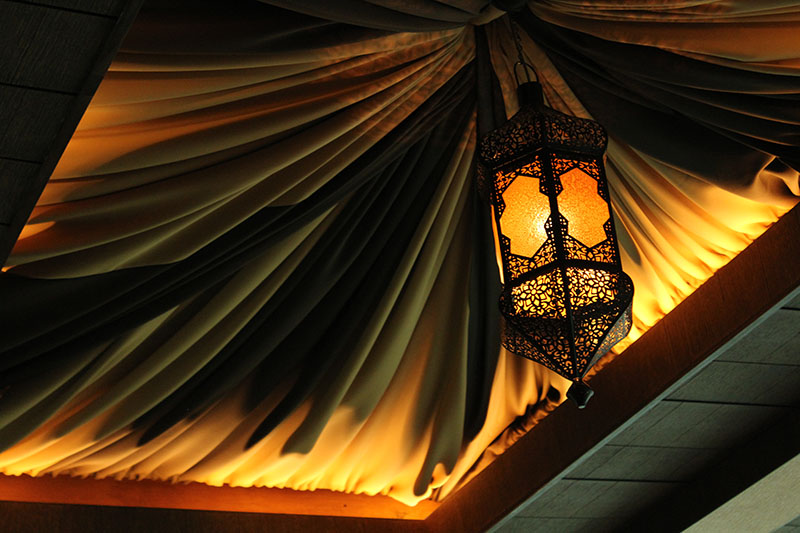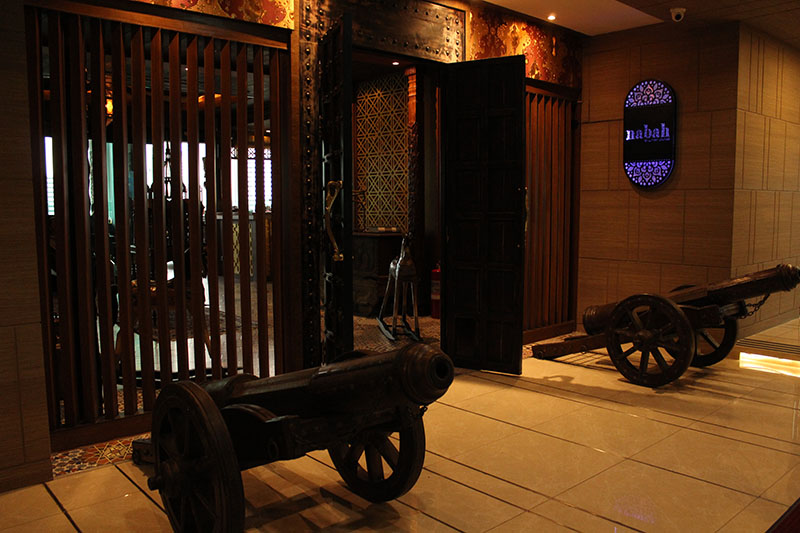 Nabah is located on the 16th floor of the Solitaire Hotel, a 15-minute walk or short ride from BTS Nana, soi traffic permitting. It's open every day from 5:30pm to 2am. The last kitchen order is at 11pm with bar snacks available thereafter.