It's in the krapao, in the cakes and in the coffee. Avocado is in everything at a new, trendy Ari cafe that wants to get the Thai palate on board with the buttery superfood.
Oh! Vacoda, newly opened on Soi Ari Samphan 4, is run by an avocado-obsessed couple. Although the thoughtful fare will please avocado lovers, it's capped by one dish that hits it out of the park – an exceptional case that highlights the fact there's just not enough menu options ot make it a full cafe yet.
"We both love avocado, but we were bored of scooping it next to a salad. Half of Thai people eat it, the other half don't because they say it tastes too bland and lian," Rujiyatorn "Piang-ploy" Choksiriwan said, using a word to describe overly cheesy or greasy tastes. "So I wanted to make Bangkok-style avocado dishes."
Piang-ploy and her boyfriend, Watcharapong "Bom" Thongyan, aren't new to the biz: They also own the nearby Porcupine Cafe.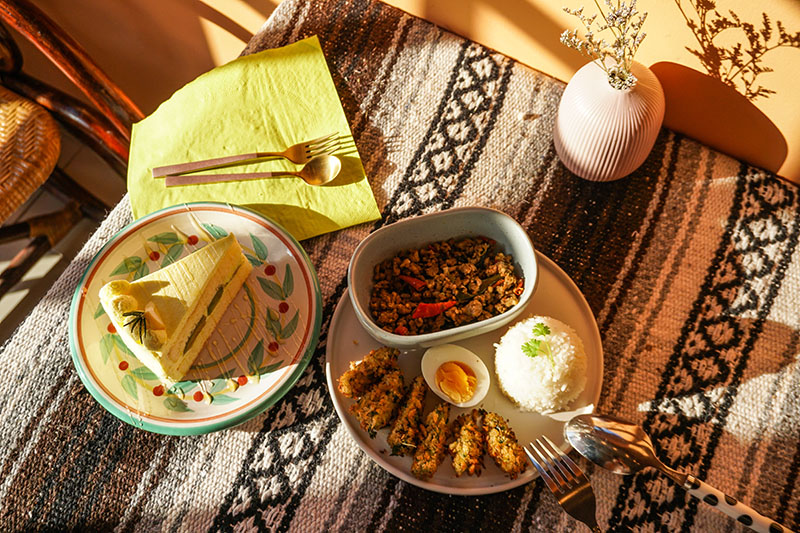 The star dish of the place – indeed, the only real Thai-ified avocado dish at the moment – is the krapao avocado (฿190). There's a plate of krapao moo, a rice portion small enough to compensate for the extra avo and half a boiled egg. With it is the spiced avocado, rolled in breadcrumbs fried with holy basil. It's perfect: buttery and yet Thai, with a thin layer of crunch that coats the slick green middle.
"I think krapao is the signature dish of Bangkok. Everyone eats it all the time, and farangs wanna eat it when they come here. Avocado is zaap in this dish," Piang-ploy said.
Somehow, the greasy street food is made healthy. Finish the whole dish and it feels like street food, properly elevated and integrated with look noey (literally "butter ball," or the Thai word for avocado).
There's no guac to be found ("we're all bored of that," Piang-ploy says). The only other savory fare is pancakes and bacon, with avocado mixed into the batter (฿235). The rest of the menu has avo-infused coffees, teas and desserts, but without any local adaptation.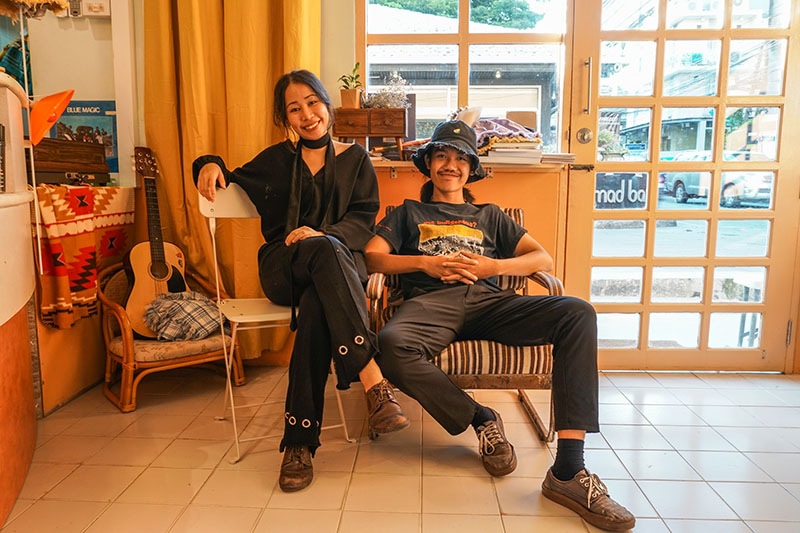 Try the avoothie (฿150) for a small yet dense citrusy blend of avocado and lime that is surprisingly filling. The Avocado Honey Lemon Cake (฿155) is a bit less impressive than the savories: The cake is powdery but tries to compensate with an avocado layer in the middle and zesty-sweet icing.
So is Oh! Vacoda a gimmick with a shelf life as brief as the fruit it celebrates?
"It's not just a fad cafe. I put a lot of passion into this; two years in the making," Piang-ploy said.
Going forward, she wants to find uses for all parts of the fruit – including making dyes from its peel for clothing to be sold at the store.
She disparaged Bangkok's other avocado themed-joint, The Hass Bistro, saying Oh! Vacoda aims to incorporate its green flesh into the heart of each dish.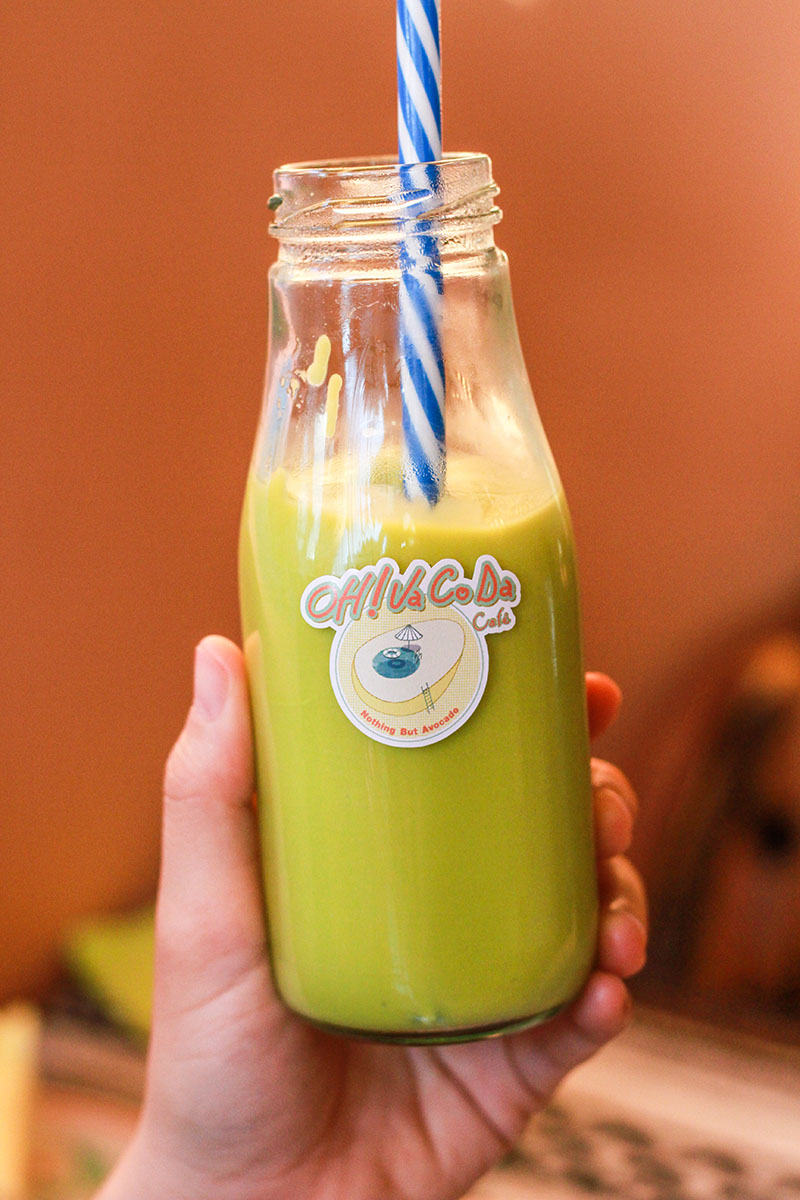 Barista Bom makes the avocado drinks by boiling the pits in water used to make americanos, or the mixing the meat with chocolate for mochas. Teas are blended with avocado seeds but that doesn't seem to add much more than novelty and a slight earthy smell, even the promising No. 3 blend of white tea, coconut, butterfly pea, elderflower rose and avocado seed (฿160).
Like the menu, the decor is off to a good start and could use more development. The orange pastel walls and neon avocado sign are inviting, yet the attempted '60s-era theme comes across as cutesy Korean. Playful wall doodles by local artists run up against the exposed industrial aesthetic, tribal tablecloths and the second dining room's ultraviolet lights.
Oh! Vacoda is a good start, and Piang-ploy says more dishes and drinks are in the works. Once its service picks up steam and the menu runs a little longer, its prospects will be strong. If future dishes are as thoughtful as the krapao, then Oh! Vacoda can break the curse of cafes based on a single food gimmick. Time, and many more zesty avocado, will tell.
Photos by Chayanit Itthipongmaetee
Oh! Vacoda is reachable by a ฿15 motorbike ride from BTS Ari, or a 15-minute walk to the top of Soi Ari Samphan 4. It's open from 10am to 10pm every day.