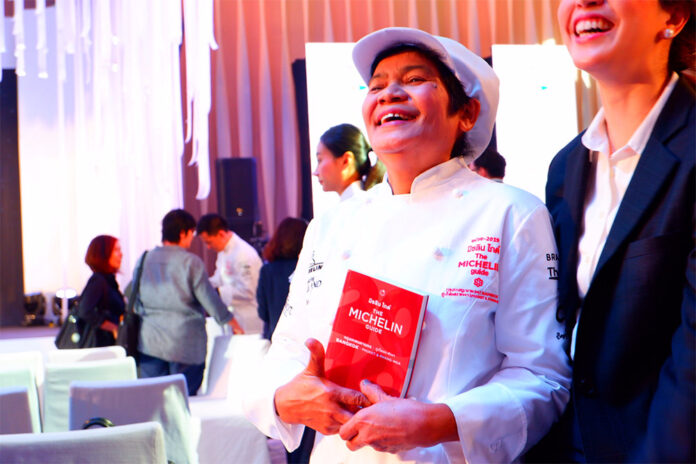 BANGKOK — Banyen Ruangsantheia said she hadn't even heard of the Michelin Guide and its treasured constellation of stars until someone called recently to say she might be getting one.
Of the 11 new recipients in Thailand awarded Michelin stars, Banyen was the least-restrained in down-to-earth, gee-whiz happiness at the award for the Thai fare she takes great pride in making by the river in northwest metro Bangkok.
"I was so shocked when they called me. I thought they were kidding; I couldn't believe it was true. They said I had to be free on the 14th. 'For what?' I asked. They said it was an award," Banyen said after being awarded her Michelin star. "I didn't even know what it was, much less that I would get one!"
Read: Thai Michelin Stars Break Out of Bangkok
Banyen, 62, took the stage Wednesday at the Park Hyatt Bangkok alongside the likes of Gaggan Anand and the Suhring Bros. to pick up what in the restaurant world is akin to winning an Oscar.
The Korat native came to the capital at 18 to work at Suan Thip, which serves traditional fare in Nonthaburi province.
"At that time, my salary was 1,300 per month. I loved to taste food. So I taste the food they made and then I thought, nope, I have to fix it," Banyen said, who refers to herself as paa, or aunty. "I like Thai food and Thainess. So I've never thought of leaving to work elsewhere."
Indeed, even at the awards event, all Banyen could talk about was her food: How mackerel has to be brined with bergamot and grilled instead of just fried; and how proud she is of her kaeng kee lek, or Siamese cassia curry.
"I cook with my heart," Banyen said. "I tell customers there's kaeng kee lek for them. I prepare it by boiling the vegetable first though, or else it will be bitter."
Gwendal Poullennec, international director of the Michelin Guide, said that Suan Thip made "royal recipes" with "attention to detail and authentic Thai flavors."
Indeed, 50 percent of the starred restaurants serve Thai fare.
Ruean Panya's Suthep Ganisthanaka, 67, seemed unsurprised to nab a star. His Thai seafood restaurant in the southwestern metro province of Samut Sakhon serves his family's recipes. Their proudest is lhon puu, or crab coconut dip.
I finish cooking, shower and then go to sleep around 1 to 2am every day. I don't try to think too much. I've got no diseases, and I know my limits.
"It's different from any other lhon," Suthep said. "Actually I feel normal about about getting this star. We just got the Thai Select award, too. My life will continue to go on normally."
Crab omelette superstar Jay Fai, is still the only street food to have a star, which she retains for another year now.
Supinya "Jay Fai" Junsuta said that although she was swamped with queues of neverending customers, daily — "I don't know how they can wait in line for six, seven hours" — said that she was "relieved and sabai jai that they still put trust in me" by the decision.
The 75-year-old woman said that her health is still good and allows her to don her protective goggles to fry up fiery omelettes. "I finish cooking, shower and then go to sleep around 1 to 2am every day. I don't try to think too much. I've got no diseases, and I know my limits."