Top: Stray / Courtesy
In 2009, London-based producer Stray earned props in the Drum 'n' Bass, or DnB, scene with his debut work "Timbre." Released as a B-side, the track's abstract atmospherics, off-kilter beats and climactic amen breakbeats had the scene waxing lyrical over the producer's studio wizardry.
The producer's unorthodox approach to DnB music led him to experiment with a variety of styles such as juke, which resulted in his jungle / juke hybrid "Break Your Leg," released on Giles Peterson's Brownswood Recordings imprint. On the other end of the spectrum, Stray's laid-back, half-tempo tracks have been released on labels such as DBridge's Exit recordings.
He's also one third of Ivy Lab, a trio that consists of Halogenix and scene veteran Sabre. The DnB supergroup made their signature style of hip-hop beats, dark atmospherics and heavy bass lines famous. The crew's long-awaited "Peninsula" EP received critical acclaim when it was released this year.
Before his Friday debut show in Bangkok, Stray gave us the low-down on his musical inspirations, Ivy Lab and his Friday night gig at Whiteline.
Mongkorn Timkul: The stuff you produce with Ivy Lab is taking quite a new direction for DnB music. Are the hip-hop / half-tempo beats you produce the direction you want to take your sound, or will you also produce more DnB rollers in the future?
Stray: I can't necessarily speak for the other two here, but I personally never know what I might end up wanting to write in the future. What I do know is that once I feel like I've conquered a certain type of sound, I don't have much interest going over the same ground. I think the Ivy Lab DnB rollers were pretty good for what they were, and it kinda feels like we succeeded in our mission with them on that front. Now we've kinda gone back to our individual roots as hip-hop lovers and it feels great to be writing this half-time material as a collective. We're still exploring.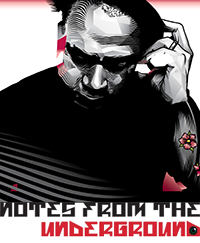 MT: What kind of tracks are you planning to play for your debut set in Bangkok?
S: I've got a lot different styles and tempos that I'm playing at the moment, from low-key beats material to hyper-trap tracks, hypnotic 150-160 footwork hybrids, 20/20 halftime, liquid Drum 'n' Bass and some jungle. I like to try out a few things and see what the crowd seems to dig the most and then decide on the journey from there.
MT: You've said that your older brother,who is a pianist, was an inspiration to you growing up. What was your musical background like when you were growing up?
Stray: He was a big inspiration and helped me shape my taste in music a lot. Growing up I listened to a lot of funk, jazz, classical and hip hop but I also flirted with punk, rock and pop music as well. I first heard Drum 'n' Bass going through a good friend of mine's brother's vinyl collection when I was 14. We dug up a DJ Rap record called "Smart Stepper." After that I remember CD-shopping at Tower Records in Piccadilly Circus, and I asked [an employee] for some recommendations, and he gave me Andy C's "Nightlife Vol. 1" compilation. I bought it and couldn't stop listening to it and then started to try [what] I was hearing in my own productions.
MT: When it comes to working with Ivy Lab, which is you and Halogenix and Sabre, how do you decide who does what? What different elements do each of you bring to the studio?
S: Most of the tracks we do are for the most part written solo and then, just before a release is due, we get together as a trio to go through demos and mix them down and finish off the arrangement. There isn't really a decision about who does what, it's just a case of whoever is inspired or has a good idea. In terms of bringing elements, again, as boring an answer as it is, we kinda all do everything. That said, Sabre is a really great sonic engineer and likes to fix things that are broken, he is able to utilize samples in a really intuitive way and is a dab hand at twisted bass sounds. Halogenix is great at getting vibes started quickly and also has a great feel for melancholic chords and music. I'm good making the coffee and booking the flights.
Stray touches down this Friday at Whiteline on Soi Silom 8. Tickets are 350 baht, and there will be an open bar 9pm to 11pm. Doors open at 9pm and close at 3am.