"Alex sounds like the name of an English gentleman. He's proper enough for occasions with family, but you still want to put him on your lips," said Pimpisa Chirathivat.
She's talking about the nude orange shade of one of her lipsticks in the cosmetic brand she co-owns, Boyfriend.
Thai makeup brands have been paving their colorful, diverse paths away from the industry's unfashionable past with products that can stack up to international brands, marketing and safety standards.
Khaosod English met with the creators of the farang-lovin' Boyfriend and the Thai-themed TER.
Read: Makeup Makeover: Startups Changing Minds About Thai Cosmetics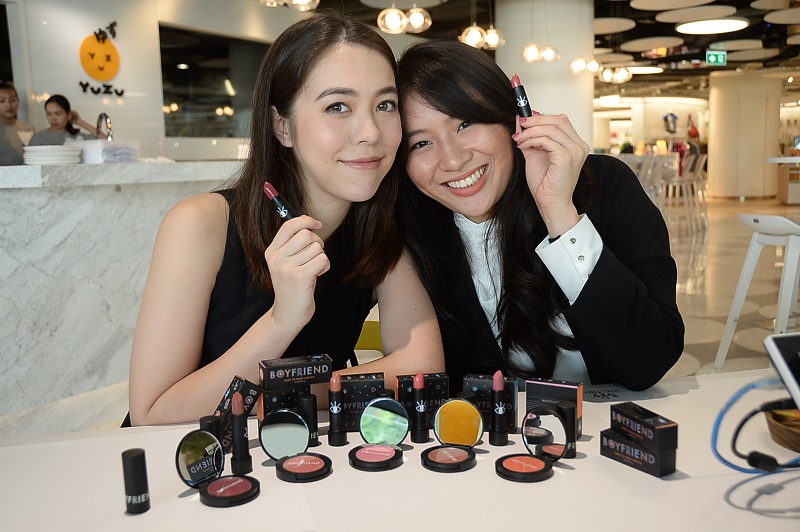 Boyfriend
Founded by 25-year-olds Pimpisa Chirathivat and Satikarn Limaksorn, Boyfriend is a Thai brand featuring lipsticks with shades named after Western men as a playful, sexy touch.
"This traditional, nude shade is Charlie because it sounded like a nerdy name to us," said Pimpisa. "And we chose Adam for a sexy red shade because it reminded us of Adam Levine," said Satikarn, as they both started giggling falling over each other.
Once, a bride bought all her single bridesmaids different 'guys.' That was a really memorable purchase
The one-year-old Boyfriend, with its playful eye logo – "so you know all eyes are on you when you use it," said Satikarn – is produced wholly in Thailand and run by the two recent Chulalongkorn graduates.
"Mostly we sell Boyfriend online. Even today, we're packing each lipstick and blush by hand," said Pimpisa. Both hold full-time business jobs.
Online sales have also drawn playful social media engagement.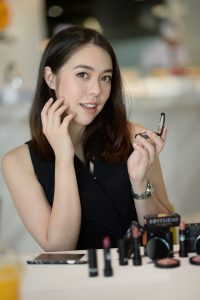 "Since the lipstick names are boys' names, people comment funny stuff like 'I really want Sean on my lips!' Once, a bride bought all her single bridesmaids different 'guys.' That was a really memorable purchase," said Pimpisa.
Other than the lipsticks (290 or 390 baht), there's also "Blush it Bae" cream blushes (490 baht) named after what you want your lipstick boys to say to you, such as Yes, Honey (a peachy shade) or Oh No-Oh Yes (a bubblegum pink).
Boyfriend may be one of the Thai makeup brands that's impressing cosmetic users through its unique positioning but smaller product range. Still, up-and-coming Thai makeup brands, while colorful and diverse, haven't established their own unique ground yet, unlike Korean or American makeup, beauty blogger Saranya Sathukijchai, 30, better known by her handle Feonalita said.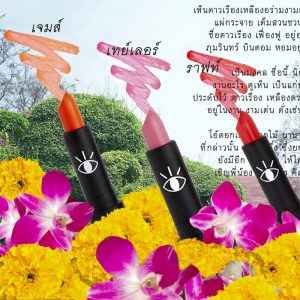 "Some brands have shown themselves to be modern, trustable and original in that they didn't copy any other brands," Saranya said. "However, I'd say these brands are still in their early stages, and there's no real flagship item that can really stand for Thai makeup overseas yet," said Feonalita.
Still, it's a titillating testament to the local makeup industry – and sexuality – to put your "Boyfriend" Chris (an old rose shade) on your lips and rub One More Time (a coral pink) on your cheeks.
TER
Feonalita mentioned TER makeup, one of the few Thai brands that capitalizes Thai cultural aspects rather than adopting inter packaging.
Accompanying a Facebook advertisement for one of TER's eyebrow pencils is a poetic line from the national epic Ramakien describing Sida's beauty. Across their cushion powder compact are traditional kranok patterns.
I did my homework and formulated makeup that would last in our hot weather
"The most difficult thing about making TER was how to make unique Thai patterns modern and appealing," Paviga Woottipao, 37 and founder of TER said. "Although some people told me that marketing through Thainess wouldn't sell, actually Thai people are nationalistic and will buy something that makes them proud of their heritage."
The Thai literature buff said she chose TER (เฑอ) as the name, which is the Thai female pronoun, but spelled with a Thai tho montho consonant since it has the same t sound and signifies Montho, a female character from the Ramakien.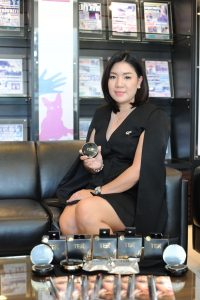 Paviga has tried to tread TER across the thin line separating reputable and irreputable Thai cosmetics.
"I knew that Thai makeup often has negative connotations, so I sell only through official channels and stores," Paviga said.
Through the power of review culture, people are googling reviews of makeup pre-purchase to find out longest-lasting brand of powder that'll last under the sweltering tropical sun – and a lot of times, it's the local brands that'll do it.
"I did my homework and formulated makeup that would last in our hot weather," Paviga said.
Despite lower brand recognition than foreign brands, Thai makeup does have one last, yet very important caveat: the sweet, sweet lack of import tax.
TER's frangipani-scented compact cushion, for example sells at 419 baht, while their eyebrow pencils go for 159 baht. Meanwhile, Western and Korean drugstore brands' cushion powders go for at least a 500 baht.
"We often live in the narrow world of Bangkok, and forget about the wide market and purchasing power of other provinces. Lower prices of local brands are appealing to everyone else," said Feonalita, native of Chanthaburi.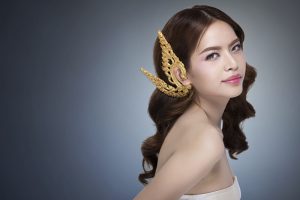 Feonalita's positive about the future of homegrown lipstick. "There are more and more brands, manufacturers and images they choose to project through marketing. The products are diverse to cater to Thai people's different tastes of makeup," said Feonalita.
Both Boyfriend and TER can be purchased at Beautrium, Star Dust, and Eve and Boy beauty stores, depending on availability. Orders can be placed in English through their official online channels as well.