Top: Songkom Rattanapongtara shows off his salted king mackerel, or 'plaa in see' on Tuesday at Bangkok's Or Tor Kor Market.
BANGKOK — Merchants at the Or Tor Kor Market say premium quality produce, long experience and wealthy customers means they were not surprised to learn it was recently ranked among the world's best fresh markets.
Or Tor Kor placed fourth by CNN Travel when the results were revealed April 18. That put the upscale Bangkok market – next to the famous Chatuchak Weekend Market – just behind Barcelona's La Boqueria at No. 1, Tokyo's Tsukiji Fish Market  and New York City's Union Square Farmer's Market.
"Located next to Bangkok's busy Chatuchak weekend market, Or Tor Kor Market is as packed with perfect produce as its neighbors with souvenirs and tchotchkes. Or Tor Kor displays exotic fruits and vegetables that are unique to Thailand, as well as imported specialties from around Asia," CNN Travel said. "The market is immaculate and brightly lit, allowing shoppers to easily cruise for seafood, sweets and cooked foods. Tourists will enjoy Or Tor Kor's wide selection of prepared curry pastes and spices to take back home, and a food court filled with Thai specialties."
The sense of pride was palpable Tuesday during a visit to talk to some of the market's merchants.
"I am proud. But we will be happier if we make it to No. 3," said Songkom Rattanapongtara, a third-generation salted fish, dried shrimp and shrimp paste dealer at the Kapi Kasemsab stall, marked as kiosk No. 3/64 at the southeastern edge of the market.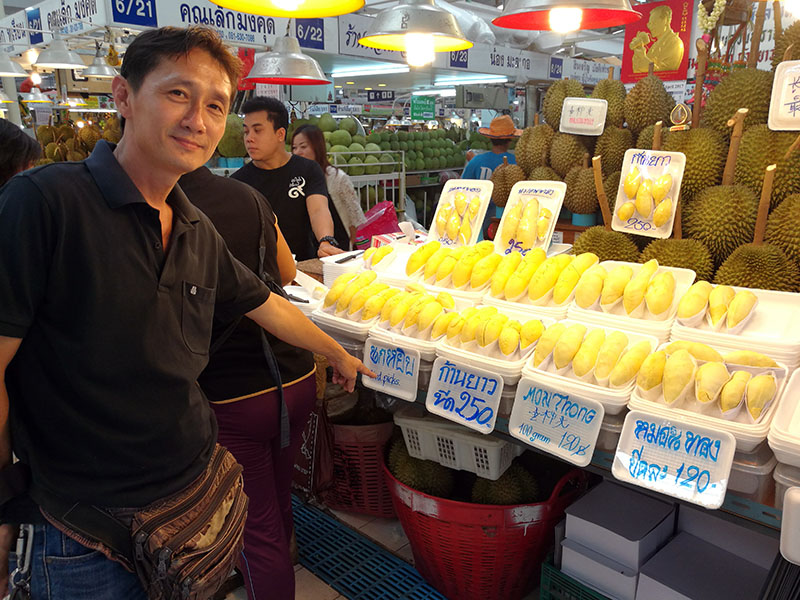 Songkom, 33, said wat distinguishes Or Tor Kor from other fresh markets are vendors with experience, buyers who prioritize quality over cost, and a high concentration of premium goods and produce. The market is owned and operated by the Ministry of Agriculture.
Songkom grabbed nearly three kilograms of handsome-looking salted king mackerel, or plaa in see, from the Gulf of Thailand as an example. When it comes to shrimp paste, or kapi, an ingredient essential to many traditional Thai dishes, Songkom offers five, premium-grade types of the stuff. One is from Koh Chang, better known by tourists these days as a beach destination, while another made of black-eyed krill – a rare small-sized shrimp – is from Samut Songkhram province.
"In terms of quality, we are second to none. Even when compared to buying from merchants at the source. This is because of our experience," said Songkom, who grew up learning about the profession from his parents and grandparents.
During Tuesday's visit, a limousine halted at the kiosk. It carried a regular customer there for two slices of salted king mackerel. Eighty percent of Songkom's customers are Thai, while the rest are mostly Asians, particularly Chinese and Indonesians. When asked what could be improved at the market, Songkom said the market operator could be more helpful packaging goods for foreign clients to be sent abroad, provide for more parking space and rubbish bins. He said the number of trash bins was actually reduced due to Chinese tour groups dumping so much garbage, but he argued that the market operator should not be stingy.
Somnuk Thipayavarawan has been running Tum Durian at kiosk No. 6/20 the past 30 years despite being trained as an electrician. Contrary to the salted fish seller, 80 percent of the customers at his shop, which sells top-quality durian, are East Asians. He decried the fact that demand from Thai customers for premium-grade durian has diminished over the years. These days, people from China and Hong Kong are his major customers.
A rare piece of nok yip durian weighs less than 100 grams and sells for 200 baht. Cracking one open, the flesh was creamy and rich. This type of durian is rarely available elsewhere in Bangkok. It comes from Prachinburi province, close to the Thai-Cambodian border, and only grows April to May.
Somnuk said the secret is not just piling the best durians but having the experience to determine their quality and knowing trusted growers that makes for a regular stream of customers.
"Fruit and food here are already perfect," said Somnuk, reacting to the news of Or Tor Kor being ranked fourth best in the world. Asked if air conditioning the whole place would improve the market, he said yes and no.
"Sellers would be more comfortable, but my durian would become stunted," he said, explaining the fruit is best kept at room temperature.
A minute's walk away at kiosk No. 4/29 was garland seller Rin Komongming's Pah Taew shop. It was late afternoon and one of her elaborate flower garlands was now reduced to 380 baht from the original 400 baht. Now, 380 baht is roughly equivalent to the daily minimum wage, which says a lot about the purchasing power of her customers.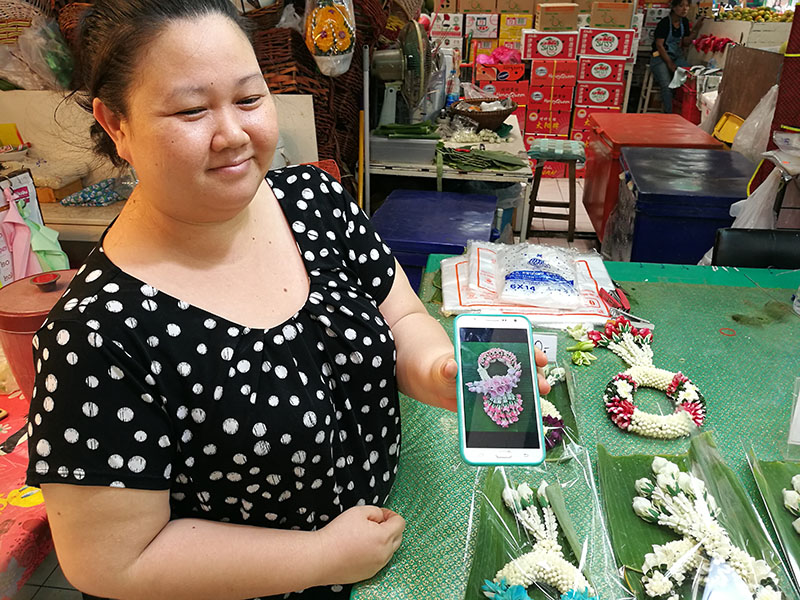 Rin, who seemed less than keen to talk, said some bought a few to present to a member of the royal family at an audience on Thursday. This is not your typical garland found at typical fresh markets in Bangkok or elsewhere.
But that's not all. If customers ever want something grander, Rin showed a photo of an even more elaborate pink flower garland priced at 1,000 baht. Such garlands can be made to order two days in advance, she added, assuring she has as many Thai customers as foreign.
"Everything is good," said Rin, when asked if the place should have air conditioning. "The place wouldn't be like a fresh market with aircon."
The Or Tor Kor opens 6am to 6pm every day and is located in the Chatuchak district. It can be reached via a three minute walk from MRT Kamphaeng Phet's Exit No. 3.