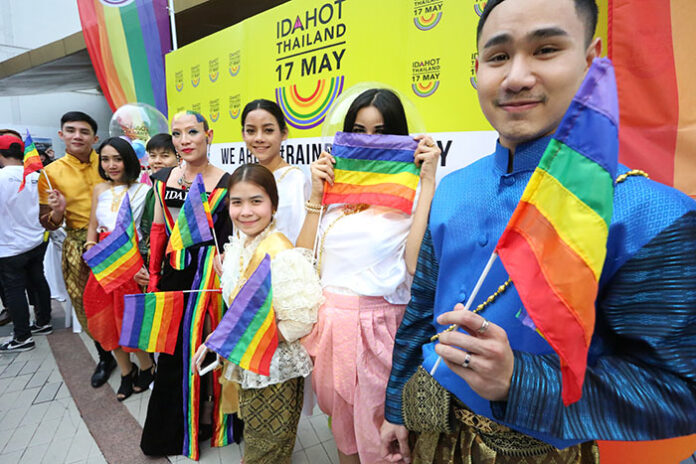 BANGKOK — Members of Bangkok's LGBT community gathered Wednesday for the International Day Against Homophobia, Transphobia and Biphobia – aka IDAHOT – to show their pride and call for marriage rights.
Celebrations and performances took place outside the Bangkok Art and Culture Centre after an afternoon of discussions on equality and LGBT families inside, all culminating in the presentation of a petition urging the military government to legalize same-sex marriage.
"I'm happy to attend the event," said Sirisak Chaited, wearing a uniquely designed black dress fringed with rainbows and "IDAHOT" emblazoned across her chest. "Many ambassadors and members of the public sector also came this year. It's good to see that they see our importance."
Attendees were treated to "Queerness," a photo exhibition by Piyarat Piyapongwiwat, as well as shows and music.
A representative from the justice ministry was on hand to receive a Change.org petition signed by 60,000 people in support of Thailand's proposed Civil Partnership Bill.
"We are a #RainbowFamily" was the slogan of this year's event, with participants promoting a message that love and family values strengthen bonds between LGBT children and parents.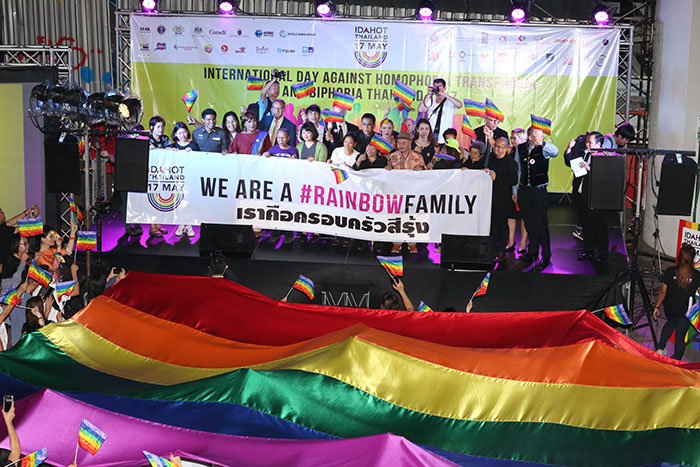 Sirisak said she has attended the event several times since it was first held in Chiang Mai. The 35-year-old businesswoman, who is also a member of the Thai Sexual Diversity Network, said she's seen the LGBT Thais make gains since then. For example, the army stopped formally documenting transgenderism as a mental disorder in 2005.
"Government laws should be based on human rights, and that will lead to equality for all genders, not just for men or women or LGBT people," Sirisak said. "Also, I'd like people to understand that we're human beings, not a 'community.' True acceptance requires no conditions."
Apart from the Civil Partnership Bill, which is idling in draft form at the justice ministry four years after being proposed, Sirisak thinks the laws should be changed to allow the use of prefered titles, prevent job discrimination and students to dress according to their gender identity.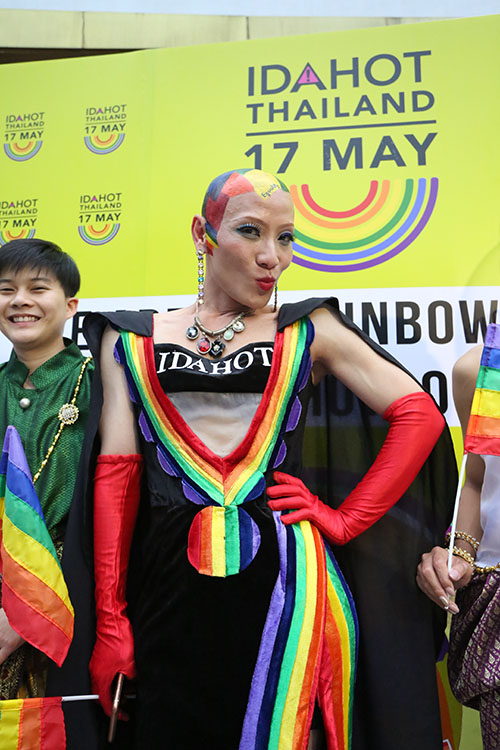 Among people to take the stage to share personal stories was Thanayuth Saosoong, a transgender police lance corporal from Chonburi's Si Racha district, who became famous earlier this year in a viral clip for the contrast between her uniform and flamboyant personality.
"LGBT people can work in every career," she said, adding that some limitations of the job – such as her chief telling her to mind her conduct and not wear a scarf while in uniform – didn't stop her from being herself.
Singer Sillapin "Zymone" Gill, who performed at the event, spoke about being forced to perform as a drag queen and showgirl before realizing her dream of becoming a singer this year on reality competition show The Voice Thailand.
Natchanakarn "Yuno" Chonthimakorn brought her son Theo and wife to share their experiences, show they had a normal, warm family and call for advancement of their rights under the law.
"Although I'm with my wife, we have no right to take care of or fully support each other," she said. "It'd be great if we could use the same surname and have equal access to medical care like in other countries."