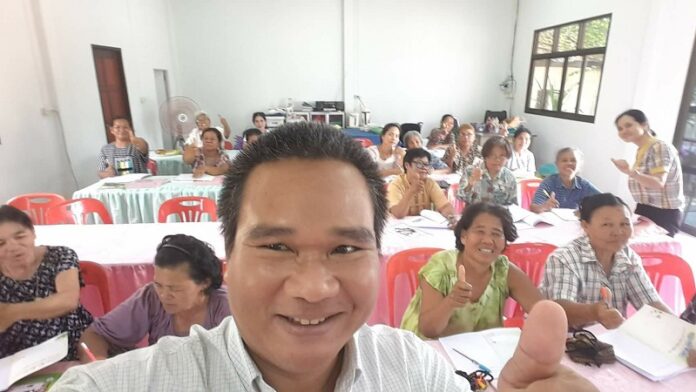 BANGKOK — Dejchat "John" Phuangket is an unlikely celebrity.
I want to speak with everyone all around the world.
Once an anonymous Bangkok motorcycle taxi, he found social media fame in 2012 for tweeting about alleged terrorists blowing up their Phra Khanong safehouse. Over the years, his updates from the street in English drew an online following that swelled to nearly 30,000 followers.
Today, John (pictured) is taking the hard-won English skills he developed to communicate with passengers back to share with elderly learners near his hometown. He's become so widely associated with English learning that he mugged with former Prime Minister Abhisit Vejjajiva in a video out last week promoting an effort to recruit English teachers in local low-income communities.
"I want to speak with everyone all around the world," John said.
It's something he started after breaking his arm in a motorcycle accident earlier this year, giving him no choice but to recover at home.
Around the time he was convalescing, an education center was established near his home in Sisaket. The Bueng Bun District Non-Formal Education Centre opened in April 2017 to give adults and those out of the regular school system opportunities to learn.
It gave John an opportunity to bring the talents he learned in Bangkok back home, where he would like to remain living with his wife.
He said there has been an influx of foreigners moving into Sisaket, many brought by marriage and starting new families. John said it would be good for people there to learn some English to enjoy basic communication with new residents and tourists visiting the town.
"When it's the Songkran festival, many people will come to the village, come back from Bangkok," he said. "Some [are] foreigners, they come back here with his wife. The people here can talk, can chat, can speak to the farang from Bangkok."
Though many of the center's adult students completed primary school, few made it through high school and fewer still have any proficiency in English.
As a volunteer teacher, John makes use of everything he taught himself from books, music, films and his foreign customers in Bangkok to try and get them hooked on the same passion for English-language media.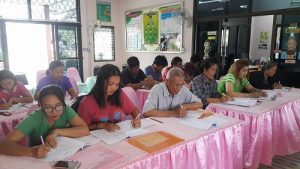 John encourages them to learn the polite basics, but during lunch and breaks, he entertains them with English-language television shows or Western music from his laptop and speaker set up.
"I have the laptop… and then I download the English music like my Love – Westlife, and  When you say nothing at all (my love)- Ronan Keating, because sometime I teaching them and they are look like boring…I them tell to listening to the music, its for relaxing." He says American English is easiest for him to understand, as most films come from Hollywood and American music is global. Artists such as Westlife, Celine Dion and Ronan Keating are some of his personal favorites.
There and Back Again
For John, going from student to teacher has been an eventful journey since launching a blog in 2010 to promote his courier service and Sisaket tourism.
He first started blogging in Thai on homegrown platform OKNation. Soon he joined Twitter and started sharing traffic updates and incidents in English. People started tuning in.
In Bangkok, he ran his motorcycle taxi in the Phra Khanong area, where he became known for chatting up his farang fares every day.
It was there on Valentine's Day in 2012 that his tweets from the scene of an explosion went viral. Iranian bomb makers accidentally blew up their safehouse.
Fleeing on foot, one of the suspects tried to throw another bomb at police officers but only managed to blow off his own legs. The group was accused of planning to kill Israeli diplomats, convicted and imprisoned.
That mushroomed into a social media presence that today includes a YouTube channel, Twitter feed as well as a Facebook profile.
Though he wants to stay in Sisaket, the lure of learning may see him back in the capital.
Just recently administrators at Bangkok Suvarnabhumi College who became aware of his work on social media offered him a scholarship to earn a degree.